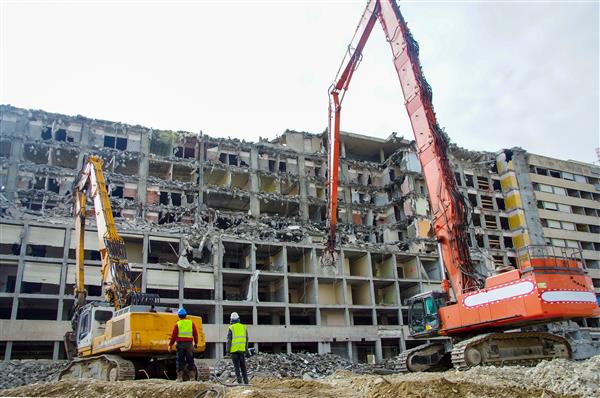 Demolition Contractors Huntsville, AL: The Number One Demolition Company
For years, Omni Demolition has continuously served and established its reputation as the most trusted demolition contractor in Huntsville, AL. Our goal is to establish strong customer ties through honest business and outstanding workmanship. Our demolition contractor is on standby at all times ready to cater to your needs. Led by deconstruction experts in the industry in Huntsville, AL, our demolition experts offer innovative approaches to all your projects, whether big or small. We are an environmentally friendly company.
Better Understanding of Demolition and Deconstruction in Huntsville, AL
Demolition is the process of tearing down or pulling down buildings and structures by a demolition expert. Our demolition experts are most experienced in going over construction sites to see what items may be salvaged and put aside to be used again, often saving time and resources. Deconstruction differs from demolition in that, it involves tearing apart a building or a home in a manner that salvages materials. The rubble from the process is either disposed-off as waste, used as clean fill or re-used as aggregate. In case of metal structures, the scrap metal is recycled.
We are the Most Competent Specialists for Your Demolition Project in Huntsville, AL
We have demolition experts who plan everything meticulously, from the bringing in of our equipment up to the clearance of the property from wastes and debris. Some demolition contractors offer their services at rock bottom prices but this may cost you more in the long run. Being in the business for years, our experience and continued trainings ensure that you work with only the most able specialists in the industry. Taking down a structure sounds chaotic but unlike other demolition contractors, our services are done with utmost care and with as little disturbance to the community as possible.
Professional Demolition Services in Huntsville, AL
Industrial Demolition services: We have taken down massive structures such as warehouses, industrial buildings, bridges, power plants, and mills. Our special equipment and expertise allow for the safe demolition of vast properties.
Commercial Demolition services: We are a prominent demo company in handling commercial buildings even in the most unimaginable spaces. We have taken down storehouses, grocery stores, airplane hangars, and large public structures among others.
Concrete demolition and recycling services: Our demolition experts are experienced in salvaging not only metal scraps but concrete structures and slabs as well.
Scrap Metal Demolition Services: Our demo company maximizes the value of scrap metal as part of our scrap metal demolition service. This significantly minimizes the cost of the project.
We are on Top of Other Demolition Companies in Huntsville, AL
We take pride in deploying demolition experts and demolition contractors who are not simply knowledgeable on the job but also skilled and experienced all across the state. Our demolition experts and demolition contractors are dedicated to meeting all your needs. Our demolition company in Huntsville, AL makes use of a unique approach that minimizes waste and maximizes recyclable materials. Each project in our demo company is always given the care and attention that our customers deserve and expect.
Methods Applied in Demolition and Deconstruction in Huntsville, AL
Explosive Demolition: We have a team of demolition experts in Huntsville, AL who thoroughly oversee the process of using explosives to crumble a structure, including the strict adherence to safety regulations and environmental protocols.
Non-Explosive Demolition: Certain buildings are not recommended for use of explosives, to which local demolition contractors opt for wrecking balls. Made of steel, a wrecking ball is suspended and swung into the building repeatedly causing it to topple or crumble down.
Selective Demolition: Our demo contractors use this method when their goal is to recover or salvage demolition materials. Building demolition companies reuse or recycle the salvaged materials thus reducing waste.
We Facilitate High-End Equipment for Demolition in Huntsville, AL
Hydraulic breakers – Powerful excavators necessary in every demo company, hydraulic breakers or crushers are used to excavate structures quickly. These are commonly used to grind up concrete or rocks.
Wrecking balls – Although rarely used nowadays, wrecking balls are heavy steel balls used to gradually destroy a structure's integrity until it collapses.
Hydraulic shears and rock breakers – These are helpful in cutting all sorts of steel, wood, rocks, concrete and metal. They make a very clean cut within a short period of time.
Bulldozers – These powerful machines are used to bring down smaller sized buildings or structures. They are also used to transfer debris and rubble to trucks.
Dumpers – An efficient demolition business uses dumpers to haul wastes off the demo site for its clearing process. Not having dumpers means requiring a third party contractor to get rid of the trash and may cause delays on the project timeline.
Cranes – A necessity for demolition contractors, cranes serve multiple purposes including being used for wrecking balls and for transferring heavy tools within the site. Every demo company should have a well-maintained and stable crane to avoid any unforeseen accidents.
Crawler Loaders – They can be used to bring down heavy smaller-sized structures. They can also be used to move debris.
For all Your Demolition Services in Huntsville, Alabama, Call on Us
There is no other demolition company in Huntsville, Alabama that offers high quality services with reasonable prices as us. We will meet all your demands and give the same meticulous attention to your projects no matter the size. Our demolition company never offers excuses; we simply provide professional and timely services guaranteed to accommodate your budget. Our work integrity and reasonable packages are only some of the reasons why we are a well renowned Huntsville deconstruction and demolition company. Call us at
(855) 885-3366
for a free consultation today.
Zip Code Areas We Service in Huntsville
35801, 35803, 35802, 35805, 35806, 35741, 35824, 35763, 35757, 35756, 35810, 35811, 35816, 35896, 35767, 35804, 35807, 35809, 35812, 35813, 35814, 35815, 35893, 35894, 35895, 35897, 35898, 35899