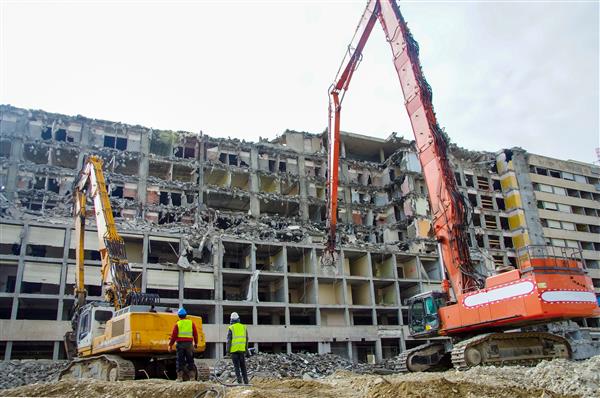 Demolition Contractors in Tuscaloosa, AL: The Number 1 Demolition Company
Here at Omni Demolition, we believe that pricing is not the only factor that you must consider when getting the services of demolition contractors in Tuscaloosa, AL. Our main goal is to provide affordable services without compromising the quality of our work. We have an enduring assurance to safety. Always making sure that our clients are not kept in the dark, our demolition experts will guide you accordingly when it comes to recommended methods, pricing and procedures to be enacted. We have the right equipment for any kind of demolition work.
Dependable Demolition and Deconstruction in Tuscaloosa, AL
Demolition is taking down or dismantling a building or structure with a strong and overwhelming force whose end result is rubble or waste. A demolition expert typically recommends a deconstruction before the actual demolition to be rid of any potentially dangerous materials in the building or to salvage items that can still be re-used in the future. Deconstruction in Tuscaloosa, AL involves taking a structure apart. On the other hand, whole-house deconstruction entails tearing down an entire structure and salvaging any reusable or recyclable materials. Selective deconstruction involves going into a property before demolition and removing high value and easily removable materials.
Highly Recommendable Services for Any Demolition Project in Tuscaloosa, AL
Our demolition experts as well as our demolition contractors in Tuscaloosa, AL have highly specialized equipment and all the resources needed to complete any project you may have for us, however big or small it may be. If you wish to have a an effortless and hassle-free experience when leveling a property in Tuscaloosa, AL, we are the demolition contractor that you can rely on. Hiring inexperienced contractors results in lousy jobs and may even cause delays on your targeted completion date. Trust only the most preferred demolition contractor in all of Tuscaloosa, AL.
Take Advantage of Our Demolition Services in Tuscaloosa, AL
Industrial Demolition services: We have tried and tested thorough demolition of industrialized buildings. Our record includes taking down plants, manufacturing buildings, mills and the like.
Commercial Demolition services: If you are looking for a reliable demo company, our reputation and years in the business is your assurance. Our past contracts include leveling bridges, dilapidated malls, airplane hangars, and even grocery stores.
Concrete demolition and recycling services: If you want to save time and money, our demolition experts can also extract concrete materials and slabs onsite to be broken down into reusable gravel.
Scrap Metal Demolition Services: As an all-around demo company, we can also take care of any unwanted steel erections and metal scraps onsite. We follow a certain procedure in salvaging items that are still good for future use so you can be sure nothing goes to waste.
Key Advantages Against Other Demolition Companies in Tuscaloosa, AL
Our demolition experts and highly skilled demolition contractors consistently make innovations with the way demolitions are made. Our team uses sophisticated equipment and observes high standards in every operation. Our demolition company is experienced in implementing both small and large projects. That is why we are recognized as the leading demo company.
Safely Regulated Methods for Demolition and Deconstruction in Tuscaloosa, AL
Explosive Demolition: Our qualified demolition experts have years of experience in explosive demolition projects. Using our expertise and meticulous planning, we will safely execute your project with minimal disruption to your surroundings.
Explosive Demolition: This method should be done only by experienced demolition experts in Tuscaloosa, AL as it involves safety parameters that should be strictly observed. It involves turning a switch to initiate an explosion, which will then collapse the building into a mound of rubble.
Selective Demolition: This type of demolition is done when you want to remodel or renovate a building. It can either be exterior or interior by nature. Exterior demolition involves tearing down a part of the building with a purpose of increasing it in size or making it smaller. Interior demolition focuses mostly on taking apart spaces for remodeling or renovation.
Common Equipment Used for Demolition in Tuscaloosa, AL
Hydraulic Breakers – This strong hammer is built to withstand heavy and rigorous use. As one of the high-quality demolition tools used by our demo company, it offers greater productivity in regards to speed, efficiency and its overall performance.
Wrecking balls – Heavy and solid balls made of steel, wrecking balls are safely suspended on a crane and used to weaken a building until it gives.
Hydraulic shears and rock breakers – These specialized accessories allow cutting into a variety of materials such as metal, wood, rocks, and cement.
Bulldozers – These can be utilized to apply pressure on a structure and weaken it as well as to haul waste and other materials onsite.
Dumpers – Copious amount of time is spent clearing demolition sites and this is where dumpers come in very handy. An experienced demolition business deploys dumpers to haul debris and waste away from the site.
Cranes – Demolition contractors use cranes not only for swinging wrecking balls but also in moving objects within the site. Our demo company facilitates the use of cranes to lift heavy objects from lower grounds to higher areas.
Crawler Loaders – Mostly used for excavating, this equipment is also utilized for its lifting and loading capabilities.
For all Your Demolition Services in Tuscaloosa, Alabama, Call on Us
If you are in dire need of a reliable demolition company in Tuscaloosa, Alabama but are quite not sure what kind of method you will require and how much it will cost you, do not hesitate to call us. Signing with us means you deal with our highly diligent specialists who will never present mediocre work to our clients. As an established demolition company, we maintain high standards of service and workmanship no matter how big or small a contract is. Our Tuscaloosa deconstruction and demolition company is licensed and highly reputable. Contact us at
(855) 885-3366
.
Zip Code Areas We Service in Tuscaloosa
35475, 35476, 35405, 35404, 35406, 35401, 35402, 35403, 35407, 35486, 35487