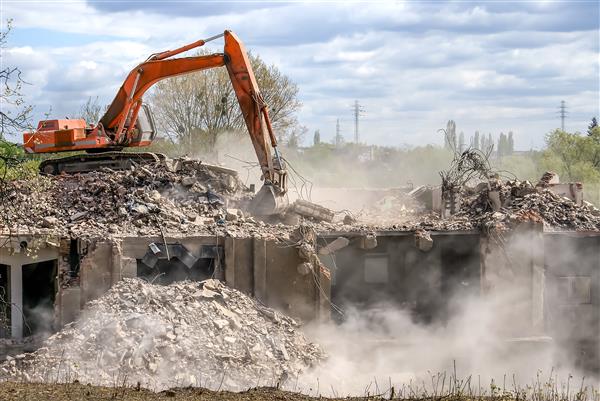 Cost-effective Solutions to Your Concrete Removal Needs in Conway, AR
Concrete removal is part and parcel of construction and demolition projects in Conway, AR. No need to risk it with small-time providers of concrete slab removal when you can sign with Omni Demolition for an affordable price. We have well-trained experts who can help you with tasks such as concrete hauling, partial house demolition and site cleanup. We guarantee professional workmanship and absolutely no guesswork when you sign with us. They are dedicated to only one outcome: 100% success in project execution.
Tools and Equipment We Use to Perform Our Concrete Removal Service in Conway, AR
When looking for a contractor to hire, do not get drawn in by bargain prices. Instead, double check the company's performance and the condition of their equipment. Omni Demolition uses state of the art technology dedicated to do rapid yet effective concrete slab removal and concrete hauling. A few examples of the equipment we use include chipping hammers, demolition hammers and hydraulic concrete crushers. Some of the services we offer include removing concrete driveway, concrete slab demolition, and concrete wall demolition. Depending on the nature of the project, we select different equipment to deliver maximum results. Apart from helping you perform hard tasks by using precision tools and equipment, a concrete hauling expert can help you with the legal papers required by the local authority. We are well equipped in handling all your concrete removal and concrete hauling projects.
When Do You Need Concrete Demolition Services in Conway, AR?
The only thing permanent in this world is change. It not only allows you to erect new buildings but it also gets rid of aging, dilapidated and unsafe structures. We continually educate our professionals on safe concrete demolition and concrete hauling services. Concrete demolition is necessary when your structure becomes old and dilapidated; when your structure has widespread cracking; when moisture penetrates into the ground, freezes and then pushes up the concrete; or when you plan to improve or put up a new structure. Apart from wall or ceiling cracks, you will need the help of a professional if you have problems with leaky water pipes or defective house wirings, most especially if they are buried underneath the concrete.
Permit requirements for a Concrete Removal in Conway, AR
Before undertaking a concrete removal or a concrete hauling project in Conway, AR, you need to understand and adhere to the policies and requirements of the city council. Avoid dealing with questionable concrete removal companies that overcharge for permit processing fees. This is usually determined by the type of demolition project and the location of the project. You must submit your application together with all the required documents. Some of the required paperwork include clearances from your electric, water and gas companies. Height and size of your demolition project are factors considered in determining whether or not you will need to get a permit for the job.
Concrete Demolition Expenses in Conway, AR
The two biggest factors that determine the cost of your concrete demolition project in Conway, AR are location and size. The rate is provided by your local government, and it would be best to check beforehand. The more concrete you need removed, the higher the cost. Removal rates also affect costs. You should contact our reputable professionals in Conway, AR for any concrete removal job such as a patio demolition or patio removal. Our professionals can use concrete saws, pry bars, sledgehammers or electric jackhammers to remove this type of concrete. Its demolition cost will be lower. The actual demolition cost alone can cost you from between $1000 – $15000+
How Long Do Concrete Demolition Projects Take Place in Conway, AR?
A concrete demolition project requires thorough planning to ensure that it will be completed within the client's deadline. We also explain the permit requirements and application to our clients before we provide services such as concrete hauling and concrete slab removal. Our experts ensure that operations are done continuously and without incident. After we check the overall condition of your property in Conway, AR, we can start discussing the available options. Thorough preparation and planning need to be done in order to execute the project safely and with precision.
How Can I Reuse the Concrete Waste Generated from My Project in Conway, AR?
After a concrete demolition and removal project is completed, tons of concrete wastes are collected. Concrete recycling is an environmentally friendly process and prevents unnecessary waste transportation and disposal costs. The crushed concrete rubble is transformed by our concrete demolition contractors into useful aggregate. We recommend recycling concrete because it can be reused as a good quality construction material. Once concrete waste is salvaged, the uncontaminated concrete free of paper, wood and other materials is crushed.
Why Choose us for All Your Concrete Demolition Needs in Conway, Arkansas?
Our concrete demolition services in Conway, AR consist of concrete slab removal and concrete removal service. At Omni Demolition, your Concrete slab removal project needs the exceptional expertise and experience that we bring to the table in Conway, AR. We understand that each project is unique and therefore, we come up with special solutions for all your concrete demolition projects. We act fast and charge fair rates for whatever service we deliver. With our help, you won't have to risk your family's safety. Using state-of-the-art equipment and cutting-edge technology in execution, you can be certain that your project is in great hands. Don't risk your safety; work with demolition professionals in Conway, AR.
Zip Code Areas We Service in Conway
72032, 72035, 72034, 72033