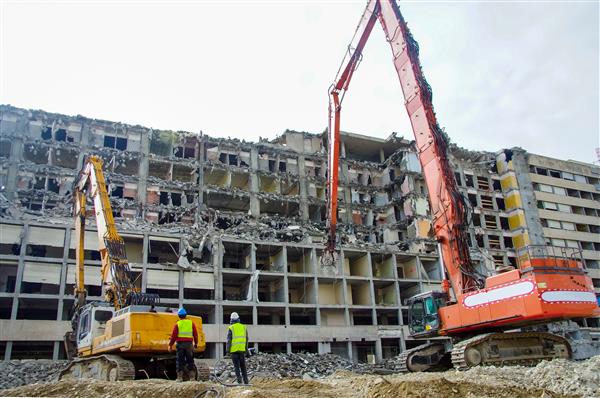 Demolition Contractors Fayetteville, AR The Demolition Company That You Can Count On
Our mission here at Omni Demolition is to ensure that we offer premium and high-caliber services through our expert demolition contractors. We are an established service provider when it comes to experience, skills and workmanship. You can trust that our demolition experts are all well-versed when it comes to everything that has to do with eco-friendly demolition, as well as health and safety guidelines. We are an environmentally friendly company.
What are the differences Between Demolition and Deconstruction in Fayetteville, AR
Demolition is the process of tearing down or pulling down buildings and structures by a demolition expert. A demolition expert typically recommends a deconstruction before the actual demolition to be rid of any potentially dangerous materials in the building or to salvage items that can still be re-used in the future. Deconstruction, on the other hand, is the disassembling of a building while preserving its re-usable parts. On the other hand, whole-house deconstruction entails tearing down an entire structure and salvaging any reusable or recyclable materials.
Highly Recommendable Services for Any Demolition Project in Fayetteville, AR
We maintain multi-disciplined and highly seasoned demolition experts and demolition contractors in Fayetteville, AR-fully trained in material handling and equipment operation. An experienced and well-trained demolition contractor will manage your project and ensure that the job gets done. It is our core mission to exceed all your expectations. Our demolition contractor will use special equipment and apply all the necessary skills in ensuring that the demolition process does not cause harm or injury to anyone or anything. Taking down old and unwanted buildings may look like a simple task; however, it requires the experience and competence of professional service providers like us to get your job done properly. Taking down old and unwanted buildings may look like a simple task; however, it requires the experience and competence of professional service providers like us to get your job done properly.
Check Our Broad Range of Demolition Services in Fayetteville, AR
Industrial Demolition services: We have the expertise, equipment and manpower to take down, mills, plants, manufacturing buildings among others without compromising the integrity of neighbouring structures.
Commercial Demolition services: Our demo company, has proven to be knowledgeable in demolishing commercial buildings despite their confinement in between other structures. Using specialized equipment plus our own unique strategy, we have in the past taken down airplane hangars, grocery stores, bridges, shops, and warehouses.
Concrete demolition and recycling services: Our demolition experts are knowledgeable in pulverizing slabs and concrete to be turned into eco-friendly gravel.
Scrap Metal Demolition Services: Unlike other contractors who concentrate only on concrete, our demo company can assist in handling metal frames and recycling scraps.
The Top Choice Among Demolition Companies in Fayetteville, AR
Our demolition experts and highly skilled demolition contractors consistently make innovations with the way demolitions are made. With us you are guaranteed safe and uninterrupted operations that you may encounter with inexperienced contractors with faulty machinery. Our commitment to our patrons helped us become the most respectable demolition company in all of Fayetteville, AR. When it comes to bringing down old, dilapidated or unwanted property, we have vast experience as a demo company and we will ensure that our services do not cause any unintended damage or pollution
Main Methods for Demolition and Deconstruction in Fayetteville, AR
Explosive Demolition: Our demolition experts carefully consider all factors before flipping the switch that will initialize explosives to go off and promptly annihilate the target building in Fayetteville, AR.
Non-Explosive Demolition: Although somehow rare, our local demolition contractors use a wrecking ball to tear down a structure. Compared to using explosives, this method costs less; however, there is limited control on the amount of damage each swing can make.
Selective Demolition: A more complex method compared to using explosives or wrecking balls, selective demolition requires demo contractors to remove certain parts of a structure while keeping the rest of it in place. We have mastered this technique and take pride in being skilled in doing what other building demolition companies cannot.
Important Equipment Used for Demolition in Fayetteville, AR
Hydraulic breakers – Commonly known as hydraulic hammers, these are often used by our demo company to grind up slabs and concrete structures.
Wrecking Balls – Although less common in demolition sites, it is an efficient way of demolishing a concrete structure. This solid steel ball is attached to a crane. It is then swung to the targeted building several times to strike down the structure.
Hydraulic Shears and Rock Breakers – They are able to demolish steel structures. Hydraulic shears are also used for recycling or secondary breaking. Rock Breakers are robust pounding hammers that are usually fitted to excavators. They are used to demolish rocks, as the name suggests or concrete.
Bulldozers – Serving multiple purposes, bulldozers can be used to haul items and waste as well as help knock down weak structures or level mounds of soil.
Dumpers – A necessity in every demolition business, dumpers are used to haul waste materials off the demolition site. It ensures the pre-construction area is free from any trash or debris brought about by the demolition.
Cranes – Aside from being used to secure a wrecking ball, demolition contractors in our demo company also use cranes to lower and lift materials within the site.
Crawler Loaders – Particularly useful in tight spaces, crawler loaders are versatile vehicles that function as a flexible loading and hauling machine. It can also be used for digging the ground.
Contact Us for Cost-effective Demolition Services in Fayetteville, Arkansas
Our demolition company is a leading demolition company in Fayetteville, Arkansas with proven resources, knowledge, professionalism and experience to successfully manage any demolition project you may have. For years now, we have helped all our clients demolish and deconstruct their buildings and structures successfully. We take any demolition challenge head on. Our demolition company provides all our clients with dynamic solutions for all their Fayetteville demolition and deconstruction needs. Our Fayetteville deconstruction and demolition company is licensed and highly reputable. Give us a call today at
(855) 885-3366
and we will get back to you as soon as we can.
Zip Code Areas We Service in Fayetteville
72704, 72703, 72701, 72702