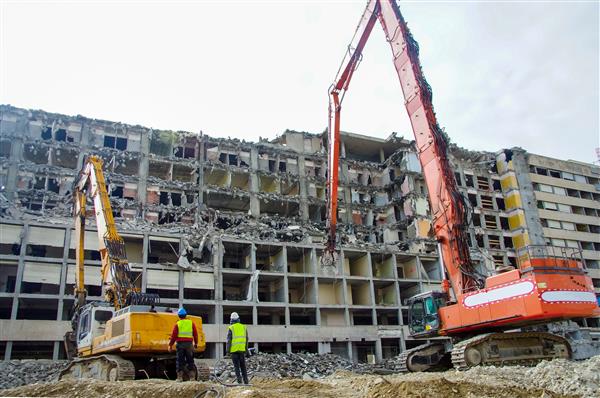 Demolition Contractors Avondale, AZ: Your Trusted Demolition Company
The strength of Omni Demolition lies not only in its state of the art equipment and the expertise of its demolition contractors but the commitment that we have in providing unsurpassable services. We set the standards in world-class demolition services. We do not sugar-coat our services and we often deliver more than promised. Led by deconstruction experts in the industry in Avondale, AZ, our demolition experts offer innovative approaches to all your projects, whether big or small. For complex demolition jobs, we offer reliable demolition services.
The Main Variances of Demolition and Deconstruction in Avondale, AZ
Demolition is the process of tearing down or pulling down buildings and structures by a demolition expert. Some projects require complete levelling while others simply need specific parts removed to be replaced. For every client call, we have a demolition expert equipped to do the job. A deconstruction may be implemented on its own or as a pre-demolition procedure. It entails tearing down the components of a building for the purpose of recycling, re-using as well as waste management.
Why Come to Us for Your Demolition Project in Avondale, AZ
Our demolition experts will handle your property professionally from start to finish. Our demolition contractor is at your service to fulfill all your needs. Most sales agents will promise everything just to close a deal but are no longer accountable when their team fails to deliver. Taking down a structure sounds chaotic but unlike other demolition contractors, our services are done with utmost care and with as little disturbance to the community as possible. From cost estimation up to the site clean-up, you can rest assured that we have everything covered. From cost estimation up to the site clean-up, you can rest assured that we have everything covered.
Our Demolition Services in Avondale, AZ
Industrial Demolition Services: We can handle any challenging industrial demolition project you may have. With our world-class equipment and staff, we are able to demolish plants, mills, manufacturing buildings and so on.
Commercial Demolition services: Need your commercial demolition project done right the first time? Our demo company will take care of that for you. Our portfolio includes: airplane hangars, restaurants, grocery stores, gas stations, warehouses and libraries among others.
Concrete Demolition and Recycling Services: We are a safe demolition company. We also listen to what you are saying. Are you trying to cut down on costs and reduce wastage? Once our demolition experts have demolished your concrete structure, we can grind it into gravel or turn it into an aggregate for making new concrete.
Scrap Metal Demolition Services: You do not have to worry about disposing of scrap metal once your metal structure is demolished, our demo company will help you sort out the scrap metal which can be recycled and reused for building.
What Distinguishes Us from Other Demolition Companies in Avondale, AZ
Our team of demolition experts and demolition contractors will work tirelessly and dedicatedly to ensure that your project is completed on time. We are a class above the rest. What sets us apart is our unshaken resolve to achieve 100% in customer satisfaction. You are guaranteed a hassle-free experience when you sign with us, the most trusted demolition company in Avondale, AZ. That is why we are recognized as the leading demo company.
Our Approved Methods for Demolition and Deconstruction in Avondale, AZ
Explosive Demolition: It is also known as the implosion method. Our demolition experts fix a building's or structure's slabs, columns and beams with explosives. Once the explosives detonate, the columns collapse and so does the building or structure.
Non-Explosive Demolition: Our local demolition contractors are flexible and in situations where explosive demolition may be unsafe, we may use a wrecking ball which is attached to a crane at a manageable height to bring down a building.
Selective Demolition: In cases of remodeling or renovation, demo contractors may be required to pull apart specific areas of the structure. We exceed other building demolition companies when it comes to precision in conducting selective demo such as disassembling interiors, floor coverings, ceilings and walls.
We Facilitate High-End Equipment for Demolition in Avondale, AZ
Hydraulic Breakers-They turn excavators into powerful and effective demolition machines. Our demo company uses hydraulic breakers to break rocks, concrete and other hard materials.
Wrecking Balls – Although less common in demolition sites, it is an efficient way of demolishing a concrete structure. This solid steel ball is attached to a crane. It is then swung to the targeted building several times to strike down the structure.
Hydraulic shears and rock breakers – These are helpful in cutting all sorts of steel, wood, rocks, concrete and metal. They make a very clean cut within a short period of time.
Bulldozers – These can be utilized to apply pressure on a structure and weaken it as well as to haul waste and other materials onsite.
Dumpers – An efficient demolition business uses dumpers to haul wastes off the demo site for its clearing process. Not having dumpers means requiring a third party contractor to get rid of the trash and may cause delays on the project timeline.
Cranes – In demolition, demolition contractors need a crane. Cranes can be used to lift a small-sized excavator. A wrecking ball can also be attached to a crane for demolition making it an essential piece of machinery in a demo company.
Crawler Loaders – They are very efficient in moving heavy materials and dirt piles. Some models of the crawler loaders are able to push down heavy smaller-sized structures. They are also used to clean the ground.
Contact Us for Any Demolition Services in Avondale, Arizona
If you are in dire need of a reliable demolition company in Avondale, Arizona but are quite not sure what kind of method you will require and how much it will cost you, do not hesitate to call us. There's a reason why we continue to be highly recommended by building contractors and the rest of our clientele. Our demolition company is the Avondale demolition and deconstruction company you have been looking for. Our Avondale deconstruction and demolition company has highly skilled personnel with years of experience in the demolition business. Dial
(855) 885-3366
for a professional Avondale demolition that will not break your bank.
Zip Code Areas We Service in Avondale
85323, 85392, 85039, 85329