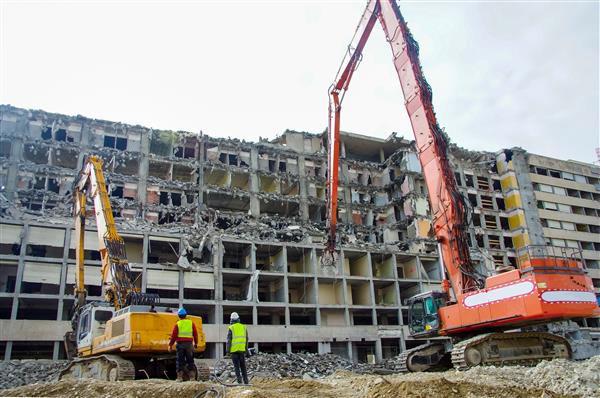 Expert Demolition Contractors Buckeye, AZ: Your Partner Demolition Company
It can be a huge challenge finding reliable and affordable demolition contractors in Buckeye, AZ, but that is what Omni Demolition is here for. You are guaranteed to get the best value for your money with our expertise partnered with updated equipment and strict adherence to state safety regulations and policies. Our demolition contractor is on standby at all times ready to cater to your needs. Our demolition experts always provide reliable and efficient services in a proactive manner. The primary projects we undertake are demolition and deconstruction.
How is Demolition Different from Deconstruction in Buckeye, AZ?
Demolition is taking down or dismantling a building or structure with a strong and overwhelming force whose end result is rubble or waste. Demolition is the actual tearing down of a structure to be done by a demolition expert. There are two categories of deconstruction, namely soft strip or selective deconstruction and whole-house deconstruction. There are two types of deconstruction: selective and whole-house.
Highly Recommendable Services for Any Demolition Project in Buckeye, AZ
Our demolition experts and demolition contractors in Buckeye, AZ are highly skilled in meeting all your demands. Compared to other demolition contractors who are highly profit-driven, we are committed to giving back to the community through outstanding workmanship and transparent transactions. We are knowledgeable in protocols and we prioritize safety at all times. Our demolition contractor will handle your needs on a one-on-one level and ensure that your project is given the undivided attention it deserves. From the start to the finish of your project, we are focused on your absolute satisfaction. From the start to the finish of your project, we are focused on your absolute satisfaction.
Our Demolition Services in Buckeye, AZ
Industrial Demolition services: Complexity and size do not intimidate us. We have successfully torn down enormous structures such as manufacturing plants, factories, warehouses and even utility installations.
Commercial Demolition Services: We know all the ins and outs of this delicate procedure. No matter the job, you can be rest assured that our demo company will give you the best results. Our demolition experts have the know-how and experience to bring down buildings and structures even in very tight spaces. Be it tearing down a mall, strip center, warehouse, bridge, hangar or structures in metropolitan areas, we have got you covered.
Concrete Demolition and Recycling Services: Concrete recycling results in saving costs in that it decreases the cost of transportation and disposal. Our demolition experts will break, remove and then crush concrete after demolition. The concrete can be used as an aggregate in new concrete.
Scrap Metal Demolition Services: Our demo company is experienced in salvaging scrap from your demolition project. You can recycle the scrap metal. This will minimize on wastage and cost.
We are the Leading Demolition Company in Buckeye, AZ
We take pride in deploying demolition experts and demolition contractors who are not simply knowledgeable on the job but also skilled and experienced all across the state. Our demolition experts and demolition contractors are dedicated to meeting all your needs. As an established demolition company in all of Buckeye, AZ, we see to it that our services, equipment and workmanship are always above customer satisfaction. As a trusted demo company, we have established a life-long relationship with our loyal patrons who can attest to our efficiency and commitment to getting the job done.
Safely Regulated Methods for Demolition and Deconstruction in Buckeye, AZ
Explosive Demolition: It is also known as the implosion method. Our demolition experts fix a building's or structure's slabs, columns and beams with explosives. Once the explosives detonate, the columns collapse and so does the building or structure.
Non-Explosive Demolition: When a building structure does not allow the use of bombs, a wrecking ball is often utilized to take it down. Compared to other local demolition contractors, our experts use wrecking balls with careful precision. The heavy steel ball is swung into the targeted building causing it to gradually crumble.
Selective Demolition: Recommended for buildings that are being rebuilt, selective demolition involves carefully removing some parts of the building to make way for a modified construction. Unlike new and upcoming building demolition companies, our demo contractors are experienced in extracting parts of the building while still maintaining its structural integrity.
Utilizing the Proper Equipment for Demolition in Buckeye, AZ
Hydraulic Breakers – This strong hammer is built to withstand heavy and rigorous use. As one of the high-quality demolition tools used by our demo company, it offers greater productivity in regards to speed, efficiency and its overall performance.
Wrecking balls – Used mainly for non-explosive demos, these heavy impacting balls are helpful in progressively weakening a building until all that's left are frameworks that are then easier to tear down.
Hydraulic shears and rock breakers – When attached to excavators, these tools are helpful in cutting through any type of surface. Using electrical force, it can slice through metal, steel, concrete, rock and wood.
Bulldozers – These can be utilized to apply pressure on a structure and weaken it as well as to haul waste and other materials onsite.
Dumpers – Essential in clearing a demolition site, our dumpers make it easier and quicker to take out unwanted debris and materials from the site to be properly disposed of. Our demolition business has invested in quality dumpers to ensure a speedy clean-up of the property and that your project timeline is met.
Cranes – Demolition contractors will need to use a crane in long-reach or high-reach demolition projects. A wrecking ball is suspended on a crane, from where it is swung to demolish a structure partly or wholly. A crane is a very important piece of equipment in any demo company.
Crawler Loaders – They are effective in bringing down structures. They can also be used to clean up a demolition site. Crawler loaders can help move debris. Its tracks enable the unit to move easily and freely on the property.
Call Us for Outstanding Demolition Services in Buckeye, Arizona
Settling with an amateur demolition company in Buckeye, Arizona may seem cost-effective at first but mishaps and faulty work onsite may cost more of your resources, time and energy. We take any demolition challenge head on. Our demolition company never offers excuses; we simply provide professional and timely services guaranteed to accommodate your budget. Our Buckeye deconstruction and demolition company has highly skilled personnel with years of experience in the demolition business. Give us a call at
(855) 885-3366
and we guarantee a refreshing customer experience that you can only get from us.
Zip Code Areas We Service in Buckeye
85326, 85340, 85396