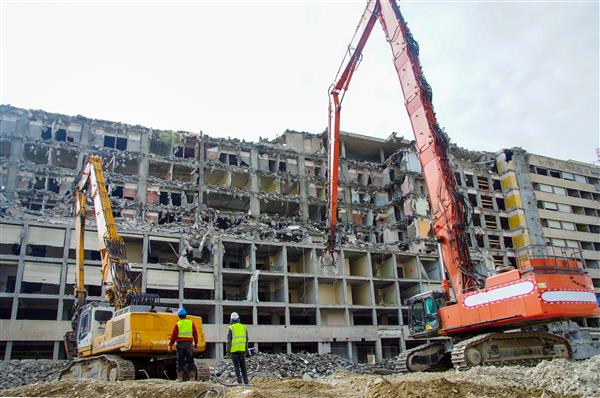 Expert Demolition Contractors Flagstaff, AZ: Your Partner Demolition Company
Omni Demolition is recognized as the leading provider of demolition contractors in Flagstaff, AZ. We will be able to complete your project in a professional, cost-effective and safe way. No job is ever too big, too small or too demanding for us. Unlike other service providers, our demolition experts are all highly skilled and experienced in this business. You can rest assured that our affordable services are top-notch. To achieve this, our demolition experts apply strong verbal, communication, analytical, managerial, decision-making and time-management skills.
How is Demolition Different from Deconstruction in Flagstaff, AZ?
Demolition is taking down or dismantling a building or structure with a strong and overwhelming force whose end result is rubble or waste. Deconstruction is when a demolition expert carefully dismantles or takes down a structure with the aim of reusing or recycling the materials. There are two categories of deconstruction, namely soft strip or selective deconstruction and whole-house deconstruction. The rubble from the process is either disposed-off as waste, used as clean fill or re-used as aggregate. In case of metal structures, the scrap metal is recycled.
We are the Most Competent Specialists for Your Demolition Project in Flagstaff, AZ
We have demolition experts who plan everything meticulously, from the bringing in of our equipment up to the clearance of the property from wastes and debris. Compared to other demolition contractors who are highly profit-driven, we are committed to giving back to the community through outstanding workmanship and transparent transactions. We also take time to really understand your needs and deliver according to your desires with no excuses. Taking down a structure sounds chaotic but unlike other demolition contractors, our services are done with utmost care and with as little disturbance to the community as possible.
Our Demolition Services in Flagstaff, AZ
Industrial Demolition services: Our countless contracts include leveling massive structures such as worn-down factories, mills, and chemical warehouses.
Commercial Demolition services: We are the demo company to call when it comes to commercial spaces that require strategic planning, especially narrow and often crowded areas. Our capability in wrecking restaurants, grocery stores, and office buildings shows our mastery in handling business districts.
Concrete demolition and recycling services: If you want to save time and money, our demolition experts can also extract concrete materials and slabs onsite to be broken down into reusable gravel.
Scrap Metal Demolition Services: Our demo company will save you time and money by demolishing your metal structure, putting a recovery plan in place and selling the salvaged scrap metal for you.
What Sets Us Apart from Others Flagstaff, AZ
We take pride in having some of the most seasoned demolition experts among numerous demolition contractors in Flagstaff, AZ. Our team uses sophisticated equipment and observes high standards in every operation. Our demolition company is experienced in implementing both small and large projects. Our demo company is well equipped in handling any job, however simple or complex.
Authorized Methods for Demolition and Deconstruction in Flagstaff, AZ
Explosive Demolition: Done by licensed demolition experts in Flagstaff, AZ, this method may sound dangerous and it could be when proper procedures are not followed. After explosives are strategically laid out, a switch is all it takes to completely take down a building.
Non-Explosive Demolition: Our local demolition contractors will use a wrecking ball to demolish a building in situations that do not allow the use of explosives.
Selective Demolition: This method is used when buildings are being remodeled or rebuilt and the client wishes to retain some parts of the structure. Not all contractors can perform this demolition as it involves meticulous planning and careful effort. Our demo contractors are veterans in conducting selective demolition especially in handling specialized equipment required for the job. You can trust our team of experts in providing calculated and top of the line performance, which other inexperienced building demolition companies cannot guarantee.
Common Equipment Used for Demolition in Flagstaff, AZ
Hydraulic breakers – Our demo company uses hydraulic breakers or hammers in crushing otherwise solid surfaces such as concrete, cement and even rocks.
Wrecking Balls – A wrecking ball is a heavy steel ball that is usually suspended from a crane. It is swung to the targeted structure or building in order to take it down.
Hydraulic Shears and Rock Breakers – They are usually attached to excavators and then used to make clean cuts through concrete, metal, wood and rocks of large structures.
Bulldozers – Serving multiple purposes, bulldozers can be used to haul items and waste as well as help knock down weak structures or level mounds of soil.
Dumpers – Dumpers are also known as tipper trucks. They are used for transporting rubble or waste from the demolition site. If you are in the demolition business, safety is paramount and some of the safety hazards are demolition wastes. A dumper is a very important in removing the large amount of debris from the site.
Cranes – Demolition contractors use a crane to attach a wrecking ball. A demo company can also use a crane for moving materials on the different levels of the structure or building.
Crawler Loaders – Also called caterpillars, crawlers have flexible ground mechanism allowing them to be useful even on uneven terrain. They are primarily used for excavating.
Dial OurNumber for Top Rated Demolition Services in Flagstaff, Arizona
Our demolition company is a leading demolition company in Flagstaff, Arizona with proven resources, knowledge, professionalism and experience to successfully manage any demolition project you may have. For years now, we have helped all our clients demolish and deconstruct their buildings and structures successfully. Our dedication is in ensuring that we maximize your asset potential. We are your one-stop-shop demolition company and we offer free consultation plus an accurate estimation of the costs. We are the Flagstaff deconstruction and demolition company to go to for premium and safe demo services. Call us today at
(855) 885-3366
and allow us to assist you with your demolition requirements.
Zip Code Areas We Service in Flagstaff
86001, 86011, 86004, 86005