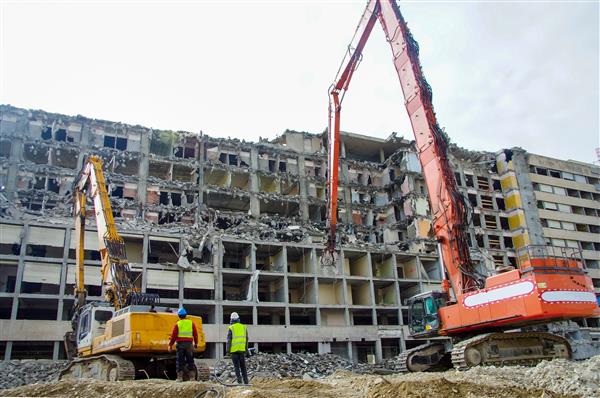 Demolition Contractors Glendale, AZ: Your Go-To Demolition Company
When looking to hire demolition contractors in Glendale, AZ, Omni Demolition is your best choice. Our demolition process complies with all the regulations and standards in Glendale, AZ. You never have to worry about timelines. Our team of demolition experts provide outstanding demolition services whether complete or selective. We are highly competent and able to handle any project you may have.
The Main Variances of Demolition and Deconstruction in Glendale, AZ
Knowing the difference between a demolition and a deconstruction will save you from further confusion. A demolition expert typically recommends a deconstruction before the actual demolition to be rid of any potentially dangerous materials in the building or to salvage items that can still be re-used in the future. Deconstruction in Glendale, AZ involves taking a structure apart. No matter how complex your project is, we are happy and ready to serve in Glendale, AZ.
Why Choose Us as Your Company of Choice for Your Demolition Project in Glendale, AZ
We maintain multi-disciplined and highly seasoned demolition experts and demolition contractors in Glendale, AZ-fully trained in material handling and equipment operation. Some demolition contractors offer their services at rock bottom prices but this may cost you more in the long run. Being in the business for years, our experience and continued trainings ensure that you work with only the most able specialists in the industry. You will not find another demolition contractor in all of Glendale, AZ who will help you save and spend wisely.
What Demolition Services Can You Expect to Find in Glendale, AZ?
Industrial Demolition services: Our best-in-class strategies and state-of-the-art equipment allow us to offer specialized industrial demolition services for your chemical plant, mills and factories.
Commercial Demolition Services: Despite commercial buildings being located in compact spaces, our demo company is able to bring down your building or structure in a safe way with minimal damage to the surrounding area. Using modernized equipment, our team of professionals have pulled down warehouses, grocery stores, shops, airplane hangars among others.
Concrete demolition and recycling services: Let our demolition experts know if you wish to maximize the use of the structure's concrete materials and we will break them down into reusable gravel.
Scrap Metal Demolition Services: Instead of hiring another contractor, we will help you save money as our demo company will take care of handling misplaced steel erections and sorting metal scraps for salvaging.
We are Unparalleled by Other Demolition Companies in Glendale, AZ
Our demolition company in Glendale, AZ offers a broad spectrum of solutions which enables us to deliver prompt and successful results. Our demolition experts are highly experienced in all types demolition services be they in a remote or challenging environment. As the number one demolition company in Glendale, AZ, we will work closely with you to guarantee an optimum outcome. Our demo company offers packages that are reasonably priced as well due to the fact that we have mastered an efficient way of demolition that cuts unnecessary expenses.
Our Methods for Demolition and Deconstruction in Glendale, AZ
Explosive Demolition: Our demolition experts in Glendale, AZ bring down structures or buildings by removing the main structural elements such as the walls and pillars with the help of explosives. This reduces the building's structural stability, causing it to collapse under its own weight. This method is faster, environmentally friendly and safer when compared to other methods.
Non-Explosive Demolition: Our local demolition contractors are flexible and in situations where explosive demolition may be unsafe, we may use a wrecking ball which is attached to a crane at a manageable height to bring down a building.
Selective Demolition: This type of demolition is done when you want to remodel or renovate a building. It can either be exterior or interior by nature. Exterior demolition involves tearing down a part of the building with a purpose of increasing it in size or making it smaller. Interior demolition focuses mostly on taking apart spaces for remodeling or renovation.
Cutting Edge Equipment Utilized for Demolition in Glendale, AZ
Hydraulic breakers – Also known as hydraulic hammers, our demo company uses this to demolish rocks or concrete structures.
Wrecking balls – Huge metal balls suspended on a metal crane and swung into the building intended to be collapsed either once or as many as needed.
Hydraulic shears and rock breakers – When attached to excavators, these tools are helpful in cutting through any type of surface. Using electrical force, it can slice through metal, steel, concrete, rock and wood.
Bulldozers – It has a ripper and is used to move large quantities of rubble. It is also used to bring walls down.
Dumpers – Dumpers are also known as tipper trucks. They are used for transporting rubble or waste from the demolition site. If you are in the demolition business, safety is paramount and some of the safety hazards are demolition wastes. A dumper is a very important in removing the large amount of debris from the site.
Cranes – Demolition contractors use cranes to attach a wrecking ball to it. The wrecking ball suspended on a crane is then swung to the targeted structure. A demo company can use cranes to remove debris from high areas of a demolished structure. Cranes can also be used to load debris onto a dumper.
Crawler Loaders – Also called caterpillars, crawlers have flexible ground mechanism allowing them to be useful even on uneven terrain. They are primarily used for excavating.
Call us Today for Demolition Services in Glendale, Arizona
There is no other demolition company in Glendale, Arizona that offers high quality services with reasonable prices as us. Our dedication is in ensuring that we maximize your asset potential. Signing with our demolition company guarantees a stress-free project, from the accurate estimation, the actual operations, onsite clearance as well as processing required permits. Our Glendale deconstruction and demolition company is licensed and highly reputable. Feel free to get in touch with us today at
(855) 885-3366
!
Zip Code Areas We Service in Glendale
85301, 85303, 85302, 85304, 85306, 85309, 85308, 85305, 85307, 85310, 85311, 85312, 85318