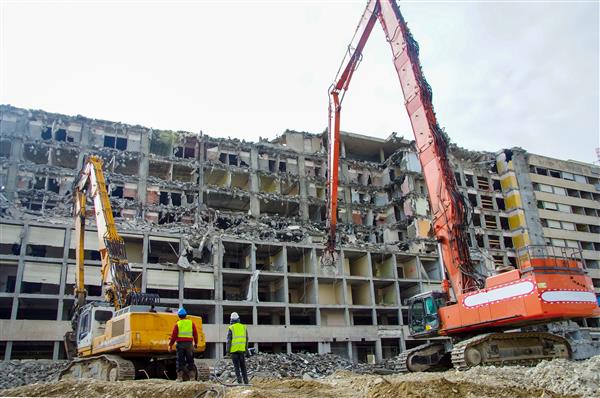 Recognizing an Outstanding Demolition Company from Inexperienced Demolition Contractors Mesa, AZ
The strength of Omni Demolition lies not only in its state of the art equipment and the expertise of its demolition contractors but the commitment that we have in providing unsurpassable services. Our goal is to establish strong customer ties through honest business and outstanding workmanship. You never have to worry about timelines. Unlike other service providers, our demolition experts are all highly skilled and experienced in this business. This minimizes the chances of accidents or injuries at the demolition site.
Better Understanding of Demolition and Deconstruction in Mesa, AZ
Demolition is taking down or dismantling a building or structure with a strong and overwhelming force whose end result is rubble or waste. Our demolition experts are most experienced in going over construction sites to see what items may be salvaged and put aside to be used again, often saving time and resources. Deconstruction is when a demolition expert takes a structure apart carefully, one piece at a time. The materials can be reused in rebuilding or reconstruction.
Why Hire Us for Your Demolition Project in Mesa, AZ
Our demolition experts will meticulously execute your demolition project in a timely and safe manner. Our demolition contractors have years of experience in the business providing exceptional and enviable customer service across Mesa, AZ. Property owners usually think first rate services always come with a steep price to pay, but not with us. You will not find another demolition contractor in all of Mesa, AZ who will help you save and spend wisely.
We Offer Demolition Services in Mesa, AZ Fit for Your Needs
Industrial Demolition services: Complexity and size do not intimidate us. We have successfully torn down enormous structures such as manufacturing plants, factories, warehouses and even utility installations.
Commercial Demolition services: We isolate the targeted building before performing the actual demolition so as not to cause any damage to its neighboring structures. Our demo company, has handled tearing down malls, airplane hangars, markets, and even bridges.
Concrete demolition and recycling services: If you want to save time and money, our demolition experts can also extract concrete materials and slabs onsite to be broken down into reusable gravel.
Scrap Metal Demolition Services: Our demo company maximizes the value of scrap metal as part of our scrap metal demolition service. This significantly minimizes the cost of the project.
Key Advantages Against Other Demolition Companies in Mesa, AZ
Our demolition experts and demolition contractors offer a professional and innovative approach to all your demolition projects. We take pride in employing some of the finest calibre of demolition experts throughout the city. We are a demolition company that takes our work seriously and consistently conduct regularly equipment maintenance, which ensures efficient and quick clearing operations. Our demo company is well equipped in handling any job, however simple or complex.
The Types of Methods Used in Demolition and Deconstruction in Mesa, AZ
Explosive Demolition: It is also known as the implosion method. Our demolition experts fix a building's or structure's slabs, columns and beams with explosives. Once the explosives detonate, the columns collapse and so does the building or structure.
Non-Explosive Demolition: Our local demolition contractors are flexible and in situations where explosive demolition may be unsafe, we may use a wrecking ball which is attached to a crane at a manageable height to bring down a building.
Selective Demolition: In cases of remodeling or renovation, demo contractors may be required to pull apart specific areas of the structure. We exceed other building demolition companies when it comes to precision in conducting selective demo such as disassembling interiors, floor coverings, ceilings and walls.
Well-maintained Equipment for Demolition in Mesa, AZ
Hydraulic breakers – Our demo company uses hydraulic breakers or hammers in crushing otherwise solid surfaces such as concrete, cement and even rocks.
Wrecking Balls – A wrecking ball is a heavy steel ball that is usually suspended from a crane. It is swung to the targeted structure or building in order to take it down.
Hydraulic shears and rock breakers – Used by specialists to cut through various materials such as concrete, metal, wood, and steel.
Bulldozers – A favorite among contractors, a bulldozer can be an intimidating piece of equipment on wheels although it is fairly easy to maneuver. It can be used to transport copious amounts of waste, as well as to wreck walls.
Dumpers – Copious amount of time is spent clearing demolition sites and this is where dumpers come in very handy. An experienced demolition business deploys dumpers to haul debris and waste away from the site.
Cranes – Demolition contractors use cranes to attach a wrecking ball to it. The wrecking ball suspended on a crane is then swung to the targeted structure. A demo company can use cranes to remove debris from high areas of a demolished structure. Cranes can also be used to load debris onto a dumper.
Crawler Loaders – Also meant to be used in excavating, crawler loaders have declined in popularity compared to hydraulics that can be used in heavy drilling. This equipment, however, can run on its own power as opposed to hydraulic excavators that more often require towing.
For All Your Demolition Service Needs in Mesa, Arizona, Contact Us Today
Settling with an amateur demolition company in Mesa, Arizona may seem cost-effective at first but mishaps and faulty work onsite may cost more of your resources, time and energy. We have a brilliant track record of achieving 100% success despite hostile or challenging work environments. Our demolition company is the Mesa demolition and deconstruction company you have been looking for. Our Mesa deconstruction and demolition company has highly skilled personnel with years of experience in the demolition business. Call us today at
(855) 885-3366
and get your job done quickly, flawlessly and affordably.
Zip Code Areas We Service in Mesa
85208, 85209, 85201, 85202, 85203, 85204, 85205, 85206, 85207, 85215, 85213, 85212, 85210, 85211, 85214, 85216, 85274, 85275, 85277