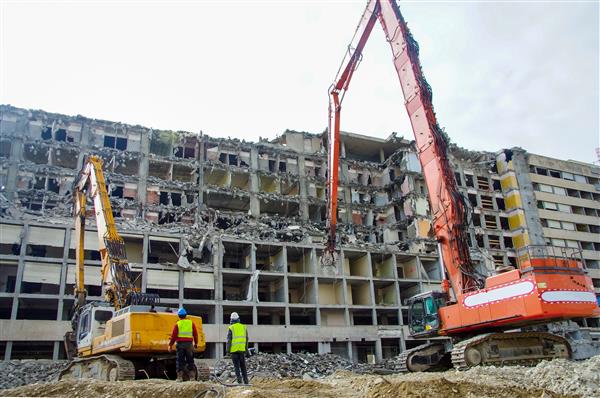 Professional Demolition Contractors Surprise, AZ – What You Need to Know when Hiring a Demolition Company
Omni Demolition is composed of reliable and dependable demolition contractors in Surprise, AZ. We will make sure that the project is completed within your budget and stipulated timeframe. We do not sugar-coat our services and we often deliver more than promised. You can trust that our demolition experts are all well-versed when it comes to everything that has to do with eco-friendly demolition, as well as health and safety guidelines. This minimizes the chances of accidents or injuries at the demolition site.
The Main Variances of Demolition and Deconstruction in Surprise, AZ
Demolition is taking down or dismantling a building or structure with a strong and overwhelming force whose end result is rubble or waste. Our demolition experts are most experienced in going over construction sites to see what items may be salvaged and put aside to be used again, often saving time and resources. Some of the items salvaged in deconstruction are: roofing materials, windows, plumbing fixtures, doors, cabinets, flooring among others. Deconstruction could be a component included in the demolition where our skilled team removes all hazardous and re-usable objects prior to the building being knocked down. As opposed to a full demolition which entails completely crushing a certain structure, deconstruction is the strategic taking apart of a building and putting away its reusable components.
We are the Most Competent Specialists for Your Demolition Project in Surprise, AZ
Our demolition experts and demolition contractors in Surprise, AZ offer superior services in demolition for all your projects. Some demolition contractors may offer you an attractive contract with a very cheap price tag, but are you sure you are getting a steal? Our word is our bond. We have an impeccable record of giving our clients value for their money while never compromising on the quality of our work. Do not be tricked by demolition contractors who cannot walk the talk. From cost estimation up to the site clean-up, you can rest assured that we have everything covered. From cost estimation up to the site clean-up, you can rest assured that we have everything covered.
We Offer a Wide Array of Professional Demolition Services in Surprise, AZ
Industrial Demolition services: Our countless contracts include leveling massive structures such as worn-down factories, mills, and chemical warehouses.
Commercial Demolition services: Our demo company uses superior equipment and expertise in tackling various commercial demolition structures such as strip malls, warehouses, office buildings, hotels, bridges, grocery stores and airplane hangars among others.
Concrete demolition and recycling services: Our demolition experts are knowledgeable in pulverizing slabs and concrete to be turned into eco-friendly gravel.
Scrap Metal Demolition Services: Unlike other contractors who concentrate only on concrete, our demo company can assist in handling metal frames and recycling scraps.
We are the Leading Demolition Company in Surprise, AZ
Our demolition experts and demolition contractors offer a professional and innovative approach to all your demolition projects. Our demolition experts and demolition contractors have an established performance record of completing demolition jobs in the right way, on budget and on time. Our commitment to our patrons helped us become the most respectable demolition company in all of Surprise, AZ. Being a demo company in this business for years, we have perfected the process of demolishing structures as cost-effectively and safely as possible.
Types of Demolition and Deconstruction in Surprise, AZ
Explosive Demolition: Conducted by our skilled demolition experts in Surprise, AZ, this method requires properly laying out detonators and explosives to bring a structure down to a pulp.
Non-Explosive Demolition: When a building structure does not allow the use of bombs, a wrecking ball is often utilized to take it down. Compared to other local demolition contractors, our experts use wrecking balls with careful precision. The heavy steel ball is swung into the targeted building causing it to gradually crumble.
Selective Demolition: This is also known as interior demolition. When your building or property is structurally sound but its interior needs to be remodeled or upgraded, our demo contractors apply selective demolition. We use highly advanced demolition techniques giving us a reputation that other building demolition companies cannot match.
Main Equipment Used in Demolition in Surprise, AZ
Hydraulic Breakers – Our demo company will use this heavy hammer to demolish rocks or concrete structures. Hydraulic breakers are also an important part of recycling operations.
Wrecking Balls – A wrecking ball is made from steel. It is suspended from a steel chain attached to a crane and is used to demolish large buildings. It is swung several times towards the intended structure until the structure crumbles. The working of a wrecking ball relies on the skills of an experienced operator.
Hydraulic shears and rock breakers – These are helpful in cutting all sorts of steel, wood, rocks, concrete and metal. They make a very clean cut within a short period of time.
Bulldozers – A bulldozer is a heavy piece of equipment that has a robust bucket attachment. This attachment enables the bulldozer to clear trash, rubble and debris from a demolition site. Bulldozers are multi-purpose, they can also be used to push down heavy smaller-sized structures.
Dumpers – Dumpers are also known as tipper trucks. They are used for transporting rubble or waste from the demolition site. If you are in the demolition business, safety is paramount and some of the safety hazards are demolition wastes. A dumper is a very important in removing the large amount of debris from the site.
Cranes – Demolition contractors use cranes to transfer materials within the site especially from lower to upper floors and vice versa. Aside from being used as a pulley, our demo company also uses cranes for wrecking balls.
Crawler Loaders – They are very effective in removing materials from the demolition site. They are used to move or clear an area of demolition rubble. Crawler loaders can also be used to push down smaller-sized structures.
For all your Demolition Needs contact us in Surprise, Arizona
If you are looking for a reliable demolition company in Surprise, Arizona, there is no need to look any further. We have a brilliant track record of achieving 100% success despite hostile or challenging work environments. Contact us today and let our demolition company take the pressure off of you. We are the Surprise deconstruction and demolition company to go to for premium and safe demo services. Give us a call today at
(855) 885-3366
and we will get back to you as soon as we can.
Zip Code Areas We Service in Surprise
85361, 85379, 85388, 85387, 85374, 85375, 85378