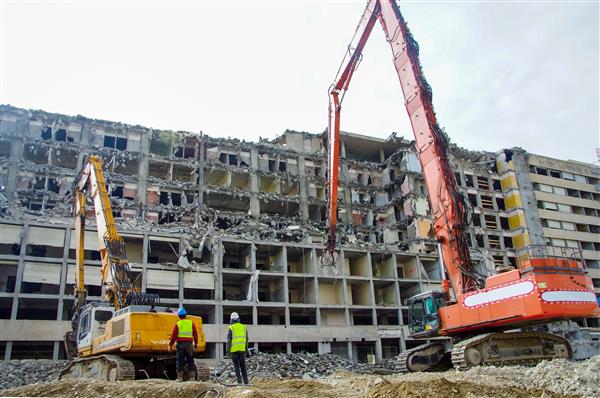 Professional Demolition Contractors Tempe, AZ – What You Need to Know when Hiring a Demolition Company
Omni Demolition is composed of reliable and dependable demolition contractors in Tempe, AZ. We are an established service provider when it comes to experience, skills and workmanship. At any given time, our demolition contractor will be at your service to help you with your demolition, excavation and wrecking projects in Tempe, AZ. You can trust that our demolition experts are all well-versed when it comes to everything that has to do with eco-friendly demolition, as well as health and safety guidelines. We have the resources and expertise to offer you the best solutions in a safe and professional manner.
Demolition vs. Deconstruction in Tempe, AZ
Demolition is the process of knocking down, levelling, razing, tearing down or pulling down a building or a structure. Demolition can either be selective or explosive. Explosive demolition uses mostly dynamite to bring down big buildings. Selective demolition involves bringing down a part of a building or tearing a section of a wall by a demolition expert. Deconstruction in Tempe, AZ involves taking a structure apart. No matter how complex your project is, we are happy and ready to serve in Tempe, AZ. Some projects require complete levelling while others simply need specific parts removed to be replaced. For every client call, we have a demolition expert equipped to do the job.
What We Do in Tempe, AZ
We maintain multi-disciplined and highly seasoned demolition experts and demolition contractors in Tempe, AZ-fully trained in material handling and equipment operation. Hire the most recommended demolition contractor in all of Tempe, AZ. Our management style is hands-on, giving us the opportunity to customize solutions to fit your demolition needs. No other demolition contractor in all of Tempe, AZ will provide you with top-of-the-line workmanship at cost-effective packages.
Our Main Demolition Services in Tempe, AZ
Industrial Demolition services: Our best-in-class strategies and state-of-the-art equipment allow us to offer specialized industrial demolition services for your chemical plant, mills and factories.
Commercial Demolition services: We are a prominent demo company in handling commercial buildings even in the most unimaginable spaces. We have taken down storehouses, grocery stores, airplane hangars, and large public structures among others.
Concrete Demolition and Recycling Services: Once we have demolished your concrete structure, our demolition experts will crush and re-use the salvaged concrete as a base course for gravel.
Scrap Metal Demolition Services: Unlike other contractors who concentrate only on concrete, our demo company can assist in handling metal frames and recycling scraps.
What Distinguishes Us from Other Demolition Companies in Tempe, AZ
We are professional demolition contractors who offer superior quality services. Our demolition experts are highly experienced in all types demolition services be they in a remote or challenging environment. We are a top-rated demolition company in Tempe, AZ. Our demo company is well equipped in handling any job, however simple or complex.
Our Approved Methods for Demolition and Deconstruction in Tempe, AZ
Explosive Demolition: Our demolition experts carefully consider all factors before flipping the switch that will initialize explosives to go off and promptly annihilate the target building in Tempe, AZ.
Non-Explosive Demolition: This method of demolition does not use explosives. Our local demolition contractors can use equipment such as wrecking balls, excavators and bulldozers.
Selective Demolition: Buildings are deconstructed with the aid of special equipment. It is a solution that maximizes efficiency while reducing waste. It is mainly used when building owners want to add extensions to the building, update the interior of a building, convert space or improve the health of the building. This is a delicate procedure that demands great precision and tact, which our demo contractors have and other building demolition companies overlook.
The process requires demo contractors to work around normal operating hours on small working spaces and under strict timetables. Our company, unlike other building demolition companies, understands the significance of all these considerations. We ensure that we provide an environment that is safe for everyone involved with as minimal disruption as possible.
The Main Equipment Used in Demolition in Tempe, AZ
Hydraulic breakers-Heavy-duty excavators are used at our demo company to aid in breaking or crushing concrete segments of the building. Be wary of contractors who have poorly maintained equipment such as hydraulic breakers because this will surely cause delays in your timeline.
Wrecking balls – Used mainly for non-explosive demos, these heavy impacting balls are helpful in progressively weakening a building until all that's left are frameworks that are then easier to tear down.
Hydraulic shears and rock breakers – When attached to excavators, these tools are helpful in cutting through any type of surface. Using electrical force, it can slice through metal, steel, concrete, rock and wood.
Bulldozers – A favorite among contractors, a bulldozer can be an intimidating piece of equipment on wheels although it is fairly easy to maneuver. It can be used to transport copious amounts of waste, as well as to wreck walls.
Dumpers – A dumper is a very useful piece of machinery in every demolition business. It is used to carry away demolition waste from demolition sites.
Cranes – A necessity for demolition contractors, cranes serve multiple purposes including being used for wrecking balls and for transferring heavy tools within the site. Every demo company should have a well-maintained and stable crane to avoid any unforeseen accidents.
Crawler Loaders – Also called caterpillars, crawlers have flexible ground mechanism allowing them to be useful even on uneven terrain. They are primarily used for excavating.
Go Ahead and Contact Us for All Your Demolition Needs in Tempe, Arizona
Settling with an amateur demolition company in Tempe, Arizona may seem cost-effective at first but mishaps and faulty work onsite may cost more of your resources, time and energy. Our dedication is in ensuring that we maximize your asset potential. Our demolition company is the Tempe demolition and deconstruction company you have been looking for. Get in touch with the leading Tempe deconstruction and demolition company. Go ahead and give us a call today at
(855) 885-3366
. We are always at your service.
Zip Code Areas We Service in Tempe
85281, 85282, 85283, 85284, 85280, 85285, 85287