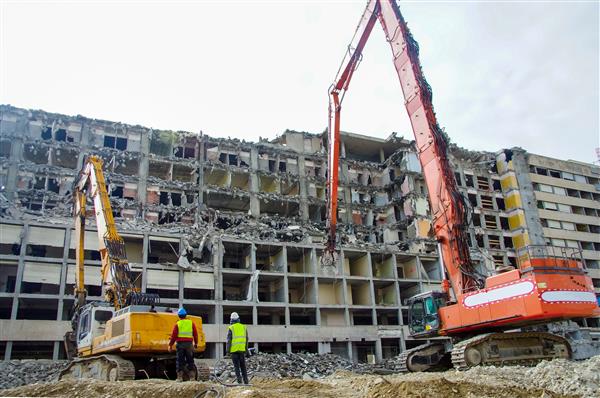 Recognizing an Outstanding Demolition Company from Inexperienced Demolition Contractors Yuma, AZ
Omni Demolition has efficient and expertly trained demolition contractors. We will be able to complete your project in a professional, cost-effective and safe way. You never have to worry about timelines. Our demolition experts provide top-notch work. You can rest assured that our affordable services are top-notch. To achieve this, our demolition experts apply strong verbal, communication, analytical, managerial, decision-making and time-management skills.
We Do Demolition and Deconstruction in Yuma, AZ
Demolition is aimed at basically bringing down a structure. Demolition is the actual tearing down of a structure to be done by a demolition expert. A deconstruction may be a prerequisite to the actual demolition process where hazardous materials are taken out prior to the tear down of the structure. Deconstruction could be a component included in the demolition where our skilled team removes all hazardous and re-usable objects prior to the building being knocked down. Selective deconstruction involves going into a property before demolition and removing high value and easily removable materials.
Why Come to Us for Your Demolition Project in Yuma, AZ
Our demolition experts will only recommend the most appropriate services you require and provide upfront quotations, without any unexplained or unexpected charges. Some demolition contractors may offer you an attractive contract with a very cheap price tag, but are you sure you are getting a steal? One of our biggest hallmarks is giving you undivided personal attention. Taking down a structure sounds chaotic but unlike other demolition contractors, our services are done with utmost care and with as little disturbance to the community as possible.
Professional Demolition Services in Yuma, AZ
Industrial Demolition services: We are the authority in collapsing massive structures like bridges, factories, industrial buildings and plants.
Commercial Demolition services: Being a world-class demo company, you can rest easy knowing that your property is in safe and capable hands. We have the capability to bring down commercial structures such as warehouses, airplane hangars, shopping malls, garages, office buildings and sports facilities among others.
Concrete demolition and recycling services: Our demolition experts are experienced in salvaging not only metal scraps but concrete structures and slabs as well.
Scrap Metal Demolition Services: Unlike other contractors who concentrate only on concrete, our demo company can assist in handling metal frames and recycling scraps.
What Distinguishes Us from Other Demolition Companies in Yuma, AZ
Our highly trained demolition contractors are able to offer flexible services to suit your specific needs. We provide our clients with value for their money. You are guaranteed a hassle-free experience when you sign with us, the most trusted demolition company in Yuma, AZ. Being a demo company in this business for years, we have perfected the process of demolishing structures as cost-effectively and safely as possible.
Methods Used for Demolition and Deconstruction in Yuma, AZ
Explosive Demolition: Done by licensed demolition experts in Yuma, AZ, this method may sound dangerous and it could be when proper procedures are not followed. After explosives are strategically laid out, a switch is all it takes to completely take down a building.
Non-Explosive Demolition: This method of demolition does not use explosives. Our local demolition contractors can use equipment such as wrecking balls, excavators and bulldozers.
Selective Demolition: This type of demolition is done when you want to remodel or renovate a building. It can either be exterior or interior by nature. Exterior demolition involves tearing down a part of the building with a purpose of increasing it in size or making it smaller. Interior demolition focuses mostly on taking apart spaces for remodeling or renovation.
The Main Equipment Used in Demolition in Yuma, AZ
Hydraulic breakers – Powerful excavators necessary in every demo company, hydraulic breakers or crushers are used to excavate structures quickly. These are commonly used to grind up concrete or rocks.
Wrecking balls – Although rarely used nowadays, wrecking balls are heavy steel balls used to gradually destroy a structure's integrity until it collapses.
Hydraulic Shears and Rock Breakers – They are highly effective in cutting steel, metal, concrete, wood and rocks. Their high power to weight ratio enable hydraulic shears to yield a higher output.
Bulldozers – Common equipment in construction sites used for excavating and hauling materials or waste. This machine can also be used to flatten or level structures hence the term bulldoze.
Dumpers – Dumpers are also known as tipper trucks. They are used for transporting rubble or waste from the demolition site. If you are in the demolition business, safety is paramount and some of the safety hazards are demolition wastes. A dumper is a very important in removing the large amount of debris from the site.
Cranes – A necessity for demolition contractors, cranes serve multiple purposes including being used for wrecking balls and for transferring heavy tools within the site. Every demo company should have a well-maintained and stable crane to avoid any unforeseen accidents.
Crawler Loaders – Flexible heavy equipment, crawler loaders can move on top of uneven surfaces and are also used for excavating and lifting.
For all your Demolition Needs contact us in Yuma, Arizona
Call our demolition company in Yuma, Arizona. Ensure a spotless pre-construction site when you sign with us. We are your one-stop-shop demolition company and we offer free consultation plus an accurate estimation of the costs. As the top Yuma deconstruction and demolition company, no job is ever too big or too small for us. Dial
(855) 885-3366
for a professional Yuma demolition that will not break your bank.
Zip Code Areas We Service in Yuma
85365, 85364, 85369