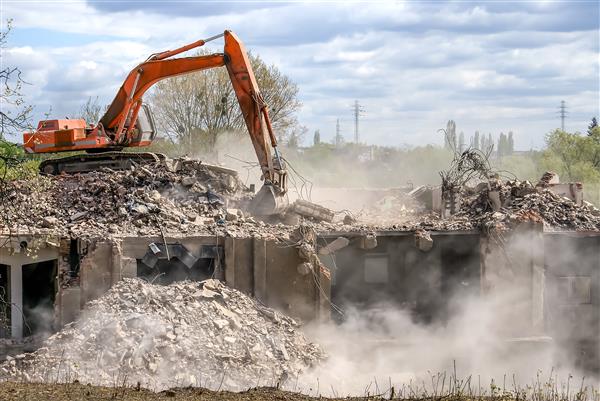 Reliable Provider of Concrete Removal Service in Fresno, CA
Hiring professionals for concrete removal services in Fresno, CA is not a minor expense and imagine how frustrating it would be if you ended up employing amateurs. No need to risk it with small-time providers of concrete slab removal when you can sign with Omni Demolition for an affordable price. For many years, we have been delivering quality solutions such as construction site cleanup, demolition jobs and concrete hauling. Omni Demolition is the most reliable concrete expert in the city. We have spent years perfecting our services.
Important Equipment Used for Concrete Removal in Fresno, CA
We use hydraulic hammers, pneumatic hammers, mounted breakers, pallet jackets, hoists, and bobcats among others in Fresno, CA. We can perform services like concrete slab removal that you may need for your Fresno, CA project as soon as possible. We highly recommend consulting with experts when you plan for your demolition project. Mechanical concrete demolition is used on bigger sized structures such as a concrete silo. Types of equipment used for getting this kind of job done are bulldozers, excavators, loaders and cranes. We also use jackhammers, pallet jacks, bobcats and hoists for demolition work such as removing concrete driveway, concrete slab demolition and concrete wall demolition. Our team ensures finishing within the projected time frame and keeping our clients updated on the current status of our operations. Book with us for stress-free services and operations that finish on time.
When Do You Need Concrete Demolition Services in Fresno, CA?
Concrete is designed to last a very long time if it is installed properly. However, like every other type of material, its structure will also degrade over time. Structures and buildings crafted from concrete are made to withstand enormous pressures. Hence, removing them can be quite challenging. We have an expert team of laborers, managers and engineers who see to it that demolition and concrete hauling standards are met if not exceeded. Oftentimes, damages to properties require a complete removal and replacement instead of a concrete resurfacing which only hides the damage. With just one phone call, you can contact our team in Fresno, CA and we will handle your requests within the set schedule.
Which Concrete Removal Permits are Required in Fresno, CA?
You can't proceed with your concrete removal or concrete hauling project without securing a permit in Fresno, CA. Other concrete removal companies may charge you extra to process the necessary permits. This is usually determined by the type of demolition project and the location of the project. You will be required to submit a few documents depending on the type and size of your project. If you work with our experts at Omni Demolition, you can be sure that you'll have a great experience.
How Much Do I Need to Pay for Concrete Demolition Services in Fresno, CA?
The cost of a concrete demolition project depends on the size and location of the project. You need to factor in the cost of permits and hauling as well. The cost of demolition is impacted by several things like the amount of concrete that needs to removed. The good news is that you are guaranteed to get bigger savings when hiring us as opposed to our competitors. We have the expertise, manpower and equipment to carry out any demolition project in Fresno, CA; even smaller jobs such as patio demolition and patio removal. There are special circumstances that can affect the cost of your demo project. On average, demolishing unreinforced concrete in a two-car driveway will cost you somewhere between $1,500 and $2,500. Bigger projects average between $4,000 and $14,000. Demolition permits on the other hand vary greatly and will cost you an average of $200, but can cost up to $10,000 depending on where you are located.
How Long is a Concrete Demolition Service in Fresno, CA?
Every concrete demolition project is unique even if identical procedures may be done and the same equipment will be used which is why no specific time frame can be given without the details of the area involved. It can take days, weeks or even months to complete a concrete slab removal and concrete hauling project in Fresno, CA. What we can say is that for all contractual projects, we do what we can in terms of equipment and manpower readiness to ensure nonstop operations and an early finish. In instances that an unforeseen situation arises, the client is notified to ensure that they are not kept in the dark and to establish the right expectations. We do not give our clients overly ambitious timelines.
How Can I Reuse the Concrete Waste Generated from My Project in Fresno, CA?
After the completion of a concrete demolition and removal project, you tend to end up with lots of concrete aggregate. Concrete recycling is a more viable option of taking care of demolition waste. Our concrete demolition contractors facilitate the hauling of reusable concrete to ensure an organized clearing of the site. In this day and age of strict adherence to environmental laws, recycling concrete is a welcomed option. Concrete recycling also reduces waste in landfills.
Why Make Us Your Concrete Demolition Company of Choice in Fresno, California
Our concrete demolition services in Fresno, CA include concrete slab removal and any other concrete removal service you may need. Our expert contractors at Omni Demolition have unparalleled skills and experience in the concrete slab removal business. Aside from demolishing your concrete walls, pavements or ceilings, we can also help you do concrete slab removal, concrete cleanup and other tasks. Rest assured we will provide the best concrete removal service in the area for an affordable price. Our team works systematically as we strive to provide a smooth service. Using their knowledge and specialized skills, our experts know how to get your projects done right. We professionally handle each client request in Fresno, CA.
Zip Code Areas We Service in Fresno
93721, 93730, 93650, 93702, 93703, 93701, 93706, 93704, 93705, 93728, 93720, 93722, 93726, 93727, 93711, 93710, 93707, 93708, 93709, 93714, 93715, 93716, 93717, 93718, 93724, 93729, 93740, 93744, 93750, 93755, 93760, 93761, 93764, 93765, 93771, 93772, 93774, 93775, 93776, 93777, 93778, 93779, 93790, 93791, 93792, 93793, 93794, 93844