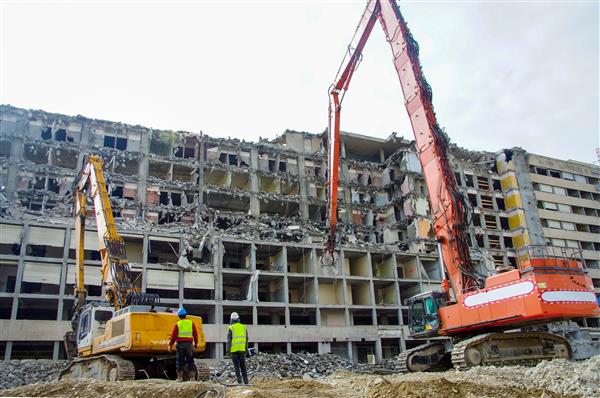 Demolition Contractors Bakersfield, CA: Your Trusted Demolition Company
Our mission here at Omni Demolition is to ensure that we offer premium and high-caliber services through our expert demolition contractors. We are dedicated to working on your project with no distractions whatsoever. No job is ever too big, too small or too demanding for us. Led by deconstruction experts in the industry in Bakersfield, CA, our demolition experts offer innovative approaches to all your projects, whether big or small. You can rest assured that our affordable services are top-notch. To achieve this, our demolition experts apply strong verbal, communication, analytical, managerial, decision-making and time-management skills.
Distinction Between Demolition and Deconstruction in Bakersfield, CA
Demolition is a faster process in comparison to deconstruction. A demolition expert may order a deconstruction if parts of the original structure need to be retained or hazardous materials and reusable items need to be extracted before an actual demolition. Deconstruction in Bakersfield, CA involves taking a structure apart. The materials can be reused in rebuilding or reconstruction.
Complete Accountability from Highly Skilled Specialists for Your Demolition Project in Bakersfield, CA
We have demolition experts who plan everything meticulously, from the bringing in of our equipment up to the clearance of the property from wastes and debris. If you wish to have a an effortless and hassle-free experience when leveling a property in Bakersfield, CA, we are the demolition contractor that you can rely on. Being in the business for years, our experience and continued trainings ensure that you work with only the most able specialists in the industry. You will not find another demolition contractor in all of Bakersfield, CA who will help you save and spend wisely. Our job is thorough and you can be certain that once we are done, you do not have to worry about hazardous wastes being left behind. Our job is thorough and you can be certain that once we are done, you do not have to worry about hazardous wastes being left behind.
Our Range of Demolition Services in Bakersfield, CA
Industrial Demolition services: Our countless contracts include leveling massive structures such as worn-down factories, mills, and chemical warehouses.
Commercial Demolition Services: We know all the ins and outs of this delicate procedure. No matter the job, you can be rest assured that our demo company will give you the best results. Our demolition experts have the know-how and experience to bring down buildings and structures even in very tight spaces. Be it tearing down a mall, strip center, warehouse, bridge, hangar or structures in metropolitan areas, we have got you covered.
Concrete demolition and recycling services: Our demolition experts are knowledgeable in pulverizing slabs and concrete to be turned into eco-friendly gravel.
Scrap Metal Demolition Services: As an all-around demo company, we can also take care of any unwanted steel erections and metal scraps onsite. We follow a certain procedure in salvaging items that are still good for future use so you can be sure nothing goes to waste.
Key Advantages Against Other Demolition Companies in Bakersfield, CA
We take pride in having some of the most seasoned demolition experts among numerous demolition contractors in Bakersfield, CA. We are on a continuous path to success and we have managed to do this through perfection in our demolition services. Our demolition company is experienced in implementing both small and large projects. You will never find a more reliable demolition company in Bakersfield, CA than us.
High Standard Methods for Demolition and Deconstruction in Bakersfield, CA
Explosive Demolition: Conducted by our skilled demolition experts in Bakersfield, CA, this method requires properly laying out detonators and explosives to bring a structure down to a pulp.
Non-Explosive Demolition: Our local demolition contractors will use a wrecking ball to bring down your structure. This method is cheaper than explosive demolition.
Selective Demolition: This process entails tearing down a part of the structure. Efficiency is maximized by recycling reusable material thus reducing waste and lessening the impact on the environment. As the leading demo contractors, we have set standards that other building demolition companies have a hard time measuring up to.
Main Equipment Used in Demolition in Bakersfield, CA
Hydraulic breakers – Our demo company uses hydraulic breakers or hammers in crushing otherwise solid surfaces such as concrete, cement and even rocks.
Wrecking balls – A wrecking ball is used together with a crane. This heavy steel ball is suspended from a crane and is used to bring down an entire structure or part of it. Although not widely used, this method is as fast as it is cost effective.
Hydraulic shears and rock breakers – Designed to cut through the toughest materials with very minimal effort, these tools are attached to excavators to do the job. They can slice through rocks, concrete, metal, wood and steel.
Bulldozers – Commonly seen in construction sites, bulldozers are not only good for flattening surfaces but also for moving and transporting waste materials. It can also be maneuvered to knock down weak walls and structures.
Dumpers – In the demolition business, they are used for moving rubble and debris away from the demolition site.
Cranes – A necessity for demolition contractors, cranes serve multiple purposes including being used for wrecking balls and for transferring heavy tools within the site. Every demo company should have a well-maintained and stable crane to avoid any unforeseen accidents.
Crawler Loaders – They are effective in bringing down structures. They can also be used to clean up a demolition site. Crawler loaders can help move debris. Its tracks enable the unit to move easily and freely on the property.
For all your Demolition Needs contact us in Bakersfield, California
Call our demolition company in Bakersfield, California. When you have a demolition project, do not hesitate to contact us. Consult with a reliable demolition company and save yourself from all the worries. Our work integrity and reasonable packages are only some of the reasons why we are a well renowned Bakersfield deconstruction and demolition company. Contact us at
(855) 885-3366
.
Zip Code Areas We Service in Bakersfield
93306, 93307, 93304, 93305, 93301, 93309, 93314, 93311, 93313, 93312, 93302, 93384, 93385, 93387, 93389, 93390