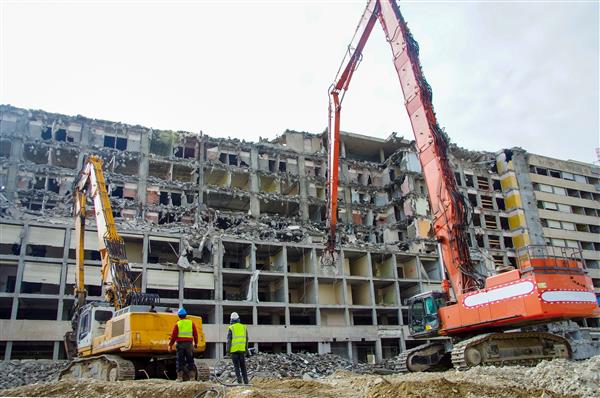 Demolition Contractors Corona, CA The Demolition Company That You Can Count On
The strength of Omni Demolition lies not only in its state of the art equipment and the expertise of its demolition contractors but the commitment that we have in providing unsurpassable services. We are dedicated to working on your project with no distractions whatsoever. We have an enduring assurance to safety. We have a team of seasoned demolition experts ready to act on any project. There are no second guesses when you sign with us.
The Objectives of Demolition and Deconstruction in Corona, CA
Demolition is taking down or dismantling a building or structure with a strong and overwhelming force whose end result is rubble or waste. Demolition is the actual tearing down of a structure to be done by a demolition expert. Deconstruction in Corona, CA involves taking a structure apart. It entails tearing down the components of a building for the purpose of recycling, re-using as well as waste management. They can also be torn down mechanically with the aid of hydraulic equipment such as bulldozers, excavators or planes.
Complete Accountability from Highly Skilled Specialists for Your Demolition Project in Corona, CA
Our demolition experts will meticulously execute your demolition project in a timely and safe manner. Compared to other demolition contractors who are highly profit-driven, we are committed to giving back to the community through outstanding workmanship and transparent transactions. Most sales agents will promise everything just to close a deal but are no longer accountable when their team fails to deliver. You will not find another demolition contractor in all of Corona, CA who will help you save and spend wisely. Whether small or large, we strive to always provide you with the highest possible standards of service in completing your projects within your budget and timeframe without complications. Whether small or large, we strive to always provide you with the highest possible standards of service in completing your projects within your budget and timeframe without complications.
Professional Demolition Services in Corona, CA
Industrial Demolition services: We are the authority in collapsing massive structures like bridges, factories, industrial buildings and plants.
Commercial Demolition services: Need your commercial demolition project done right the first time? Our demo company will take care of that for you. Our portfolio includes: airplane hangars, restaurants, grocery stores, gas stations, warehouses and libraries among others.
Concrete demolition and Recycling Services: Our demolition experts are able to recycle your concrete slabs and structures by crushing them and turning them into reusable gravel.
Scrap Metal Demolition Services: Our demo company will also clear out your property of any undesirable steel erections and salvage any existing metal scraps for recycling.
We are on Top of Other Demolition Companies in Corona, CA
Our team of demolition experts and demolition contractors will work tirelessly and dedicatedly to ensure that your project is completed on time. Our demolition experts and demolition contractors have an established performance record of completing demolition jobs in the right way, on budget and on time. Our demolition company is committed in service delivery. Being a demo company in this business for years, we have perfected the process of demolishing structures as cost-effectively and safely as possible.
Safely Regulated Methods for Demolition and Deconstruction in Corona, CA
Explosive Demolition: Our demolition experts in Corona, CA implode your building making it collapse safely with minimal damage to the immediate surroundings.
Non-Explosive Demolition: When a building structure does not allow the use of bombs, a wrecking ball is often utilized to take it down. Compared to other local demolition contractors, our experts use wrecking balls with careful precision. The heavy steel ball is swung into the targeted building causing it to gradually crumble.
Selective Demolition: This method is used when buildings are being remodeled or rebuilt and the client wishes to retain some parts of the structure. Not all contractors can perform this demolition as it involves meticulous planning and careful effort. Our demo contractors are veterans in conducting selective demolition especially in handling specialized equipment required for the job. You can trust our team of experts in providing calculated and top of the line performance, which other inexperienced building demolition companies cannot guarantee.
We Facilitate High-End Equipment for Demolition in Corona, CA
Hydraulic Breakers – This strong hammer is built to withstand heavy and rigorous use. As one of the high-quality demolition tools used by our demo company, it offers greater productivity in regards to speed, efficiency and its overall performance.
Wrecking balls – Attached to a crane, these heavy balls made of steel are used to weaken structures. They are swayed right into the building causing it to break and collapse.
Hydraulic Shears and Rock Breakers – They are usually attached to excavators and then used to make clean cuts through concrete, metal, wood and rocks of large structures.
Bulldozers – These can be utilized to apply pressure on a structure and weaken it as well as to haul waste and other materials onsite.
Dumpers – A dumper or a tipper truck is essential in the demolition business. This vehicle is specially designed to carry debris such as gravel, or demolition waste in bulk away from the property. It makes cleaning up the property after demolition easier and faster.
Cranes – Aside from being used to secure a wrecking ball, demolition contractors in our demo company also use cranes to lower and lift materials within the site.
Crawler Loaders – Also meant to be used in excavating, crawler loaders have declined in popularity compared to hydraulics that can be used in heavy drilling. This equipment, however, can run on its own power as opposed to hydraulic excavators that more often require towing.
Dial OurNumber for Top Rated Demolition Services in Corona, California
Our demolition company is a leading demolition company in Corona, California with proven resources, knowledge, professionalism and experience to successfully manage any demolition project you may have. For years now, we have helped all our clients demolish and deconstruct their buildings and structures successfully. We believe in providing professional and affordable services. Our demolition company provides all our clients with dynamic solutions for all their Corona demolition and deconstruction needs. Our Corona deconstruction and demolition company is licensed and highly reputable. For all your demolition needs, call us at
(855) 885-3366
.
Zip Code Areas We Service in Corona
92882, 92880, 92881, 92879, 92877, 92878