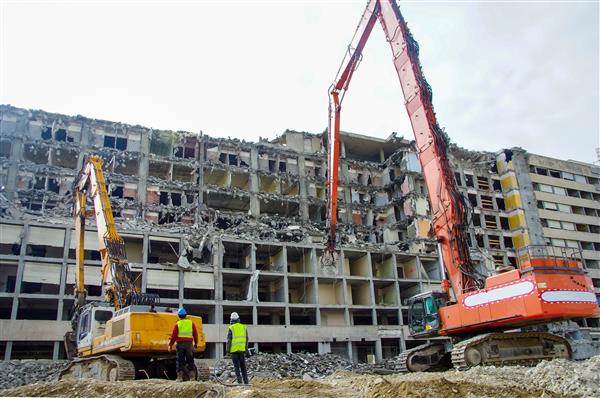 Demolition Contractors Costa Mesa, CA The Demolition Company That You Can Count On
Omni Demolition has demolition contractors at your service whose specialty is providing superior-quality, safe and cost-effective services for all our clients. You are guaranteed to get the best value for your money with our expertise partnered with updated equipment and strict adherence to state safety regulations and policies. If you need to hire a professional demolition contractor in Costa Mesa, CA without spending a ridiculous amount of money, you have come to the right place. You can trust that our demolition experts are all well-versed when it comes to everything that has to do with eco-friendly demolition, as well as health and safety guidelines. We are an environmentally friendly company.
Better Understanding of Demolition and Deconstruction in Costa Mesa, CA
Demolition is the process of tearing down or pulling down buildings and structures by a demolition expert. Deconstruction is when a demolition expert carefully dismantles or takes down a structure with the aim of reusing or recycling the materials. Deconstruction on the other hand is a type of demolition used in Costa Mesa, CA. The rubble from the process is either disposed-off as waste, used as clean fill or re-used as aggregate. In case of metal structures, the scrap metal is recycled. As opposed to a full demolition which entails completely crushing a certain structure, deconstruction is the strategic taking apart of a building and putting away its reusable components.
Why Choose Us as Your Company of Choice for Your Demolition Project in Costa Mesa, CA
Our demolition experts will handle your property professionally from start to finish. Some demolition contractors may offer you an attractive contract with a very cheap price tag, but are you sure you are getting a steal? Our word is our bond. We have an impeccable record of giving our clients value for their money while never compromising on the quality of our work. But this is not just a one-time initiative, it is ingrained in the workmanship of each and every demolition contractor in our company.
Our Demolition Services in Costa Mesa, CA
Industrial Demolition services: Complexity and size do not intimidate us. We have successfully torn down enormous structures such as manufacturing plants, factories, warehouses and even utility installations.
Commercial Demolition Services: We know all the ins and outs of this delicate procedure. No matter the job, you can be rest assured that our demo company will give you the best results. Our demolition experts have the know-how and experience to bring down buildings and structures even in very tight spaces. Be it tearing down a mall, strip center, warehouse, bridge, hangar or structures in metropolitan areas, we have got you covered.
Concrete Demolition and Recycling Services: Once we have demolished your concrete structure, our demolition experts will crush and re-use the salvaged concrete as a base course for gravel.
Scrap Metal Demolition Services: As an all-around demo company, we can also take care of any unwanted steel erections and metal scraps onsite. We follow a certain procedure in salvaging items that are still good for future use so you can be sure nothing goes to waste.
What Distinguishes Us from Other Demolition Companies in Costa Mesa, CA
We are professional demolition contractors who offer superior quality services. We take pride in employing some of the finest calibre of demolition experts throughout the city. As an established demolition company in all of Costa Mesa, CA, we see to it that our services, equipment and workmanship are always above customer satisfaction. You will never find a more reliable demolition company in Costa Mesa, CA than us.
Our Approved Methods for Demolition and Deconstruction in Costa Mesa, CA
Explosive Demolition: Conducted by our skilled demolition experts in Costa Mesa, CA, this method requires properly laying out detonators and explosives to bring a structure down to a pulp.
Non-Explosive Demolition: Our local demolition contractors will use a wrecking ball to demolish a building in situations that do not allow the use of explosives.
Selective Demolition: This process entails tearing down a part of the structure. Efficiency is maximized by recycling reusable material thus reducing waste and lessening the impact on the environment. As the leading demo contractors, we have set standards that other building demolition companies have a hard time measuring up to.
We Utilize Well-maintained Equipment for Demolition in Costa Mesa, CA
Hydraulic Breakers – Our demo company uses a percussion hammer attached to an excavator. This powerful equipment is used for bringing down concrete structures.
Wrecking balls – Huge metal balls suspended on a metal crane and swung into the building intended to be collapsed either once or as many as needed.
Hydraulic Shears and Rock Breakers – They can be able to quickly and effectively cut through rocks, concrete, steel, wood and metal.
Bulldozers – Commonly used where heavy lifting is required, this flexible machine can also be used to topple down weak structures.
Dumpers – Essential in clearing a demolition site, our dumpers make it easier and quicker to take out unwanted debris and materials from the site to be properly disposed of. Our demolition business has invested in quality dumpers to ensure a speedy clean-up of the property and that your project timeline is met.
Cranes – A necessity for demolition contractors, cranes serve multiple purposes including being used for wrecking balls and for transferring heavy tools within the site. Every demo company should have a well-maintained and stable crane to avoid any unforeseen accidents.
Crawler Loaders – Also meant to be used in excavating, crawler loaders have declined in popularity compared to hydraulics that can be used in heavy drilling. This equipment, however, can run on its own power as opposed to hydraulic excavators that more often require towing.
Call us Today for Demolition Services in Costa Mesa, California
If you are looking for a reliable demolition company in Costa Mesa, California, there is no need to look any further. With us you are guaranteed to have a safe and worry-free operation to be completed by field experts. Our demolition company never offers excuses; we simply provide professional and timely services guaranteed to accommodate your budget. As the top Costa Mesa deconstruction and demolition company, no job is ever too big or too small for us. Call us today at
(855) 885-3366
and allow us to assist you with your demolition requirements.
Zip Code Areas We Service in Costa Mesa
92626, 92627, 92628