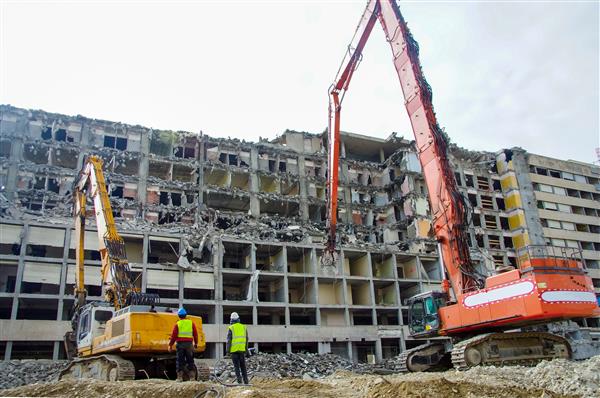 The Best Option For Demolition Contractors Irvine, CA: Our First-Class Demolition Company
When looking to hire demolition contractors in Irvine, CA, Omni Demolition is your best choice. We are an established service provider when it comes to experience, skills and workmanship. At any given time, our demolition contractor will be at your service to help you with your demolition, excavation and wrecking projects in Irvine, CA. Our demolition experts provide top-notch work. We have the right equipment for any kind of demolition work.
How is Demolition Different from Deconstruction in Irvine, CA?
Demolition is taking down or dismantling a building or structure with a strong and overwhelming force whose end result is rubble or waste. Demolition can either be selective or explosive. Explosive demolition uses mostly dynamite to bring down big buildings. Selective demolition involves bringing down a part of a building or tearing a section of a wall by a demolition expert. A deconstruction may be implemented on its own or as a pre-demolition procedure. The materials can be reused in rebuilding or reconstruction. Our demolition experts are most experienced in going over construction sites to see what items may be salvaged and put aside to be used again, often saving time and resources.
Why Hire Us for Your Demolition Project in Irvine, CA
Our demolition experts have a solid record of work experience aside from continually receiving refresher trainings every now and then to ensure that they are well updated with any enhancements or changes in technology and procedural protocol. First and foremost, our selection of advanced and reliable equipment enables our demolition contractors to be highly efficient as well as cost-effective. Our management style is hands-on, giving us the opportunity to customize solutions to fit your demolition needs. You will not find another demolition contractor in all of Irvine, CA who will help you save and spend wisely.
Professional Demolition Services in Irvine, CA
Industrial Demolition services: Our countless contracts include leveling massive structures such as worn-down factories, mills, and chemical warehouses.
Commercial Demolition services: Need your commercial demolition project done right the first time? Our demo company will take care of that for you. Our portfolio includes: airplane hangars, restaurants, grocery stores, gas stations, warehouses and libraries among others.
Concrete demolition and recycling services: Our demolition experts are experienced in salvaging not only metal scraps but concrete structures and slabs as well.
Scrap Metal Demolition Services: Our demo company is also experienced in extracting steel and metal from a building.
A class Above the Rest in Irvine, CA
Our demolition experts and demolition contractors offer a professional and innovative approach to all your demolition projects. Our demolition experts are highly experienced in all types demolition services be they in a remote or challenging environment. No matter the nature of your project or timelines, our demolition company in Irvine, CA will deliver to your satisfaction. We continue to fulfil our commitment as a demo company when it comes to putting our clients as top priority.
Safely Regulated Methods for Demolition and Deconstruction in Irvine, CA
Explosive Demolition: Our demolition experts carefully consider all factors before flipping the switch that will initialize explosives to go off and promptly annihilate the target building in Irvine, CA.
Non-Explosive Demolition: Certain buildings are not recommended for use of explosives, to which local demolition contractors opt for wrecking balls. Made of steel, a wrecking ball is suspended and swung into the building repeatedly causing it to topple or crumble down.
Selective Demolition: Buildings are deconstructed with the aid of special equipment. It is a solution that maximizes efficiency while reducing waste. It is mainly used when building owners want to add extensions to the building, update the interior of a building, convert space or improve the health of the building. This is a delicate procedure that demands great precision and tact, which our demo contractors have and other building demolition companies overlook.
Utilizing the Proper Equipment for Demolition in Irvine, CA
Hydraulic breakers – Our demo company uses hydraulic breakers or hammers in crushing otherwise solid surfaces such as concrete, cement and even rocks.
Wrecking Balls – A wrecking ball is a heavy ball made from steel. It is attached to a crane and is used to strike down structures from a manageable height.
Hydraulic Shears and Rock Breakers – They are highly effective in cutting steel, metal, concrete, wood and rocks. Their high power to weight ratio enable hydraulic shears to yield a higher output.
Bulldozers – They are used to push demolition debris. They are also used to tear down smaller structures, clear the property of rubble or pile the debris.
Dumpers – Not every demolition business have their own dumpers but we use them for taking waste products and debris off the site.
Cranes – Demolition contractors need a crane for attaching a wrecking ball to it. It can also be used to lift heavy things onto or off the structure. A demo company will almost always have this piece of machinery on a demolition site.
Crawler Loaders – A flexible machine, crawlers are perfect for excavating narrow spaces. Although not very good for excavating, it can be used to haul items easily.
Go Ahead and Contact Us for All Your Demolition Needs in Irvine, California
We are ranked as the leading demolition company in Irvine, California. There's a reason why we continue to be highly recommended by building contractors and the rest of our clientele. Contact us today and let our demolition company take the pressure off of you. Unlike some unreliable Irvine deconstruction and demolition companies who are all talk, we are devoted to deliver more than promised. Dial
(855) 885-3366
for a professional Irvine demolition that will not break your bank.
Zip Code Areas We Service in Irvine
92617, 92614, 92612, 92618, 92620, 92602, 92603, 92604, 92606, 92616, 92619, 92623, 92650, 92697, 92698