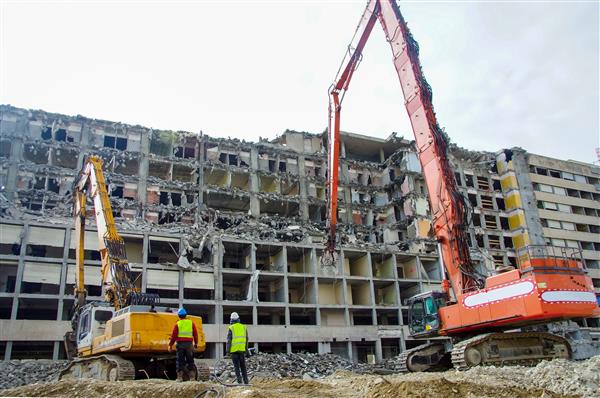 Demolition Contractors Pomona, CA: The Number One Demolition Company
The strength of Omni Demolition lies not only in its state of the art equipment and the expertise of its demolition contractors but the commitment that we have in providing unsurpassable services. You are guaranteed to get the best value for your money with our expertise partnered with updated equipment and strict adherence to state safety regulations and policies. We offer unrivalled expertise and deliver tailor-made solutions to both simple and tough demolition projects. You can trust that our demolition experts are all well-versed when it comes to everything that has to do with eco-friendly demolition, as well as health and safety guidelines. There are no second guesses when you sign with us.
Better Understanding of Demolition and Deconstruction in Pomona, CA
Demolition is taking down or dismantling a building or structure with a strong and overwhelming force whose end result is rubble or waste. Demolition can either be selective or explosive. Explosive demolition uses mostly dynamite to bring down big buildings. Selective demolition involves bringing down a part of a building or tearing a section of a wall by a demolition expert. Deconstruction differs from demolition in that, it involves tearing apart a building or a home in a manner that salvages materials. We have the know-how in identifying the value of extracted materials and their potential for reuse. Demolition is the actual tearing down of a structure to be done by a demolition expert.
Complete Accountability from Highly Skilled Specialists for Your Demolition Project in Pomona, CA
We have demolition experts who plan everything meticulously, from the bringing in of our equipment up to the clearance of the property from wastes and debris. Compared to other demolition contractors who are highly profit-driven, we are committed to giving back to the community through outstanding workmanship and transparent transactions. One of our biggest hallmarks is giving you undivided personal attention. Trust only the most preferred demolition contractor in all of Pomona, CA.
Take Advantage of Our Demolition Services in Pomona, CA
Industrial Demolition services: Our best-in-class strategies and state-of-the-art equipment allow us to offer specialized industrial demolition services for your chemical plant, mills and factories.
Commercial Demolition Services: We know all the ins and outs of this delicate procedure. No matter the job, you can be rest assured that our demo company will give you the best results. Our demolition experts have the know-how and experience to bring down buildings and structures even in very tight spaces. Be it tearing down a mall, strip center, warehouse, bridge, hangar or structures in metropolitan areas, we have got you covered.
Concrete Demolition and Recycling Services: Concrete recycling results in saving costs in that it decreases the cost of transportation and disposal. Our demolition experts will break, remove and then crush concrete after demolition. The concrete can be used as an aggregate in new concrete.
Scrap Metal Demolition Services: Our demo company will expertly demolish your scrap metal projects. Our crew will downsize as well as dismantle the steel structures then process, bundle and recycle the materials.
What Sets Us Apart from Others Pomona, CA
Our team of demolition experts and demolition contractors will work tirelessly and dedicatedly to ensure that your project is completed on time. We are on a continuous path to success and we have managed to do this through perfection in our demolition services. Our commitment to our patrons helped us become the most respectable demolition company in all of Pomona, CA. As a trusted demo company, we have established a life-long relationship with our loyal patrons who can attest to our efficiency and commitment to getting the job done.
Main Methods Used in Demolition and Deconstruction in Pomona, CA
Explosive Demolition: Conducted by our skilled demolition experts in Pomona, CA, this method requires properly laying out detonators and explosives to bring a structure down to a pulp.
Non-Explosive Demolition: Certain buildings are not recommended for use of explosives, to which local demolition contractors opt for wrecking balls. Made of steel, a wrecking ball is suspended and swung into the building repeatedly causing it to topple or crumble down.
Selective Demolition: This type of demolition is done when you want to remodel or renovate a building. It can either be exterior or interior by nature. Exterior demolition involves tearing down a part of the building with a purpose of increasing it in size or making it smaller. Interior demolition focuses mostly on taking apart spaces for remodeling or renovation.
We Utilize Well-maintained Equipment for Demolition in Pomona, CA
Hydraulic breakers – Massive earthmovers used at our demo company to drill and break concrete areas in no time.
Wrecking balls – A massive ball made of steel, it is suspended on a crane and maneuvered into a swinging motion to tear down a building. It sounds less dangerous than using explosives but the use of wrecking balls gives little control to the depth of damage done, hence it requires careful and professional handling.
Hydraulic shears and rock breakers – Used by specialists to cut through various materials such as concrete, metal, wood, and steel.
Bulldozers – Commonly seen in construction sites, bulldozers are not only good for flattening surfaces but also for moving and transporting waste materials. It can also be maneuvered to knock down weak walls and structures.
Dumpers – An efficient demolition business uses dumpers to haul wastes off the demo site for its clearing process. Not having dumpers means requiring a third party contractor to get rid of the trash and may cause delays on the project timeline.
Cranes – Our demolition contractors utilize cranes not only for suspending wrecking balls but in heavy lifting and moving materials within the site. Our demo company uses different types of cranes depending on the task to be fulfilled.
Crawler Loaders – A flexible machine, crawlers are perfect for excavating narrow spaces. Although not very good for excavating, it can be used to haul items easily.
For All Your Demolition Service Needs in Pomona, California, Contact Us Today
We are ranked as the leading demolition company in Pomona, California. We believe in providing professional and affordable services. Our demolition company provides all our clients with dynamic solutions for all their Pomona demolition and deconstruction needs. Get in touch with the leading Pomona deconstruction and demolition company. Call us today at
(855) 885-3366
and get your job done quickly, flawlessly and affordably.
Zip Code Areas We Service in Pomona
91766, 91767, 91768, 91769