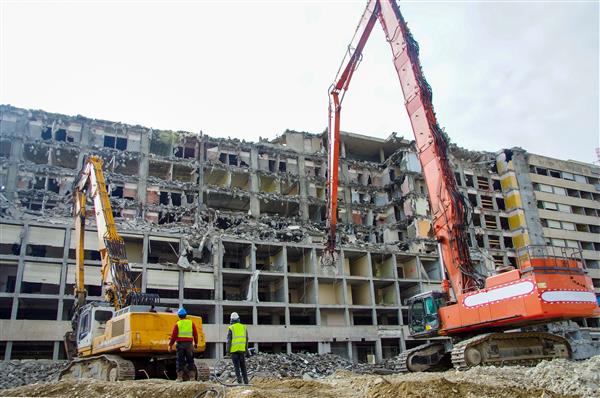 Demolition Contractors San Leandro, CA: Your Go-To Demolition Company
When looking to hire demolition contractors in San Leandro, CA, Omni Demolition is your best choice. Just like any other major construction or remodeling plan, having a property demolished requires the skills of professionals, along with the use of appropriate equipment. You never have to worry about timelines. Always making sure that our clients are not kept in the dark, our demolition experts will guide you accordingly when it comes to recommended methods, pricing and procedures to be enacted. We have the resources and expertise to offer you the best solutions in a safe and professional manner.
Better Understanding of Demolition and Deconstruction in San Leandro, CA
Demolition is the tearing down of buildings or structures partly or completely. A demolition expert may order a careful deconstruction prior to a demolition to carefully remove chemically hazardous materials as a safety precaution. There are two categories of deconstruction, namely soft strip or selective deconstruction and whole-house deconstruction. If you are going to rebuild or remodel an existing building and you wish to maintain some segments, a deconstruction is recommended.
What We Do in San Leandro, CA
Our demolition experts as well as our demolition contractors in San Leandro, CA have highly specialized equipment and all the resources needed to complete any project you may have for us, however big or small it may be. Some demolition contractors may offer you an attractive contract with a very cheap price tag, but are you sure you are getting a steal? Property owners usually think first rate services always come with a steep price to pay, but not with us. Trust only the most preferred demolition contractor in all of San Leandro, CA.
Our Range of Demolition Services in San Leandro, CA
Industrial Demolition services: We focus on enhancing safety and maximizing productivity. We are responsive and flexible enough to be able to deal with any complications that such a challenging demolition project may bring. With our knowledgeable technicians and superior equipment, we can handle demolishing refineries, highways, powerplants, bridges, mines and airports among others.
Commercial Demolition Services: We know all the ins and outs of this delicate procedure. No matter the job, you can be rest assured that our demo company will give you the best results. Our demolition experts have the know-how and experience to bring down buildings and structures even in very tight spaces. Be it tearing down a mall, strip center, warehouse, bridge, hangar or structures in metropolitan areas, we have got you covered.
Concrete Demolition and Recycling Services: Concrete recycling results in saving costs in that it decreases the cost of transportation and disposal. Our demolition experts will break, remove and then crush concrete after demolition. The concrete can be used as an aggregate in new concrete.
Scrap Metal Demolition Services: Instead of hiring another contractor, we will help you save money as our demo company will take care of handling misplaced steel erections and sorting metal scraps for salvaging.
Key Advantages Against Other Demolition Companies in San Leandro, CA
Compared to other service providers, we take pride in having hardworking demolition experts and highly skilled demolition contractors. Our demolition experts and demolition contractors have an established performance record of completing demolition jobs in the right way, on budget and on time. As the number one demolition company in San Leandro, CA, we will work closely with you to guarantee an optimum outcome. Our demo company is well equipped in handling any job, however simple or complex.
Methods Conducted by Experts on Demolition and Deconstruction in San Leandro, CA
Explosive Demolition: If you want to demolish a big structure, you have to bring out the big guns. Our demolition experts in San Leandro, CA use explosive demolition for larger buildings. It is as effective as it is safe.
Non-Explosive Demolition: Instead of explosives, local demolition contractors may also use a wrecking ball to tear down a building. This method also requires safety precaution as swinging wrecking balls are harder to control than it seems.
Selective Demolition: In cases of remodeling or renovation, demo contractors may be required to pull apart specific areas of the structure. We exceed other building demolition companies when it comes to precision in conducting selective demo such as disassembling interiors, floor coverings, ceilings and walls.
Well-maintained Equipment for Demolition in San Leandro, CA
Hydraulic Breakers – A demo company uses hydraulic breakers to demolish concrete and pulverize rocks.
Wrecking Balls – A wrecking ball is a heavy steel ball that is usually suspended from a crane. It is swung to the targeted structure or building in order to take it down.
Hydraulic Shears/ Rock breakers – They are fitted to an excavator and have the ability to cut through concrete, metal, rocks and wood.
Bulldozers – Serving multiple purposes, bulldozers can be used to haul items and waste as well as help knock down weak structures or level mounds of soil.
Dumpers – A dumper is a very useful piece of machinery in every demolition business. It is used to carry away demolition waste from demolition sites.
Cranes – Demolition contractors use cranes not only for swinging wrecking balls but also in moving objects within the site. Our demo company facilitates the use of cranes to lift heavy objects from lower grounds to higher areas.
Crawler Loaders – This heavy machinery is used to move aside debris material. It can also load the material onto a dump truck.
Contact Us for Cost-effective Demolition Services in San Leandro, California
Call our demolition company in San Leandro, California. We will meet all your demands and give the same meticulous attention to your projects no matter the size. Signing with our demolition company guarantees a stress-free project, from the accurate estimation, the actual operations, onsite clearance as well as processing required permits. Our San Leandro deconstruction and demolition company is licensed and highly reputable. Call us today at
(855) 885-3366
and get your job done quickly, flawlessly and affordably.
Zip Code Areas We Service in San Leandro
94578, 94579, 94577, 94622