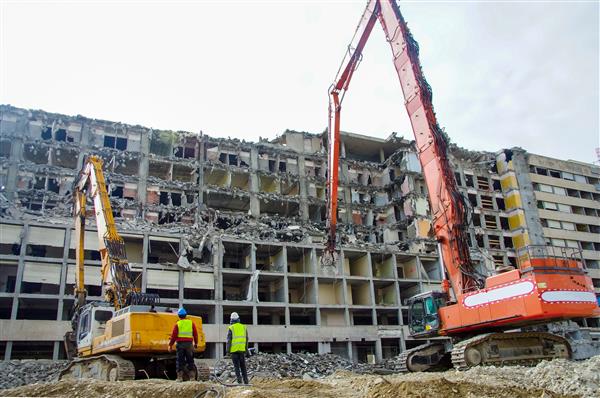 Demolition Contractors San Mateo, CA The Demolition Company That You Can Count On
Our mission here at Omni Demolition is to ensure that we offer premium and high-caliber services through our expert demolition contractors. We are dedicated to working on your project with no distractions whatsoever. Our contractors ensure that the necessary safety measures and procedures are in place in the work environment. Here at Omni Demolition, you can expect nothing less than high-quality customer service and spotless workmanship courtesy of our seasoned demolition experts. We are an environmentally friendly company.
How is Demolition Different from Deconstruction in San Mateo, CA?
Demolition is taking down or dismantling a building or structure with a strong and overwhelming force whose end result is rubble or waste. A demolition expert may order a careful deconstruction prior to a demolition to carefully remove chemically hazardous materials as a safety precaution. A deconstruction may be a prerequisite to the actual demolition process where hazardous materials are taken out prior to the tear down of the structure. We have the know-how in identifying the value of extracted materials and their potential for reuse.
We are the Most Competent Specialists for Your Demolition Project in San Mateo, CA
Our demolition experts and demolition contractors in San Mateo, CA are highly skilled in meeting all your demands. If you wish to have a an effortless and hassle-free experience when leveling a property in San Mateo, CA, we are the demolition contractor that you can rely on. Being in the business for years, our experience and continued trainings ensure that you work with only the most able specialists in the industry. Our demolition contractor will handle your needs on a one-on-one level and ensure that your project is given the undivided attention it deserves. Taking down old and unwanted buildings may look like a simple task; however, it requires the experience and competence of professional service providers like us to get your job done properly. Taking down old and unwanted buildings may look like a simple task; however, it requires the experience and competence of professional service providers like us to get your job done properly.
Take Advantage of Our Demolition Services in San Mateo, CA
Industrial Demolition services: We have the expertise, equipment and manpower to take down, mills, plants, manufacturing buildings among others without compromising the integrity of neighbouring structures.
Commercial Demolition services: Our demo company, has proven to be knowledgeable in demolishing commercial buildings despite their confinement in between other structures. Using specialized equipment plus our own unique strategy, we have in the past taken down airplane hangars, grocery stores, bridges, shops, and warehouses.
Concrete Demolition and Recycling Services: This type of demolition is environmentally friendly and saves on cost. Rubble from concrete demolition is reused by our demolition experts to make gravel or as one of the materials for making new concrete.
Scrap Metal Demolition Services: As an all-around demo company, we can also take care of any unwanted steel erections and metal scraps onsite. We follow a certain procedure in salvaging items that are still good for future use so you can be sure nothing goes to waste.
We Stay Ahead Other Demolition Companies in San Mateo, CA
Despite being highly preferred over other demolition contractors, we keep our feet grounded. We take pride in employing some of the finest calibre of demolition experts throughout the city. Our demolition company is experienced in implementing both small and large projects. You will never find a more reliable demolition company in San Mateo, CA than us.
Our Methods for Demolition and Deconstruction in San Mateo, CA
Explosive Demolition: Done by licensed demolition experts in San Mateo, CA, this method may sound dangerous and it could be when proper procedures are not followed. After explosives are strategically laid out, a switch is all it takes to completely take down a building.
Non-Explosive Demolition: Although somehow rare, our local demolition contractors use a wrecking ball to tear down a structure. Compared to using explosives, this method costs less; however, there is limited control on the amount of damage each swing can make.
Selective Demolition: Our demo contractors use this method when their goal is to recover or salvage demolition materials. Building demolition companies reuse or recycle the salvaged materials thus reducing waste.
Utilizing the Proper Equipment for Demolition in San Mateo, CA
Hydraulic Breakers – Our demo company will use this heavy hammer to demolish rocks or concrete structures. Hydraulic breakers are also an important part of recycling operations.
Wrecking balls – Although rarely used nowadays, wrecking balls are heavy steel balls used to gradually destroy a structure's integrity until it collapses.
Hydraulic Shears and Rock Breakers – They are highly effective in cutting steel, metal, concrete, wood and rocks. Their high power to weight ratio enable hydraulic shears to yield a higher output.
Bulldozers – Commonly used where heavy lifting is required, this flexible machine can also be used to topple down weak structures.
Dumpers – Not every demolition business have their own dumpers but we use them for taking waste products and debris off the site.
Cranes – Aside from being used to secure a wrecking ball, demolition contractors in our demo company also use cranes to lower and lift materials within the site.
Crawler Loaders – Also called caterpillars, crawlers have flexible ground mechanism allowing them to be useful even on uneven terrain. They are primarily used for excavating.
Call us Today for Demolition Services in San Mateo, California
Settling with an amateur demolition company in San Mateo, California may seem cost-effective at first but mishaps and faulty work onsite may cost more of your resources, time and energy. We guarantee safe, timely and effective services. Signing with our demolition company guarantees a stress-free project, from the accurate estimation, the actual operations, onsite clearance as well as processing required permits. Our San Mateo deconstruction and demolition company has highly skilled personnel with years of experience in the demolition business. Give us a call at
(855) 885-3366
and we guarantee a refreshing customer experience that you can only get from us.
Zip Code Areas We Service in San Mateo
94404, 94401, 94402, 94403, 94497