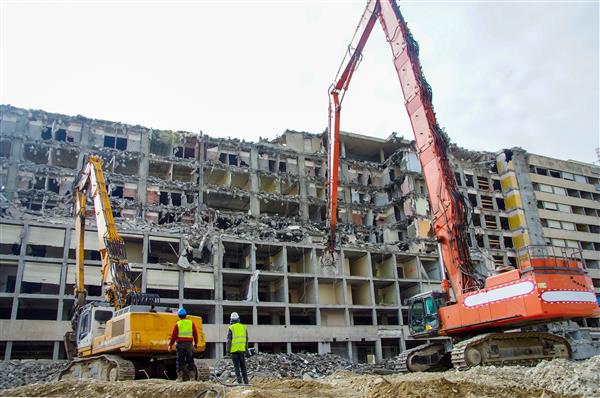 Professional Demolition Contractors Simi Valley, CA – What You Need to Know when Hiring a Demolition Company
The strength of Omni Demolition lies not only in its state of the art equipment and the expertise of its demolition contractors but the commitment that we have in providing unsurpassable services. We are an established service provider when it comes to experience, skills and workmanship. If you need to hire a professional demolition contractor in Simi Valley, CA without spending a ridiculous amount of money, you have come to the right place. Our team of demolition experts provide outstanding demolition services whether complete or selective. You can rest assured that our affordable services are top-notch. To achieve this, our demolition experts apply strong verbal, communication, analytical, managerial, decision-making and time-management skills.
What are the differences Between Demolition and Deconstruction in Simi Valley, CA
Demolition is taking down or dismantling a building or structure with a strong and overwhelming force whose end result is rubble or waste. Some projects require complete levelling while others simply need specific parts removed to be replaced. For every client call, we have a demolition expert equipped to do the job. A deconstruction may be implemented on its own or as a pre-demolition procedure. Deconstruction could be a component included in the demolition where our skilled team removes all hazardous and re-usable objects prior to the building being knocked down.
You can Trust Us with Your Demolition Project in Simi Valley, CA
Our demolition experts will only recommend the most appropriate services you require and provide upfront quotations, without any unexplained or unexpected charges. If you wish to have a an effortless and hassle-free experience when leveling a property in Simi Valley, CA, we are the demolition contractor that you can rely on. It is our core mission to exceed all your expectations. Our demolition contractor will handle your needs on a one-on-one level and ensure that your project is given the undivided attention it deserves. From cost estimation up to the site clean-up, you can rest assured that we have everything covered. From cost estimation up to the site clean-up, you can rest assured that we have everything covered.
Our Demolition Services in Simi Valley, CA
Industrial Demolition services: We have taken down massive structures such as warehouses, industrial buildings, bridges, power plants, and mills. Our special equipment and expertise allow for the safe demolition of vast properties.
Commercial Demolition services: We are a prominent demo company in handling commercial buildings even in the most unimaginable spaces. We have taken down storehouses, grocery stores, airplane hangars, and large public structures among others.
Concrete demolition and recycling services: Our demolition experts can break down concrete surfaces and slabs into reusable gravel.
Scrap Metal Demolition Services: Our demo company will save you time and money by demolishing your metal structure, putting a recovery plan in place and selling the salvaged scrap metal for you.
What Sets Us Apart from Others Simi Valley, CA
We take pride in having some of the most seasoned demolition experts among numerous demolition contractors in Simi Valley, CA. We provide our clients with value for their money. Our commitment to our patrons helped us become the most respectable demolition company in all of Simi Valley, CA. Our demo company is well equipped in handling any job, however simple or complex.
Main Methods Used in Demolition and Deconstruction in Simi Valley, CA
Explosive Demolition: Our well-trained demolition experts in Simi Valley, CA strictly follow all protocols to ensure safety onsite and in nearby areas. Aside from safety precautions, all procedures in using explosives are guaranteed to be eco-friendly and not invasive.
Non-Explosive Demolition: In instances where the height of the building makes it unsafe to use explosives, a wrecking ball is used by local demolition contractors to weaken the structure before tearing it down.
Selective Demolition: Our demo contractors use this method when their goal is to recover or salvage demolition materials. Building demolition companies reuse or recycle the salvaged materials thus reducing waste.
Main Equipment Used in Demolition in Simi Valley, CA
Hydraulic Breakers-They turn excavators into powerful and effective demolition machines. Our demo company uses hydraulic breakers to break rocks, concrete and other hard materials.
Wrecking Balls – A wrecking ball is a heavy steel ball that is usually suspended from a crane. It is swung to the targeted structure or building in order to take it down.
Hydraulic Shears and Rock Breakers – They are able to demolish steel structures. Hydraulic shears are also used for recycling or secondary breaking. Rock Breakers are robust pounding hammers that are usually fitted to excavators. They are used to demolish rocks, as the name suggests or concrete.
Bulldozers – A favorite among contractors, a bulldozer can be an intimidating piece of equipment on wheels although it is fairly easy to maneuver. It can be used to transport copious amounts of waste, as well as to wreck walls.
Dumpers – In every demolition business, dumpers are necessary to clear the site from rubble and debris.
Cranes – In demolition, demolition contractors need a crane. Cranes can be used to lift a small-sized excavator. A wrecking ball can also be attached to a crane for demolition making it an essential piece of machinery in a demo company.
Crawler Loaders – A flexible machine, crawlers are perfect for excavating narrow spaces. Although not very good for excavating, it can be used to haul items easily.
For all Your Demolition Services in Simi Valley, California, Call on Us
If you are in dire need of a reliable demolition company in Simi Valley, California but are quite not sure what kind of method you will require and how much it will cost you, do not hesitate to call us. We take any demolition challenge head on. Our demolition company's spotless track record in handling minor to major demolitions is your guarantee of our high quality service, expertise and commitment to each and every project. As the top Simi Valley deconstruction and demolition company, no job is ever too big or too small for us. Give us a call today at
(855) 885-3366
and we will get back to you as soon as we can.
Zip Code Areas We Service in Simi Valley
93065, 93063, 93062, 93094, 93099