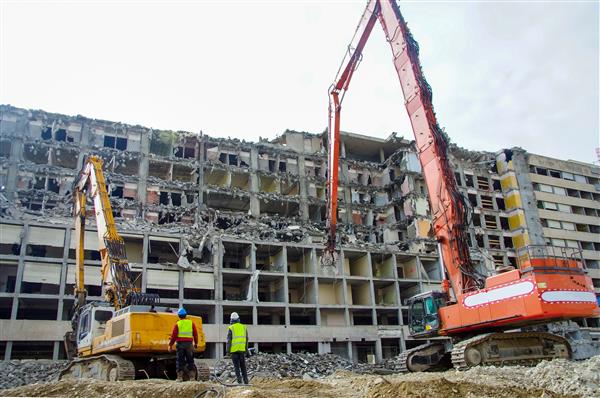 The Best Demolition Contractors and Demolition Company Centennial, CO You Can Depend On
Omni Demolition has paved the way for many construction services in the city through the exemplary workmanship and warm customer service of our demolition contractors. We are dedicated to working on your project with no distractions whatsoever. Our contractors ensure that the necessary safety measures and procedures are in place in the work environment. Our demolition experts always provide reliable and efficient services in a proactive manner. The primary projects we undertake are demolition and deconstruction.
The Difference Between Demolition and Deconstruction in Centennial, CO
Demolition is a faster process in comparison to deconstruction. A demolition expert may order a careful deconstruction prior to a demolition to carefully remove chemically hazardous materials as a safety precaution. A deconstruction may be a prerequisite to the actual demolition process where hazardous materials are taken out prior to the tear down of the structure. On the other hand, whole-house deconstruction entails tearing down an entire structure and salvaging any reusable or recyclable materials. Selective deconstruction involves going into a property before demolition and removing high value and easily removable materials.
Highly Recommendable Services for Any Demolition Project in Centennial, CO
Our demolition experts guarantee to provide you with professional demolition services. As professional demolition contractors, we religiously adhere to state policies and regulations. We have a proven record of accomplishment in excellence. Our demolition contractor will handle your needs on a one-on-one level and ensure that your project is given the undivided attention it deserves.
Our Range of Demolition Services in Centennial, CO
Industrial Demolition services: Our countless contracts include leveling massive structures such as worn-down factories, mills, and chemical warehouses.
Commercial Demolition Services: This type of demolition requires tact in working around obstacles. Our demo company is highly skilled in demolishing commercial structures such as hotels, retail spaces, office buildings, warehouses, bridges and airplane hangars among others.
Concrete demolition and recycling services: If you want to save time and money, our demolition experts can also extract concrete materials and slabs onsite to be broken down into reusable gravel.
Scrap Metal Demolition Services: Our demo company will expertly demolish your scrap metal projects. Our crew will downsize as well as dismantle the steel structures then process, bundle and recycle the materials.
We Lead, Other Demolition Companies Follow in Centennial, CO
Our demolition experts and highly skilled demolition contractors have worked on the most noteworthy projects in Centennial, CO. We provide our clients with value for their money. Using cutting edge technology added to our team's expertise, our demolition company is guaranteed to deliver more than promised. Our demo company offers packages that are reasonably priced as well due to the fact that we have mastered an efficient way of demolition that cuts unnecessary expenses.
Our Approved Methods for Demolition and Deconstruction in Centennial, CO
Explosive Demolition: This method should be done only by experienced demolition experts in Centennial, CO as it involves safety parameters that should be strictly observed. It involves turning a switch to initiate an explosion, which will then collapse the building into a mound of rubble.
Non-Explosive Demolition: Our local demolition contractors will use a wrecking ball attached to a crane to knock down a building. The heavy wrecking ball is swung several times on the targeted structure before it can collapse.
Selective Demolition: Buildings are deconstructed with the aid of special equipment. It is a solution that maximizes efficiency while reducing waste. It is mainly used when building owners want to add extensions to the building, update the interior of a building, convert space or improve the health of the building. This is a delicate procedure that demands great precision and tact, which our demo contractors have and other building demolition companies overlook.
Well-maintained Equipment for Demolition in Centennial, CO
Hydraulic breakers – Our demo company uses hydraulic breakers or hammers in crushing otherwise solid surfaces such as concrete, cement and even rocks.
Wrecking balls – A wrecking ball is used together with a crane. This heavy steel ball is suspended from a crane and is used to bring down an entire structure or part of it. Although not widely used, this method is as fast as it is cost effective.
Hydraulic shears and rock breakers – Designed to cut through the toughest materials with very minimal effort, these tools are attached to excavators to do the job. They can slice through rocks, concrete, metal, wood and steel.
Bulldozers – It has a ripper and is used to move large quantities of rubble. It is also used to bring walls down.
Dumpers – A dumper is a very useful piece of machinery in every demolition business. It is used to carry away demolition waste from demolition sites.
Cranes – Demolition contractors need a crane for attaching a wrecking ball to it. It can also be used to lift heavy things onto or off the structure. A demo company will almost always have this piece of machinery on a demolition site.
Crawler Loaders – Also called caterpillars, crawlers have flexible ground mechanism allowing them to be useful even on uneven terrain. They are primarily used for excavating.
Call Us for Outstanding Demolition Services in Centennial, Colorado
Avoid dealing with deconstruction hassles and overpriced bills when you sign with our demolition company in Centennial, Colorado. Ensure a spotless pre-construction site when you sign with us. You're in great hands with our Centennial deconstruction and demolition company. We are the Centennial deconstruction and demolition company to go to for premium and safe demo services. Give us a call at
(855) 885-3366
and we guarantee a refreshing customer experience that you can only get from us.
Zip Code Areas We Service in Centennial
80122, 80121, 80016, 80015, 80112, 80111