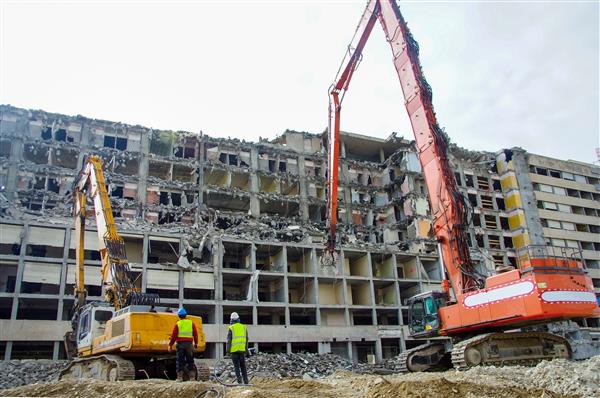 Recognizing an Outstanding Demolition Company from Inexperienced Demolition Contractors Lakewood, CO
Here at Omni Demolition, we believe that pricing is not the only factor that you must consider when getting the services of demolition contractors in Lakewood, CO. We set the standards in world-class demolition services. Our contractors ensure that the necessary safety measures and procedures are in place in the work environment. Our team of demolition experts provide outstanding demolition services whether complete or selective. We are highly competent and able to handle any project you may have.
Do You Need Demolition or Deconstruction in Lakewood, CO?
Demolition is a faster process in comparison to deconstruction. A demolition expert may order a careful deconstruction prior to a demolition to carefully remove chemically hazardous materials as a safety precaution. A deconstruction may be a prerequisite to the actual demolition process where hazardous materials are taken out prior to the tear down of the structure. Deconstruction could be a component included in the demolition where our skilled team removes all hazardous and re-usable objects prior to the building being knocked down.
Economical Services for Your Demolition Project in Lakewood, CO
We have demolition experts who plan everything meticulously, from the bringing in of our equipment up to the clearance of the property from wastes and debris. An experienced and well-trained demolition contractor will manage your project and ensure that the job gets done. We are knowledgeable in protocols and we prioritize safety at all times. Our demolition contractor will use special equipment and apply all the necessary skills in ensuring that the demolition process does not cause harm or injury to anyone or anything.
Check Our Broad Range of Demolition Services in Lakewood, CO
Industrial Demolition Services: We can handle any challenging industrial demolition project you may have. With our world-class equipment and staff, we are able to demolish plants, mills, manufacturing buildings and so on.
Commercial Demolition services: We are the demo company to call when it comes to commercial spaces that require strategic planning, especially narrow and often crowded areas. Our capability in wrecking restaurants, grocery stores, and office buildings shows our mastery in handling business districts.
Concrete Demolition and Recycling Services: We are a safe demolition company. We also listen to what you are saying. Are you trying to cut down on costs and reduce wastage? Once our demolition experts have demolished your concrete structure, we can grind it into gravel or turn it into an aggregate for making new concrete.
Scrap Metal Demolition Services: As an all-around demo company, we can also take care of any unwanted steel erections and metal scraps onsite. We follow a certain procedure in salvaging items that are still good for future use so you can be sure nothing goes to waste.
We Take the Lead Among Other Demolition Companies in Lakewood, CO
Our demolition experts and highly skilled demolition contractors have worked on the most noteworthy projects in Lakewood, CO. Our demolition experts and demolition contractors are dedicated to meeting all your needs. Our demolition company in Lakewood, CO makes use of a unique approach that minimizes waste and maximizes recyclable materials. As an established demo company, we continue to make innovations in the field of construction while also maintaining the highest standards of our services.
High Standard Methods for Demolition and Deconstruction in Lakewood, CO
Explosive Demolition: Our demolition experts in Lakewood, CO implode your building making it collapse safely with minimal damage to the immediate surroundings.
Non-Explosive Demolition: Our local demolition contractors use a wrecking ball attached to a crane to knock down buildings. It is a cheaper and faster method unlike explosive demolition.
Selective Demolition: Our demo contractors use this method when their goal is to recover or salvage demolition materials. Building demolition companies reuse or recycle the salvaged materials thus reducing waste.
Common Equipment Used for Demolition in Lakewood, CO
Hydraulic breakers – Powerful excavators necessary in every demo company, hydraulic breakers or crushers are used to excavate structures quickly. These are commonly used to grind up concrete or rocks.
Wrecking Balls – Buildings or structures that are more than 6 storeys high are demolished with the help of a wrecking ball suspended on a crane by a steel rope. The wrecking ball is pulled then released towards the structure. With force, the steel ball strikes the structure and demolishes it in bits.
Hydraulic Shears and Rock Breakers – They are able to demolish steel structures. Hydraulic shears are also used for recycling or secondary breaking. Rock Breakers are robust pounding hammers that are usually fitted to excavators. They are used to demolish rocks, as the name suggests or concrete.
Bulldozers – A bulldozer is a heavy piece of equipment that has a robust bucket attachment. This attachment enables the bulldozer to clear trash, rubble and debris from a demolition site. Bulldozers are multi-purpose, they can also be used to push down heavy smaller-sized structures.
Dumpers – A necessity in every demolition business, dumpers are used to haul waste materials off the demolition site. It ensures the pre-construction area is free from any trash or debris brought about by the demolition.
Cranes – A necessity for demolition contractors, cranes serve multiple purposes including being used for wrecking balls and for transferring heavy tools within the site. Every demo company should have a well-maintained and stable crane to avoid any unforeseen accidents.
Crawler Loaders – A flexible machine, crawlers are perfect for excavating narrow spaces. Although not very good for excavating, it can be used to haul items easily.
Dial OurNumber for Top Rated Demolition Services in Lakewood, Colorado
If you are in dire need of a reliable demolition company in Lakewood, Colorado but are quite not sure what kind of method you will require and how much it will cost you, do not hesitate to call us. We guarantee safe, timely and effective services. Our demolition company's spotless track record in handling minor to major demolitions is your guarantee of our high quality service, expertise and commitment to each and every project. As the top Lakewood deconstruction and demolition company, no job is ever too big or too small for us. Give us a call at
(855) 885-3366
and we guarantee a refreshing customer experience that you can only get from us.
Zip Code Areas We Service in Lakewood
80465, 80232, 80235, 80214, 80215, 80227, 80226, 80228