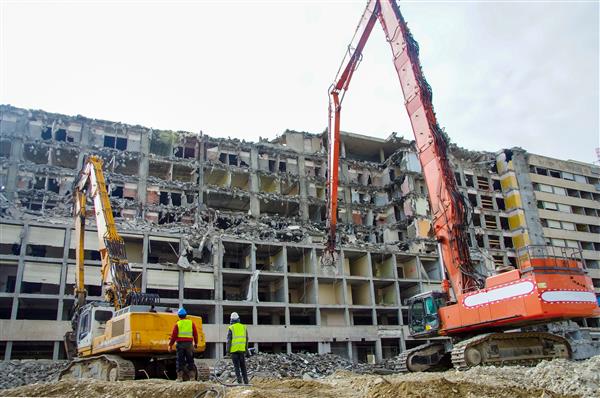 Demolition Contractors Pueblo, CO: The Number One Demolition Company
Here at Omni Demolition, we believe that pricing is not the only factor that you must consider when getting the services of demolition contractors in Pueblo, CO. You are guaranteed to get the best value for your money with our expertise partnered with updated equipment and strict adherence to state safety regulations and policies. No need to break the bank to avail of first rate service and exceptional outcome. If you need a structure or building taken down, our demolition experts will use the fastest and most economical method of demolition. This minimizes the chances of accidents or injuries at the demolition site.
Dependable Demolition and Deconstruction in Pueblo, CO
Demolition is taking down or dismantling a building or structure with a strong and overwhelming force whose end result is rubble or waste. Our demolition experts are most experienced in going over construction sites to see what items may be salvaged and put aside to be used again, often saving time and resources. Some of the items salvaged in deconstruction are: roofing materials, windows, plumbing fixtures, doors, cabinets, flooring among others. Deconstruction could be a component included in the demolition where our skilled team removes all hazardous and re-usable objects prior to the building being knocked down.
Complete Accountability from Highly Skilled Specialists for Your Demolition Project in Pueblo, CO
Our demolition experts as well as our demolition contractors in Pueblo, CO have highly specialized equipment and all the resources needed to complete any project you may have for us, however big or small it may be. Compared to other demolition contractors who are highly profit-driven, we are committed to giving back to the community through outstanding workmanship and transparent transactions. It is our core mission to exceed all your expectations. Our demolition contractor will use special equipment and apply all the necessary skills in ensuring that the demolition process does not cause harm or injury to anyone or anything. From cost estimation up to the site clean-up, you can rest assured that we have everything covered. From cost estimation up to the site clean-up, you can rest assured that we have everything covered.
What Demolition Services Can You Expect to Find in Pueblo, CO?
Industrial Demolition Services: This type of demolition service requires a surgical approach. We have a systemic, controlled and detailed solution in place for demolishing facilities such as chemical plants, manufacturing plants, port facilities, oil refineries, factories, and lumber mills among others.
Commercial Demolition Services: We know all the ins and outs of this delicate procedure. No matter the job, you can be rest assured that our demo company will give you the best results. Our demolition experts have the know-how and experience to bring down buildings and structures even in very tight spaces. Be it tearing down a mall, strip center, warehouse, bridge, hangar or structures in metropolitan areas, we have got you covered.
Concrete Demolition and Recycling Services: Concrete recycling results in saving costs in that it decreases the cost of transportation and disposal. Our demolition experts will break, remove and then crush concrete after demolition. The concrete can be used as an aggregate in new concrete.
Scrap Metal Demolition Services: As an all-around demo company, we can also take care of any unwanted steel erections and metal scraps onsite. We follow a certain procedure in salvaging items that are still good for future use so you can be sure nothing goes to waste.
We Set the Pace for Other Demolition Companies in Pueblo, CO
Compared to other service providers, we take pride in having hardworking demolition experts and highly skilled demolition contractors. Our demolition experts and demolition contractors have an established performance record of completing demolition jobs in the right way, on budget and on time. You are guaranteed a hassle-free experience when you sign with us, the most trusted demolition company in Pueblo, CO. Each project in our demo company is always given the care and attention that our customers deserve and expect.
Main Methods Used in Demolition and Deconstruction in Pueblo, CO
Explosive Demolition: This method should be done only by experienced demolition experts in Pueblo, CO as it involves safety parameters that should be strictly observed. It involves turning a switch to initiate an explosion, which will then collapse the building into a mound of rubble.
Non-Explosive Demolition: Certain buildings are not recommended for use of explosives, to which local demolition contractors opt for wrecking balls. Made of steel, a wrecking ball is suspended and swung into the building repeatedly causing it to topple or crumble down.
Selective Demolition: This process entails tearing down a part of the structure. Efficiency is maximized by recycling reusable material thus reducing waste and lessening the impact on the environment. As the leading demo contractors, we have set standards that other building demolition companies have a hard time measuring up to.
Main Equipment Used in Demolition in Pueblo, CO
Hydraulic Breakers – This strong hammer is built to withstand heavy and rigorous use. As one of the high-quality demolition tools used by our demo company, it offers greater productivity in regards to speed, efficiency and its overall performance.
Wrecking Balls – A wrecking ball is a heavy steel ball that is usually suspended from a crane. It is swung to the targeted structure or building in order to take it down.
Hydraulic shears and rock breakers – Used by specialists to cut through various materials such as concrete, metal, wood, and steel.
Bulldozers – A favorite among contractors, a bulldozer can be an intimidating piece of equipment on wheels although it is fairly easy to maneuver. It can be used to transport copious amounts of waste, as well as to wreck walls.
Dumpers – A necessity in every demolition business, dumpers are used to haul waste materials off the demolition site. It ensures the pre-construction area is free from any trash or debris brought about by the demolition.
Cranes – Demolition contractors will need to use a crane in long-reach or high-reach demolition projects. A wrecking ball is suspended on a crane, from where it is swung to demolish a structure partly or wholly. A crane is a very important piece of equipment in any demo company.
Crawler Loaders – Also meant to be used in excavating, crawler loaders have declined in popularity compared to hydraulics that can be used in heavy drilling. This equipment, however, can run on its own power as opposed to hydraulic excavators that more often require towing.
Go Ahead and Contact Us for All Your Demolition Needs in Pueblo, Colorado
A proper assessment from a qualified demolition company in Pueblo, Colorado is necessary before you proceed with any major changes in your property. We believe in providing professional and affordable services. As an established demolition company, we maintain high standards of service and workmanship no matter how big or small a contract is. We deliver your Pueblo demolition needs in a timely manner without compromising on the quality of our work. Get in touch with us today at
(855) 885-3366
and we will be more than glad to help.
Zip Code Areas We Service in Pueblo
81004, 81005, 81003, 81001, 81008, 81002, 81009, 81010, 81011, 81012