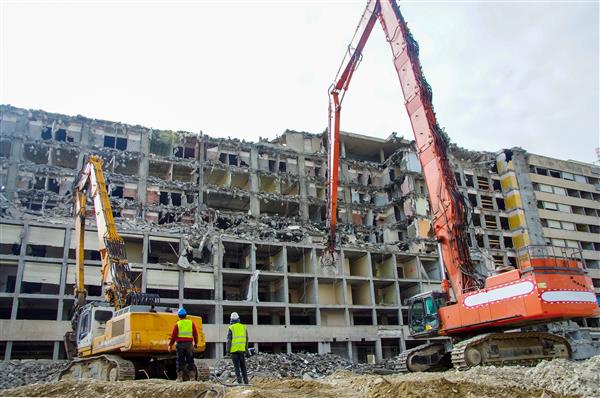 Demolition Contractors Thornton, CO: The Number One Demolition Company
The strength of Omni Demolition lies not only in its state of the art equipment and the expertise of its demolition contractors but the commitment that we have in providing unsurpassable services. Our demolition contractor is on standby at all times ready to cater to your needs. Our demolition experts provide top-notch work. This minimizes the chances of accidents or injuries at the demolition site.
We Do Demolition and Deconstruction in Thornton, CO
Demolition is the process of tearing down or pulling down buildings and structures by a demolition expert. Our demolition experts are most experienced in going over construction sites to see what items may be salvaged and put aside to be used again, often saving time and resources. A deconstruction may be implemented on its own or as a pre-demolition procedure. It is usually done when one wants to remodel or improve a part of the building.
Discover Our Amazing Services for All Your Demolition Projects in Thornton, CO
We have demolition experts who plan everything meticulously, from the bringing in of our equipment up to the clearance of the property from wastes and debris. Our demolition contractors have years of experience in the business providing exceptional and enviable customer service across Thornton, CO. Our management style is hands-on, giving us the opportunity to customize solutions to fit your demolition needs. Taking down a structure sounds chaotic but unlike other demolition contractors, our services are done with utmost care and with as little disturbance to the community as possible. Our service delivery is focused on safety and efficiency. Our service delivery is focused on safety and efficiency.
Our Main Demolition Services in Thornton, CO
Industrial Demolition services: We have an impeccable history in handling industrial buildings such as warehouses, chemical plants, mills and more. No matter how gigantic the structure is, our team of experts can surely manage.
Commercial Demolition services: Our demo company uses superior equipment and expertise in tackling various commercial demolition structures such as strip malls, warehouses, office buildings, hotels, bridges, grocery stores and airplane hangars among others.
Concrete Demolition and Recycling Services: Once we have demolished your concrete structure, our demolition experts will crush and re-use the salvaged concrete as a base course for gravel.
Scrap Metal Demolition Services: Our demo company is also experienced in extracting steel and metal from a building.
What Sets Us Apart from Others Thornton, CO
Despite being highly preferred over other demolition contractors, we keep our feet grounded. Our team uses sophisticated equipment and observes high standards in every operation. As an established demolition company in all of Thornton, CO, we see to it that our services, equipment and workmanship are always above customer satisfaction. As a trusted demo company, we have established a life-long relationship with our loyal patrons who can attest to our efficiency and commitment to getting the job done.
Methods Conducted by Experts on Demolition and Deconstruction in Thornton, CO
Explosive Demolition: Explosive materials are strategically placed on the building or structure in Thornton, CO by our demolition experts. The explosives are timed to make a structure go down on itself in seconds in order to minimize damage to the surroundings.
Explosive Demolition: This method should be done only by experienced demolition experts in Thornton, CO as it involves safety parameters that should be strictly observed. It involves turning a switch to initiate an explosion, which will then collapse the building into a mound of rubble.
Selective Demolition: In cases where property owners want to retain a certain part or frame of a structure, demo contractors will conduct the selective method. In this procedure, building demolition companies need to ensure the integrity of the structure is not compromised after some parts are removed.
The process requires demo contractors to work around normal operating hours on small working spaces and under strict timetables. Our company, unlike other building demolition companies, understands the significance of all these considerations. We ensure that we provide an environment that is safe for everyone involved with as minimal disruption as possible.
Utilizing the Proper Equipment for Demolition in Thornton, CO
Hydraulic breakers-Heavy-duty excavators are used at our demo company to aid in breaking or crushing concrete segments of the building. Be wary of contractors who have poorly maintained equipment such as hydraulic breakers because this will surely cause delays in your timeline.
Wrecking balls – Heavy and solid balls made of steel, wrecking balls are safely suspended on a crane and used to weaken a building until it gives.
Hydraulic Shears and Rock Breakers – They can be able to quickly and effectively cut through rocks, concrete, steel, wood and metal.
Bulldozers – It has a ripper and is used to move large quantities of rubble. It is also used to bring walls down.
Dumpers – If you are in the demolition business, you will definitely need a dumper/ tipper truck for transporting demolition waste.
Cranes – Aside from being used to secure a wrecking ball, demolition contractors in our demo company also use cranes to lower and lift materials within the site.
Crawler Loaders – Flexible heavy equipment, crawler loaders can move on top of uneven surfaces and are also used for excavating and lifting.
Call Us for Outstanding Demolition Services in Thornton, Colorado
We are ranked as the leading demolition company in Thornton, Colorado. Ensure a spotless pre-construction site when you sign with us. Our demolition company's spotless track record in handling minor to major demolitions is your guarantee of our high quality service, expertise and commitment to each and every project. Our Thornton deconstruction and demolition company has highly skilled personnel with years of experience in the demolition business. Give us a call at
(855) 885-3366
and we guarantee a refreshing customer experience that you can only get from us.
Zip Code Areas We Service in Thornton
80260, 80233, 80241, 80023, 80229, 80602, 80614