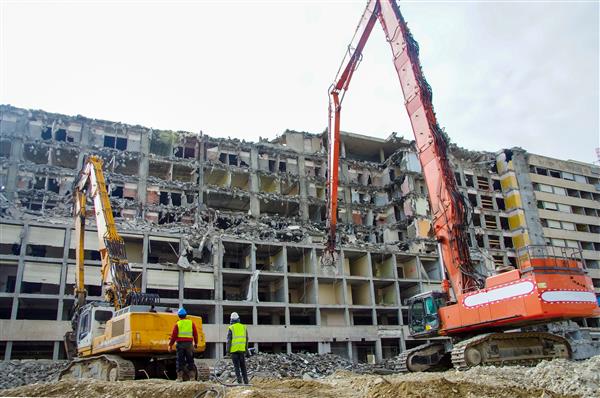 Expert Demolition Contractors Danbury, CT: Your Partner Demolition Company
Omni Demolition has efficient and expertly trained demolition contractors. We set the standards in world-class demolition services. If you need to hire a professional demolition contractor in Danbury, CT without spending a ridiculous amount of money, you have come to the right place. Our demolition experts always provide reliable and efficient services in a proactive manner. The primary projects we undertake are demolition and deconstruction.
The Main Variances of Demolition and Deconstruction in Danbury, CT
Demolition is the process of tearing down or pulling down buildings and structures by a demolition expert. Demolition can either be selective or explosive. Explosive demolition uses mostly dynamite to bring down big buildings. Selective demolition involves bringing down a part of a building or tearing a section of a wall by a demolition expert. Deconstruction in Danbury, CT involves taking a structure apart. It entails tearing down the components of a building for the purpose of recycling, re-using as well as waste management. Some projects require complete levelling while others simply need specific parts removed to be replaced. For every client call, we have a demolition expert equipped to do the job.
Why Choose Us as Your Company of Choice for Your Demolition Project in Danbury, CT
Our demolition experts guarantee to provide you with professional demolition services. Compared to other demolition contractors who are highly profit-driven, we are committed to giving back to the community through outstanding workmanship and transparent transactions. Our management style is hands-on, giving us the opportunity to customize solutions to fit your demolition needs. Our demolition contractor will handle your needs on a one-on-one level and ensure that your project is given the undivided attention it deserves.
We Offer a Wide Array of Professional Demolition Services in Danbury, CT
Industrial Demolition services: Our best-in-class strategies and state-of-the-art equipment allow us to offer specialized industrial demolition services for your chemical plant, mills and factories.
Commercial Demolition services: We isolate the targeted building before performing the actual demolition so as not to cause any damage to its neighboring structures. Our demo company, has handled tearing down malls, airplane hangars, markets, and even bridges.
Concrete demolition and recycling services: We are the only demolition experts who carefully set aside re-usable materials from your site for possible future use such as slabs to be crushed later on into gravel. Scrap Metal Demolition Services: Instead of hiring another contractor, we will help you save money as our demo company will take care of handling misplaced steel erections and sorting metal scraps for salvaging.
A class Above the Rest in Danbury, CT
Our demolition experts and demolition contractors offer a professional and innovative approach to all your demolition projects. We provide our clients with value for their money. As an established demolition company in all of Danbury, CT, we see to it that our services, equipment and workmanship are always above customer satisfaction. You will never find a more reliable demolition company in Danbury, CT than us.
High Standard Methods for Demolition and Deconstruction in Danbury, CT
Explosive Demolition: Our demolition experts in Danbury, CT bring down structures or buildings by removing the main structural elements such as the walls and pillars with the help of explosives. This reduces the building's structural stability, causing it to collapse under its own weight. This method is faster, environmentally friendly and safer when compared to other methods.
Non-Explosive Demolition: Our local demolition contractors will use a wrecking ball to demolish a building in situations that do not allow the use of explosives.
Selective Demolition: This is also known as interior demolition. When your building or property is structurally sound but its interior needs to be remodeled or upgraded, our demo contractors apply selective demolition. We use highly advanced demolition techniques giving us a reputation that other building demolition companies cannot match.
Well-maintained Equipment for Demolition in Danbury, CT
Hydraulic breakers – Powerful excavators necessary in every demo company, hydraulic breakers or crushers are used to excavate structures quickly. These are commonly used to grind up concrete or rocks.
Wrecking balls – Attached to a crane, these heavy balls made of steel are used to weaken structures. They are swayed right into the building causing it to break and collapse.
Hydraulic Shears and Rock Breakers – They are highly effective in cutting steel, metal, concrete, wood and rocks. Their high power to weight ratio enable hydraulic shears to yield a higher output.
Bulldozers – It has a ripper and is used to move large quantities of rubble. It is also used to bring walls down.
Dumpers – In the demolition business, dumpers are used to transport debris from the demolition site.
Cranes – Demolition companies use cranes to move materials from different levels of a structure. A demo company will also use this machinery together with a steel ball. For a wrecking ball to work, it has to be attached to the crane.
Crawler Loaders – Also meant to be used in excavating, crawler loaders have declined in popularity compared to hydraulics that can be used in heavy drilling. This equipment, however, can run on its own power as opposed to hydraulic excavators that more often require towing.
Give Us a Call for Top of the Line Demolition Services in Danbury, Connecticut
We are your dependable and trusted demolition company in Danbury, Connecticut. When you have a demolition project, do not hesitate to contact us. As an established demolition company, we maintain high standards of service and workmanship no matter how big or small a contract is. We are the Danbury deconstruction and demolition company to go to for premium and safe demo services. Call us today at
(855) 885-3366
and allow us to assist you with your demolition requirements.
Zip Code Areas We Service in Danbury
06810, 06811, 06813, 06814, 06816, 06817