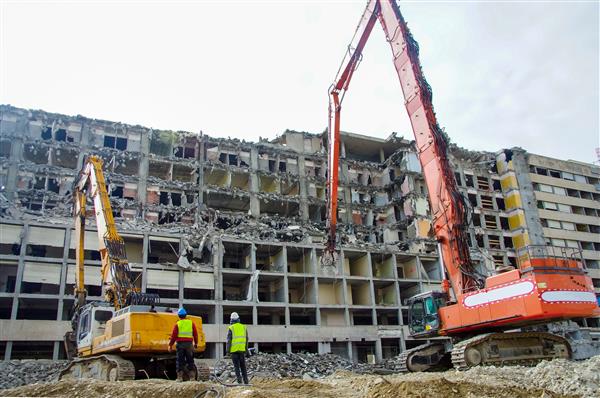 Demolition Contractors Hartford, CT: Your Go-To Demolition Company
For years, Omni Demolition has continuously served and established its reputation as the most trusted demolition contractor in Hartford, CT. You are guaranteed to get the best value for your money with our expertise partnered with updated equipment and strict adherence to state safety regulations and policies. Our demolition contractor is on standby at all times ready to cater to your needs. Unlike other service providers, our demolition experts are all highly skilled and experienced in this business. You can rest assured that our affordable services are top-notch. To achieve this, our demolition experts apply strong verbal, communication, analytical, managerial, decision-making and time-management skills.
What is the Difference between Demolition and Deconstruction in Hartford, CT
Demolition is aimed at basically bringing down a structure. Our demolition expert tests and removes hazardous material before knocking down the building. A deconstruction may be a prerequisite to the actual demolition process where hazardous materials are taken out prior to the tear down of the structure. The materials can be reused in rebuilding or reconstruction.
Discover Our Amazing Services for All Your Demolition Projects in Hartford, CT
Our demolition experts as well as our demolition contractors in Hartford, CT have highly specialized equipment and all the resources needed to complete any project you may have for us, however big or small it may be. Some demolition contractors offer their services at rock bottom prices but this may cost you more in the long run. We have a proven record of accomplishment in excellence. Our demolition contractor will use special equipment and apply all the necessary skills in ensuring that the demolition process does not cause harm or injury to anyone or anything.
Our Demolition Services in Hartford, CT
Industrial Demolition services: We have tried and tested thorough demolition of industrialized buildings. Our record includes taking down plants, manufacturing buildings, mills and the like.
Commercial Demolition services: We isolate the targeted building before performing the actual demolition so as not to cause any damage to its neighboring structures. Our demo company, has handled tearing down malls, airplane hangars, markets, and even bridges.
Concrete demolition and recycling services: Let our demolition experts know if you wish to maximize the use of the structure's concrete materials and we will break them down into reusable gravel.
Scrap Metal Demolition Services: Unlike other contractors who concentrate only on concrete, our demo company can assist in handling metal frames and recycling scraps.
We Stay Ahead Other Demolition Companies in Hartford, CT
Our demolition experts and highly skilled demolition contractors have worked on the most noteworthy projects in Hartford, CT. Our resources are as varied as they are effective: dependable and advanced equipment as well as expert personnel. You are guaranteed a hassle-free experience when you sign with us, the most trusted demolition company in Hartford, CT. As a trusted demo company, we have established a life-long relationship with our loyal patrons who can attest to our efficiency and commitment to getting the job done.
High Standard Methods for Demolition and Deconstruction in Hartford, CT
Explosive Demolition: Explosive materials are strategically placed on the building or structure in Hartford, CT by our demolition experts. The explosives are timed to make a structure go down on itself in seconds in order to minimize damage to the surroundings.
Non-Explosive Demolition: Our local demolition contractors will use a wrecking ball to bring down your structure. This method is cheaper than explosive demolition.
Selective Demolition: This is a type of demolition whereby building materials, part of the structure or building are separated and then sorted for the purpose of reusing or recycling. Our demo contractors have mastered the art of selective demolition that other building demolition companies do not have.
Main Equipment Used in Demolition in Hartford, CT
Hydraulic Breakers – Our demo company will use this heavy hammer to demolish rocks or concrete structures. Hydraulic breakers are also an important part of recycling operations.
Wrecking Balls – Although less common in demolition sites, it is an efficient way of demolishing a concrete structure. This solid steel ball is attached to a crane. It is then swung to the targeted building several times to strike down the structure.
Hydraulic shears and rock breakers – A modification to excavators, these tools help in cutting through solid surfaces such as wood, metal, rocks, and concrete.
Bulldozers – A favorite among contractors, a bulldozer can be an intimidating piece of equipment on wheels although it is fairly easy to maneuver. It can be used to transport copious amounts of waste, as well as to wreck walls.
Dumpers – An efficient demolition business uses dumpers to haul wastes off the demo site for its clearing process. Not having dumpers means requiring a third party contractor to get rid of the trash and may cause delays on the project timeline.
Cranes – Our demolition contractors utilize cranes not only for suspending wrecking balls but in heavy lifting and moving materials within the site. Our demo company uses different types of cranes depending on the task to be fulfilled.
Crawler Loaders – They can be used to bring down heavy smaller-sized structures. They can also be used to move debris.
Dial OurNumber for Top Rated Demolition Services in Hartford, Connecticut
A proper assessment from a qualified demolition company in Hartford, Connecticut is necessary before you proceed with any major changes in your property. Ensure a spotless pre-construction site when you sign with us. Our demolition company is the Hartford demolition and deconstruction company you have been looking for. Our Hartford deconstruction and demolition company is licensed and highly reputable. Call us today at
(855) 885-3366
and allow us to assist you with your demolition requirements.
Zip Code Areas We Service in Hartford
06106, 06105, 06103, 06120, 06112, 06160, 06114, 06101, 06102, 06104, 06115, 06123, 06126, 06132, 06134, 06140, 06141, 06142, 06143, 06144, 06145, 06146, 06147, 06150, 06151, 06152, 06153, 06154, 06155, 06156, 06161, 06167, 06176, 06180, 06183, 06199