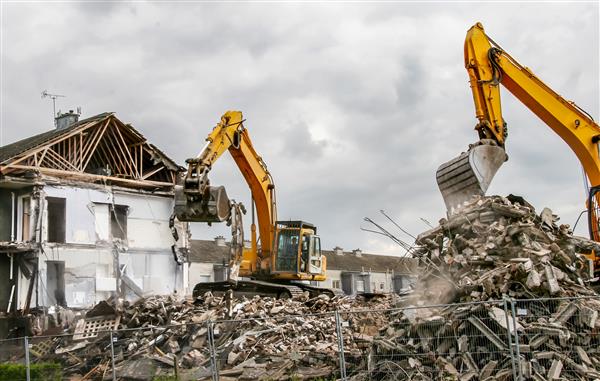 Residential House Demolition by Omni Demolition
We provide complete house demolition services in Waterbury, CT for any size of project. Omni Demolition is one of the best house demolition companies in the country. We have a team of seasoned residential demolition contractors who can readily assess your property. Home demolition is not an easy task. In fact, there are many important considerations to bear in mind. One of which is safety because tearing down a structure will require the right equipment, tools, and skilled operators. Unlike a minor renovation, you can ensure that the building's overall condition is improved when you demolish and rebuild your house. Whether you call us for a full-scale mansion demolition or an easy mobile home demolition, rest assured you will receive our best services. Cracks tend to widen over time, and this allows moisture to seep into the material. The extra moisture weakens the integrity of the structure. By working with experts, you can avoid such issues.
Unparalleled Waterbury, CT Home Demolition Solutions You Can Afford
House demolition is our cup of tea and we are one of the most reputable demolition companies in Waterbury, CT. Demolition methods include top-down deconstruction, crane, high reach arm, remote-controlled demolition, and implosion. We carefully create a plan to effectively target which parts we need to work on first. Trust our team to discuss every detail of the demolition plan. Depending on what you're demolishing, the techniques employed and the considerations taken by residential demolition contractors to deal with harmful materials can be different. Hire only residential demolition companies that have the know-how and technical knowledge to tailor their approach to your distinctive home demolition project. An inexperienced amateur demolition company can turn a simple mobile home demolition project into a large costly disaster.
What to Consider After Receiving a Waterbury, CT Home Demolition Cost Estimate
Comparing the rates of house demolition companies in Waterbury, CT should be included in your to-do list. Rest assured, our staff will provide you with a free cost estimate that briefly describes the services included in the package. In addition to the cost, you should also consider the complete package as a whole Some home demolition companies offer cheap rates yet sub-par services. We make it our business to assign dedicated and committed residential demolition contractors to work on your project. Omni Demolition provides the most reasonably priced rates and unmatched services for a major demolition such as tearing down a multi-level building or a minor one such as a mobile home demolition. The overall cost of the demolition depends on the location of the property; the existence of established plants and trees and the placement of essential services such as electricity, gas and water; and lastly the proximity to the nearest disposal or recycling facility. Be sure that the team you choose will explain everything you need to know about the job at hand.
Residential Demolition Permits to Procure in Waterbury, CT
Reliable house demolition companies in Waterbury, CT such as ours will never let you run from pillar to post to obtain a demolition permit. However, you're required to pay the amount when there's no existing building permit. Some of the usual paperwork required for a house demolition or mobile home demolition job include asbestos inspection repair and dust control clearance. If you have the city on your side, the neighbors will fall in line nicely. Avoid incurring penalties and delaying your project by applying for the necessary permit. You can ask our experts about the documentations needed.Arranging for a Residential Demolition in Waterbury, CTAny big or small home demolition job in Waterbury, CT begins with preparation. Assuming you have your demolition permit ready, what's the next move? The entire area must be vacated, which means that no one will be permitted near it except for allowed personnel. Make sure you remove any personal items or important home equipment. There shouldn't be anything left inside the house during the demolition job to avoid interruptions. Our trustworthy demolition company is experienced in all phases of the demolition process and we believe that this must be followed even for a simple mobile home demolition. It is important to set up clear exit routes for debris clearing machinery. Site clearance of debris should be immediately assigned to a designated area where debris is being sorted.
Reasons for a Residential Demolition in Waterbury, CT
There are a lot of reasons as to why a residence would need to be demolished. This ranges from wanting to renovate the house, a natural disaster that has damaged parts of the house, or the need to remove an existing structure so you can build a new one. We highly suggest calling in a specialist to check out your property if you suspect weakened or compromised foundation or walls. Renovation is mostly recommended for aesthetic purposes, while Waterbury, CT residential demolition is done to create better and more durable structures. You can rebuild your home or parts of it to ensure that it is safe for you and your loved ones.
Using the Right Equipment and Tools for a Residential Demolition in Waterbury, CT
Omni Demolition residential demolition contractors have always provided safe and reliable home demolition services in Waterbury, CT. Our residential demolition contractor uses equipment like cranes, wrecking balls, bulldozers, jackhammers, sledgehammers or chainsaws. We use our own equipment to haul materials, break down walls, excavate foundation beams and more. Rest assured that we can tear down the defective structure and remove every piece of steel and crushed cement within our promised day of completion.
Contact us Today and Book a Waterbury, Connecticut Home Demolition
Don't risk your safety just to save money! With all the right equipment, we assure you of minimal time, to complete the task at hand. If you're in need of an expert residential demolition contractor in Waterbury, CT to assist you with your next project, don't hesitate to give us a call at
(855) 885-3366
. When you choose us for your removal and demolition needs, you can expect to receive a definite timeline and a full-detailed price quotation.
Zip Code Areas We Service in Waterbury
06708, 06702, 06704, 06705, 06706, 06710, 06701, 06703, 06720, 06721, 06722, 06723, 06724, 06725, 06726, 06749