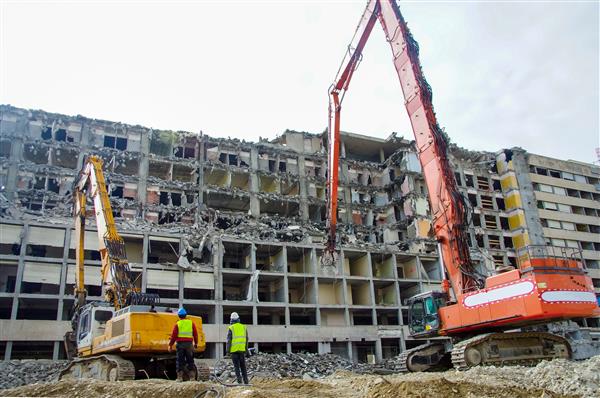 The Demolition Company with Demolition Contractors in Washington, DC You Can Count On
Omni Demolition is composed of reliable and dependable demolition contractors in Washington, DC. If you need to hire a professional demolition contractor in Washington, DC without spending a ridiculous amount of money, you have come to the right place. Unlike other service providers, our demolition experts are all highly skilled and experienced in this business. Whether it may be a residential, commercial or industrial structure that needs to be taken care of, our crew has got it covered.
The Difference Between Demolition and Deconstruction in Washington, DC
Demolition is taking down or dismantling a building or structure with a strong and overwhelming force whose end result is rubble or waste. Our demolition expert tests and removes hazardous material before knocking down the building. Should a client wish to retain a building's frame or will only be rebuilding a certain part of the property, a deconstruction is in order. The materials can be reused in rebuilding or reconstruction.
Complete Accountability from Highly Skilled Specialists for Your Demolition Project in Washington, DC
Our demolition experts will handle your property professionally from start to finish. If you wish to have a an effortless and hassle-free experience when leveling a property in Washington, DC, we are the demolition contractor that you can rely on. Our word is our bond. We have an impeccable record of giving our clients value for their money while never compromising on the quality of our work. Taking down a structure sounds chaotic but unlike other demolition contractors, our services are done with utmost care and with as little disturbance to the community as possible.
Our Demolition Services in Washington, DC
Industrial Demolition services: We have an impeccable history in handling industrial buildings such as warehouses, chemical plants, mills and more. No matter how gigantic the structure is, our team of experts can surely manage.
Commercial Demolition services: We isolate the targeted building before performing the actual demolition so as not to cause any damage to its neighboring structures. Our demo company, has handled tearing down malls, airplane hangars, markets, and even bridges.
Concrete Demolition and Recycling Services: We are a safe demolition company. We also listen to what you are saying. Are you trying to cut down on costs and reduce wastage? Once our demolition experts have demolished your concrete structure, we can grind it into gravel or turn it into an aggregate for making new concrete.
Scrap Metal Demolition Services: As an all-around demo company, we can also take care of any unwanted steel erections and metal scraps onsite. We follow a certain procedure in salvaging items that are still good for future use so you can be sure nothing goes to waste.
We are the Leading Demolition Company in Washington, DC
Our demolition experts and highly skilled demolition contractors consistently make innovations with the way demolitions are made. Our demolition experts and demolition contractors have an established performance record of completing demolition jobs in the right way, on budget and on time. As an established demolition company in all of Washington, DC, we see to it that our services, equipment and workmanship are always above customer satisfaction. Our demo company appreciates all our clients and we demonstrate this by endeavoring to give you nothing but the very best.
Main Methods for Demolition and Deconstruction in Washington, DC
Explosive Demolition: Conducted by our skilled demolition experts in Washington, DC, this method requires properly laying out detonators and explosives to bring a structure down to a pulp.
Non-Explosive Demolition: When a building structure does not allow the use of bombs, a wrecking ball is often utilized to take it down. Compared to other local demolition contractors, our experts use wrecking balls with careful precision. The heavy steel ball is swung into the targeted building causing it to gradually crumble.
Selective Demolition: This method is used when buildings are being remodeled or rebuilt and the client wishes to retain some parts of the structure. Not all contractors can perform this demolition as it involves meticulous planning and careful effort. Our demo contractors are veterans in conducting selective demolition especially in handling specialized equipment required for the job. You can trust our team of experts in providing calculated and top of the line performance, which other inexperienced building demolition companies cannot guarantee.
We Utilize Well-maintained Equipment for Demolition in Washington, DC
Hydraulic breakers-Heavy-duty excavators are used at our demo company to aid in breaking or crushing concrete segments of the building. Be wary of contractors who have poorly maintained equipment such as hydraulic breakers because this will surely cause delays in your timeline.
Wrecking balls – Attached to a crane, these heavy balls made of steel are used to weaken structures. They are swayed right into the building causing it to break and collapse.
Hydraulic Shears and Rock Breakers – They are usually attached to excavators and then used to make clean cuts through concrete, metal, wood and rocks of large structures.
Bulldozers – It has a ripper and is used to move large quantities of rubble. It is also used to bring walls down.
Dumpers – In the demolition business, they are used for moving rubble and debris away from the demolition site.
Cranes – Demolition contractors use cranes to attach a wrecking ball to it. The wrecking ball suspended on a crane is then swung to the targeted structure. A demo company can use cranes to remove debris from high areas of a demolished structure. Cranes can also be used to load debris onto a dumper.
Crawler Loaders – Mostly used for excavating, this equipment is also utilized for its lifting and loading capabilities.
Give Us a Call for Top of the Line Demolition Services in Washington, DC
Settling with an amateur demolition company in Washington, DC may seem cost-effective at first but mishaps and faulty work onsite may cost more of your resources, time and energy. We will meet all your demands and give the same meticulous attention to your projects no matter the size. Our demolition company provides all our clients with dynamic solutions for all their Washington demolition and deconstruction needs. Unlike some unreliable Washington deconstruction and demolition companies who are all talk, we are devoted to deliver more than promised. Call us today at
(855) 885-3366
and get your job done quickly, flawlessly and affordably.
Zip Code Areas We Service in Washington
20010, 20011, 20012, 20015, 20228, 20520, 20307, 20418, 20319, 20020, 20024, 20510, 20593, 20540, 20240, 20245, 20202, 20390, 20007, 20006, 20004, 20003, 20002, 20001, 20009, 20008, 20535, 20317, 20405, 20057, 20052, 20053, 20017, 20018, 20565, 20566, 20560, 20064, 20551, 20553, 20019, 20230, 20373, 20260, 20427, 20005, 20032, 20036, 20037, 20204, 20506, 20045, 20016, 20013, 20022, 20026, 20027, 20029, 20030, 20033, 20035, 20038, 20039, 20040, 20041, 20042, 20043, 20044, 20047, 20049, 20050, 20055, 20056, 20058, 20059, 20060, 20061, 20062, 20063, 20065, 20066, 20067, 20068, 20069, 20070, 20071, 20073, 20074, 20075, 20076, 20077, 20078, 20080, 20081, 20082, 20090, 20091, 20189, 20201, 20203, 20206, 20207, 20208, 20210, 20211, 20212, 20213, 20214, 20215, 20216, 20217, 20218, 20219, 20220, 20221, 20222, 20223, 20224, 20226, 20227, 20229, 20232, 20233, 20235, 20237, 20238, 20239, 20241, 20242, 20244, 20250, 20251, 20252, 20254, 20261, 20262, 20265, 20266, 20268, 20270, 20277, 20289, 20299, 20301, 20303, 20306, 20310, 20314, 20318, 20330, 20340, 20350, 20355, 20370, 20372, 20374, 20375, 20376, 20380, 20388, 20389, 20391, 20392, 20393, 20394, 20395, 20398, 20401, 20402, 20403, 20404, 20406, 20407, 20408, 20409, 20410, 20411, 20412, 20413, 20414, 20415, 20416, 20417, 20419, 20420, 20421, 20422, 20423, 20424, 20425, 20426, 20428, 20429, 20431, 20433, 20434, 20435, 20436, 20437, 20439, 20440, 20441, 20442, 20444, 20447, 20451, 20453, 20456, 20460, 20463, 20468, 20469, 20470, 20472, 20500, 20501, 20502, 20503, 20504, 20505, 20507, 20508, 20509, 20511, 20515, 20521, 20522, 20523, 20524, 20525, 20526, 20527, 20528, 20529, 20530, 20531, 20533, 20534, 20536, 20537, 20538, 20539, 20541, 20542, 20543, 20544, 20546, 20547, 20548, 20549, 20552, 20554, 20555, 20557, 20559, 20570, 20571, 20572, 20573, 20575, 20576, 20577, 20578, 20579, 20580, 20581, 20585, 20586, 20588, 20590, 20591, 20594, 20597, 20599, 56901, 56902, 56904, 56908, 56915, 56920, 56933, 56935, 56944, 56945, 56950, 56965, 56967, 56972, 56998, 56999