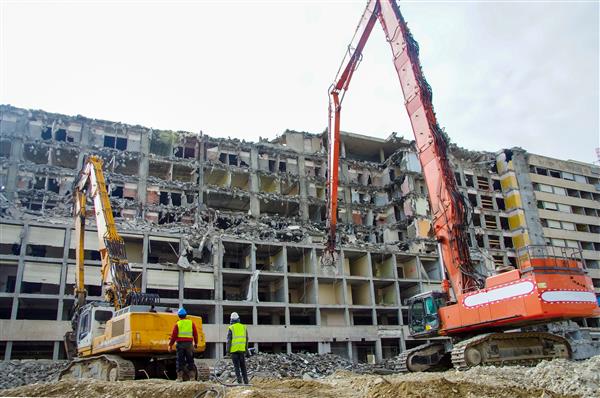 The Demolition Company with Demolition Contractors in Wilmington, DE You Can Count On
The strength of Omni Demolition lies not only in its state of the art equipment and the expertise of its demolition contractors but the commitment that we have in providing unsurpassable services. We set the standards in world-class demolition services. No job is ever too big, too small or too demanding for us. Our demolition experts employ the safest and most efficient ways of wrecking and demolishing old homes, dilapidated buildings and any other structure you may want demolished. We have the resources and expertise to offer you the best solutions in a safe and professional manner.
Better Understanding of Demolition and Deconstruction in Wilmington, DE
Demolition is a faster process in comparison to deconstruction. Some projects require complete levelling while others simply need specific parts removed to be replaced. For every client call, we have a demolition expert equipped to do the job. Deconstruction on the other hand is a type of demolition used in Wilmington, DE. No matter how complex your project is, we are happy and ready to serve in Wilmington, DE.
Why Come to Us for Your Demolition Project in Wilmington, DE
Our demolition experts have done thousands of contracts and not a single one has given us negative feedback. If you wish to have a an effortless and hassle-free experience when leveling a property in Wilmington, DE, we are the demolition contractor that you can rely on. One of our biggest hallmarks is giving you undivided personal attention. But this is not just a one-time initiative, it is ingrained in the workmanship of each and every demolition contractor in our company.
We Offer Demolition Services in Wilmington, DE Fit for Your Needs
Industrial Demolition services: We have taken down massive structures such as warehouses, industrial buildings, bridges, power plants, and mills. Our special equipment and expertise allow for the safe demolition of vast properties.
Commercial Demolition Services: We know all the ins and outs of this delicate procedure. No matter the job, you can be rest assured that our demo company will give you the best results. Our demolition experts have the know-how and experience to bring down buildings and structures even in very tight spaces. Be it tearing down a mall, strip center, warehouse, bridge, hangar or structures in metropolitan areas, we have got you covered.
Concrete Demolition and Recycling Services: Our demolition experts will help you realize your green-building initiative. We turn construction debris such as crushed concrete into gravel or a dry aggregate for making new concrete.
Scrap Metal Demolition Services: Our demo company will also clear out your property of any undesirable steel erections and salvage any existing metal scraps for recycling.
What Distinguishes Us from Other Demolition Companies in Wilmington, DE
Despite being highly preferred over other demolition contractors, we keep our feet grounded. Our demolition experts and demolition contractors are dedicated to meeting all your needs. Our demolition company is experienced in implementing both small and large projects. We continue to fulfil our commitment as a demo company when it comes to putting our clients as top priority.
Methods Used for Demolition and Deconstruction in Wilmington, DE
Explosive Demolition: Our demolition experts carefully consider all factors before flipping the switch that will initialize explosives to go off and promptly annihilate the target building in Wilmington, DE.
Non-Explosive Demolition: When a building structure does not allow the use of bombs, a wrecking ball is often utilized to take it down. Compared to other local demolition contractors, our experts use wrecking balls with careful precision. The heavy steel ball is swung into the targeted building causing it to gradually crumble.
Selective Demolition: Our demo contractors use this method when their goal is to recover or salvage demolition materials. Building demolition companies reuse or recycle the salvaged materials thus reducing waste.
Well-maintained Equipment Utilized for Demolition in Wilmington, DE
Hydraulic breakers – Commonly known as hydraulic hammers, these are often used by our demo company to grind up slabs and concrete structures.
Wrecking balls – Huge metal balls suspended on a metal crane and swung into the building intended to be collapsed either once or as many as needed.
Hydraulic shears and rock breakers – Used by specialists to cut through various materials such as concrete, metal, wood, and steel.
Bulldozers – Commonly used where heavy lifting is required, this flexible machine can also be used to topple down weak structures.
Dumpers – In every demolition business, dumpers are necessary to clear the site from rubble and debris.
Cranes – Demolition companies use cranes to move materials from different levels of a structure. A demo company will also use this machinery together with a steel ball. For a wrecking ball to work, it has to be attached to the crane.
Crawler Loaders – A flexible machine, crawlers are perfect for excavating narrow spaces. Although not very good for excavating, it can be used to haul items easily.
Contact Us for Cost-effective Demolition Services in Wilmington, Delaware
Avoid dealing with deconstruction hassles and overpriced bills when you sign with our demolition company in Wilmington, Delaware. Our dedication is in ensuring that we maximize your asset potential. Signing with our demolition company guarantees a stress-free project, from the accurate estimation, the actual operations, onsite clearance as well as processing required permits. We are the Wilmington deconstruction and demolition company to go to for premium and safe demo services. Call us
(855) 885-3366
today for all your demolition solutions.
Zip Code Areas We Service in Wilmington
19809, 19802, 19801, 19806, 19805, 19850, 19880, 19884, 19885, 19886, 19890, 19891, 19892, 19893, 19894, 19895, 19896, 19897, 19898, 19899