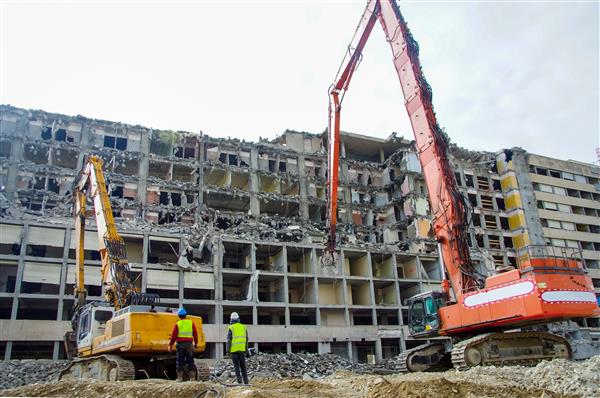 Demolition Contractors in Clearwater, FL: The Number 1 Demolition Company
Omni Demolition has paved the way for many construction services in the city through the exemplary workmanship and warm customer service of our demolition contractors. Our demolition process complies with all the regulations and standards in Clearwater, FL. We do not sugar-coat our services and we often deliver more than promised. Our team of demolition experts provide outstanding demolition services whether complete or selective. We are always on schedule. For all your projects, we ensure that we provide you with environmentally friendly services.
Do You Need Demolition or Deconstruction in Clearwater, FL?
Demolition is a faster process in comparison to deconstruction. A demolition expert may order a deconstruction if parts of the original structure need to be retained or hazardous materials and reusable items need to be extracted before an actual demolition. A deconstruction may be a prerequisite to the actual demolition process where hazardous materials are taken out prior to the tear down of the structure. In instances where a building will be remodelled or reconstructed, a deconstruction is more appropriate.
Highly Recommendable Services for Any Demolition Project in Clearwater, FL
We have demolition experts who plan everything meticulously, from the bringing in of our equipment up to the clearance of the property from wastes and debris. Our demolition contractor is at your service to fulfill all your needs. It is our core mission to exceed all your expectations. You will not find another demolition contractor in all of Clearwater, FL who will help you save and spend wisely.
What Demolition Services Can You Expect to Find in Clearwater, FL?
Industrial Demolition services: We focus on enhancing safety and maximizing productivity. We are responsive and flexible enough to be able to deal with any complications that such a challenging demolition project may bring. With our knowledgeable technicians and superior equipment, we can handle demolishing refineries, highways, powerplants, bridges, mines and airports among others.
Commercial Demolition Services: We know all the ins and outs of this delicate procedure. No matter the job, you can be rest assured that our demo company will give you the best results. Our demolition experts have the know-how and experience to bring down buildings and structures even in very tight spaces. Be it tearing down a mall, strip center, warehouse, bridge, hangar or structures in metropolitan areas, we have got you covered.
Concrete demolition and recycling services: Our demolition experts can break down concrete surfaces and slabs into reusable gravel.
Scrap Metal Demolition Services: Allow our demo company to take down your metal structure. Our experts will downsize and process scrap metal for the purpose of recycling or reusing.
We are the Leading Demolition Company in Clearwater, FL
Compared to other service providers, we take pride in having hardworking demolition experts and highly skilled demolition contractors. We take pride in employing some of the finest calibre of demolition experts throughout the city. As the number one demolition company in Clearwater, FL, we will work closely with you to guarantee an optimum outcome. We continue to fulfil our commitment as a demo company when it comes to putting our clients as top priority.
Types of Demolition and Deconstruction in Clearwater, FL
Explosive Demolition: We have a team of demolition experts in Clearwater, FL who thoroughly oversee the process of using explosives to crumble a structure, including the strict adherence to safety regulations and environmental protocols.
Non-Explosive Demolition: When a building structure does not allow the use of bombs, a wrecking ball is often utilized to take it down. Compared to other local demolition contractors, our experts use wrecking balls with careful precision. The heavy steel ball is swung into the targeted building causing it to gradually crumble.
Selective Demolition: Our demo contractors are the most sought-after for their record in successfully extracting or tearing down selected parts of a structure. We are one of the few building demolition companies who can conduct a customized approach depending on the client requirement.
The process requires demo contractors to work around normal operating hours on small working spaces and under strict timetables. Our company, unlike other building demolition companies, understands the significance of all these considerations. We ensure that we provide an environment that is safe for everyone involved with as minimal disruption as possible.
Important Equipment Used for Demolition in Clearwater, FL
Hydraulic Breakers – A demo company uses hydraulic breakers to demolish concrete and pulverize rocks.
Wrecking Balls – A wrecking ball is a heavy steel ball that is usually suspended from a crane. It is swung to the targeted structure or building in order to take it down.
Hydraulic Shears and Rock Breakers – They are used to cut through concrete, rocks, wood and metal.
Bulldozers – These can be utilized to apply pressure on a structure and weaken it as well as to haul waste and other materials onsite.
Dumpers – In the demolition business, dumpers are used to transport debris from the demolition site.
Cranes – Demolition companies use cranes to move materials from different levels of a structure. A demo company will also use this machinery together with a steel ball. For a wrecking ball to work, it has to be attached to the crane.
Crawler Loaders – Also meant to be used in excavating, crawler loaders have declined in popularity compared to hydraulics that can be used in heavy drilling. This equipment, however, can run on its own power as opposed to hydraulic excavators that more often require towing.
For All Your Demolition Service Needs in Clearwater, Florida, Contact Us Today
There is no other demolition company in Clearwater, Florida that offers high quality services with reasonable prices as us. We guarantee safe, timely and effective services. Our demolition company's spotless track record in handling minor to major demolitions is your guarantee of our high quality service, expertise and commitment to each and every project. Get in touch with the leading Clearwater deconstruction and demolition company. Call us at
(855) 885-3366
for a free consultation today.
Zip Code Areas We Service in Clearwater
33759, 33756, 33755, 33763, 33761, 33767, 33764, 33765, 33757, 33758, 33766, 33769