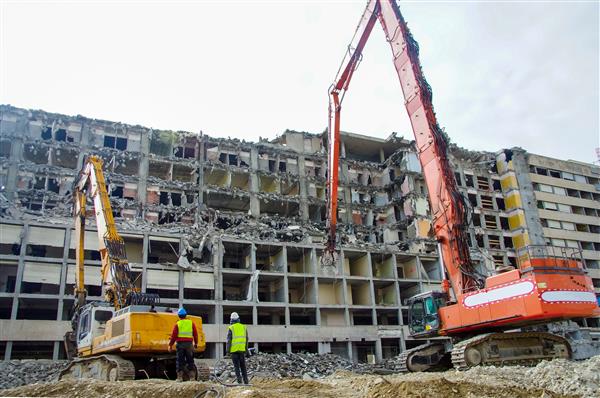 Demolition Contractors Largo, FL: Your Go-To Demolition Company
Our mission here at Omni Demolition is to ensure that we offer premium and high-caliber services through our expert demolition contractors. You are guaranteed to get the best value for your money with our expertise partnered with updated equipment and strict adherence to state safety regulations and policies. No need to break the bank to avail of first rate service and exceptional outcome. We have a team of seasoned demolition experts ready to act on any project. You can rest assured that our affordable services are top-notch. To achieve this, our demolition experts apply strong verbal, communication, analytical, managerial, decision-making and time-management skills.
We Do Demolition and Deconstruction in Largo, FL
Demolition is aimed at basically bringing down a structure. A demolition expert may order a deconstruction if parts of the original structure need to be retained or hazardous materials and reusable items need to be extracted before an actual demolition. Deconstruction in Largo, FL involves taking a structure apart. If you are going to rebuild or remodel an existing building and you wish to maintain some segments, a deconstruction is recommended.
Discover Our Amazing Services for All Your Demolition Projects in Largo, FL
Our demolition experts will handle your property professionally from start to finish. An experienced and well-trained demolition contractor will manage your project and ensure that the job gets done. Hiring inexperienced contractors results in lousy jobs and may even cause delays on your targeted completion date. No other demolition contractor in all of Largo, FL has a crew that is as dedicated and diligent as ours.
Choose from Our Wide Variety of Demolition Services in Largo, FL
Industrial Demolition Services: We can handle any challenging industrial demolition project you may have. With our world-class equipment and staff, we are able to demolish plants, mills, manufacturing buildings and so on.
Commercial Demolition services: We are the demo company to call when it comes to commercial spaces that require strategic planning, especially narrow and often crowded areas. Our capability in wrecking restaurants, grocery stores, and office buildings shows our mastery in handling business districts.
Concrete Demolition and Recycling Services: Once we have demolished your concrete structure, our demolition experts will crush and re-use the salvaged concrete as a base course for gravel.
Scrap Metal Demolition Services: Instead of hiring another contractor, we will help you save money as our demo company will take care of handling misplaced steel erections and sorting metal scraps for salvaging.
We Take the Lead Among Other Demolition Companies in Largo, FL
Despite being highly preferred over other demolition contractors, we keep our feet grounded. With us you are guaranteed safe and uninterrupted operations that you may encounter with inexperienced contractors with faulty machinery. You are guaranteed a hassle-free experience when you sign with us, the most trusted demolition company in Largo, FL. Our demo company appreciates all our clients and we demonstrate this by endeavoring to give you nothing but the very best.
Methods Conducted by Experts on Demolition and Deconstruction in Largo, FL
Explosive Demolition: Done by licensed demolition experts in Largo, FL, this method may sound dangerous and it could be when proper procedures are not followed. After explosives are strategically laid out, a switch is all it takes to completely take down a building.
Non-Explosive Demolition: Our local demolition contractors will use a wrecking ball to demolish a building in situations that do not allow the use of explosives.
Selective Demolition: Recommended for buildings that are being rebuilt, selective demolition involves carefully removing some parts of the building to make way for a modified construction. Unlike new and upcoming building demolition companies, our demo contractors are experienced in extracting parts of the building while still maintaining its structural integrity.
Important Demolition Equipment in Largo, FL
Hydraulic breakers-Heavy-duty excavators are used at our demo company to aid in breaking or crushing concrete segments of the building. Be wary of contractors who have poorly maintained equipment such as hydraulic breakers because this will surely cause delays in your timeline.
Wrecking balls – Attached to a crane, these heavy balls made of steel are used to weaken structures. They are swayed right into the building causing it to break and collapse.
Hydraulic Shears and Rock Breakers – They are able to demolish steel structures. Hydraulic shears are also used for recycling or secondary breaking. Rock Breakers are robust pounding hammers that are usually fitted to excavators. They are used to demolish rocks, as the name suggests or concrete.
Bulldozers – They are used to remove huge rubble and dirt piles. They are also used to push down smaller-sized structures and buildings.
Dumpers – In the demolition business, they are used for moving rubble and debris away from the demolition site.
Cranes – Demolition contractors use cranes to transfer materials within the site especially from lower to upper floors and vice versa. Aside from being used as a pulley, our demo company also uses cranes for wrecking balls.
Crawler Loaders – Flexible heavy equipment, crawler loaders can move on top of uneven surfaces and are also used for excavating and lifting.
Call us Today for Demolition Services in Largo, Florida
There is no other demolition company in Largo, Florida that offers high quality services with reasonable prices as us. You can rest easy knowing that we have a solution for all your demolition projects. Contact us today and let our demolition company take the pressure off of you. As the top Largo deconstruction and demolition company, no job is ever too big or too small for us. Get in touch with us today at
(855) 885-3366
and we will be more than glad to help.
Zip Code Areas We Service in Largo
33756, 33770, 33773, 33774, 33760, 33764, 33778, 33771, 33779