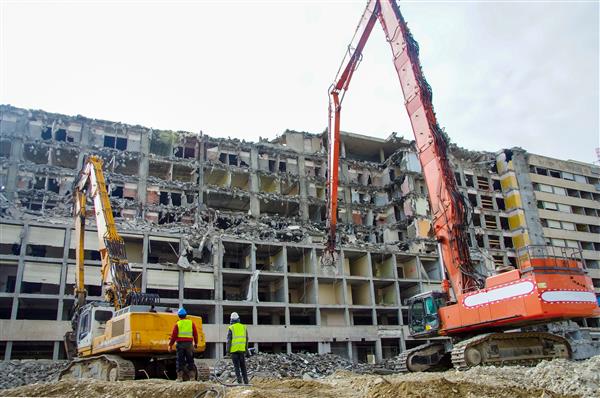 Recognizing an Outstanding Demolition Company from Inexperienced Demolition Contractors Miami Beach, FL
Omni Demolition has paved the way for many construction services in the city through the exemplary workmanship and warm customer service of our demolition contractors. Our demolition contractor is on standby at all times ready to cater to your needs. Our demolition experts provide top-notch work. This minimizes the chances of accidents or injuries at the demolition site.
How is Demolition Different from Deconstruction in Miami Beach, FL?
Demolition is aimed at basically bringing down a structure. Our demolition experts are most experienced in going over construction sites to see what items may be salvaged and put aside to be used again, often saving time and resources. There are two categories of deconstruction, namely soft strip or selective deconstruction and whole-house deconstruction. We have the know-how in identifying the value of extracted materials and their potential for reuse. Selective deconstruction involves going into a property before demolition and removing high value and easily removable materials.
Why Choose Us as Your Company of Choice for Your Demolition Project in Miami Beach, FL
We have demolition experts who plan everything meticulously, from the bringing in of our equipment up to the clearance of the property from wastes and debris. Compared to other demolition contractors who are highly profit-driven, we are committed to giving back to the community through outstanding workmanship and transparent transactions. We pride ourselves in being reliable and efficient service providers who will cater to all your unique needs. You will not find another demolition contractor in all of Miami Beach, FL who will help you save and spend wisely.
We Offer Demolition Services in Miami Beach, FL Fit for Your Needs
Industrial Demolition services: We have the expertise, equipment and manpower to take down, mills, plants, manufacturing buildings among others without compromising the integrity of neighbouring structures.
Commercial Demolition services: Being a world-class demo company, you can rest easy knowing that your property is in safe and capable hands. We have the capability to bring down commercial structures such as warehouses, airplane hangars, shopping malls, garages, office buildings and sports facilities among others.
Concrete demolition and recycling services: Our demolition experts are knowledgeable in pulverizing slabs and concrete to be turned into eco-friendly gravel. Scrap Metal Demolition Services: Allow our demo company to take down your metal structure. Our experts will downsize and process scrap metal for the purpose of recycling or reusing.
The Top Choice Among Demolition Companies in Miami Beach, FL
We take pride in deploying demolition experts and demolition contractors who are not simply knowledgeable on the job but also skilled and experienced all across the state. Our demolition experts and demolition contractors are dedicated to meeting all your needs. Using cutting edge technology added to our team's expertise, our demolition company is guaranteed to deliver more than promised. Our demo company is well equipped in handling any job, however simple or complex.
Our Approved Methods for Demolition and Deconstruction in Miami Beach, FL
Explosive Demolition: This method should be done only by experienced demolition experts in Miami Beach, FL as it involves safety parameters that should be strictly observed. It involves turning a switch to initiate an explosion, which will then collapse the building into a mound of rubble.
Non-Explosive Demolition: Our local demolition contractors are flexible and in situations where explosive demolition may be unsafe, we may use a wrecking ball which is attached to a crane at a manageable height to bring down a building.
Selective Demolition: This type of demolition is done when you want to remodel or renovate a building. It can either be exterior or interior by nature. Exterior demolition involves tearing down a part of the building with a purpose of increasing it in size or making it smaller. Interior demolition focuses mostly on taking apart spaces for remodeling or renovation.
Utilizing the Proper Equipment for Demolition in Miami Beach, FL
Hydraulic Breakers – Our demo company will use this heavy hammer to demolish rocks or concrete structures. Hydraulic breakers are also an important part of recycling operations.
Wrecking balls – A massive ball made of steel, it is suspended on a crane and maneuvered into a swinging motion to tear down a building. It sounds less dangerous than using explosives but the use of wrecking balls gives little control to the depth of damage done, hence it requires careful and professional handling.
Hydraulic shears and rock breakers – Used by specialists to cut through various materials such as concrete, metal, wood, and steel.
Bulldozers – A bulldozer is a heavy piece of equipment that has a robust bucket attachment. This attachment enables the bulldozer to clear trash, rubble and debris from a demolition site. Bulldozers are multi-purpose, they can also be used to push down heavy smaller-sized structures.
Dumpers – A dumper is a very useful piece of machinery in every demolition business. It is used to carry away demolition waste from demolition sites.
Cranes – Demolition contractors use cranes to attach a wrecking ball to it. The wrecking ball suspended on a crane is then swung to the targeted structure. A demo company can use cranes to remove debris from high areas of a demolished structure. Cranes can also be used to load debris onto a dumper.
Crawler Loaders – A flexible machine, crawlers are perfect for excavating narrow spaces. Although not very good for excavating, it can be used to haul items easily.
Call us Today for Demolition Services in Miami Beach, Florida
Your number one demolition company in Miami Beach, Florida is always at your service. Signing with us means you deal with our highly diligent specialists who will never present mediocre work to our clients. Consult with a reliable demolition company and save yourself from all the worries. We are the Miami Beach deconstruction and demolition company to go to for premium and safe demo services. Go ahead and give us a call today at
(855) 885-3366
. We are always at your service.
Zip Code Areas We Service in Miami Beach
33140, 33141, 33139, 33109