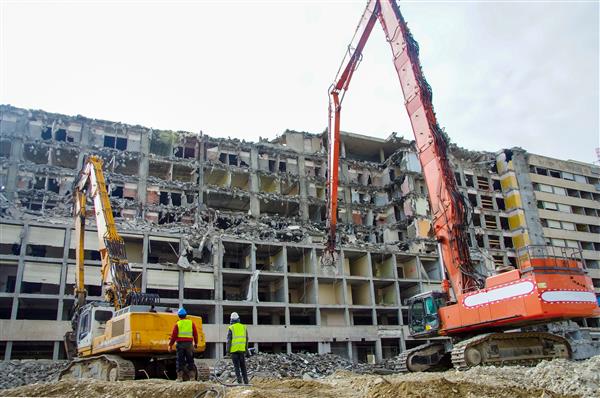 The Best Option For Demolition Contractors Miami Gardens, FL: Our First-Class Demolition Company
The strength of Omni Demolition lies not only in its state of the art equipment and the expertise of its demolition contractors but the commitment that we have in providing unsurpassable services. No job is ever too big, too small or too demanding for us. If you need a structure or building taken down, our demolition experts will use the fastest and most economical method of demolition. We have the resources and expertise to offer you the best solutions in a safe and professional manner.
The Main Variances of Demolition and Deconstruction in Miami Gardens, FL
Demolition is the process of tearing down or pulling down buildings and structures by a demolition expert. A demolition expert may order a deconstruction if parts of the original structure need to be retained or hazardous materials and reusable items need to be extracted before an actual demolition. Some of the items salvaged in deconstruction are: roofing materials, windows, plumbing fixtures, doors, cabinets, flooring among others. Deconstruction could be a component included in the demolition where our skilled team removes all hazardous and re-usable objects prior to the building being knocked down. Some projects require complete levelling while others simply need specific parts removed to be replaced. For every client call, we have a demolition expert equipped to do the job.
Why Choose Us as Your Company of Choice for Your Demolition Project in Miami Gardens, FL
We know that before you consider hiring us, you will want to understand how the job gets done by our demolition experts. Our demolition contractors have years of experience in the business providing exceptional and enviable customer service across Miami Gardens, FL. Property owners usually think first rate services always come with a steep price to pay, but not with us. Taking down a structure sounds chaotic but unlike other demolition contractors, our services are done with utmost care and with as little disturbance to the community as possible. From cost estimation up to the site clean-up, you can rest assured that we have everything covered. From cost estimation up to the site clean-up, you can rest assured that we have everything covered.
Our Range of Demolition Services in Miami Gardens, FL
Industrial Demolition services: We have an impeccable history in handling industrial buildings such as warehouses, chemical plants, mills and more. No matter how gigantic the structure is, our team of experts can surely manage.
Commercial Demolition services: You can call our demo company if you need someone to knock down commercial structures such as commercial centres, groceries, airplane hangars and the like.
Concrete demolition and recycling services: We are the only demolition experts who carefully set aside re-usable materials from your site for possible future use such as slabs to be crushed later on into gravel.
Scrap Metal Demolition Services: Our demo company is experienced in salvaging scrap from your demolition project. You can recycle the scrap metal. This will minimize on wastage and cost.
We are on Top of Other Demolition Companies in Miami Gardens, FL
Our demolition company in Miami Gardens, FL offers a broad spectrum of solutions which enables us to deliver prompt and successful results. With us you are guaranteed safe and uninterrupted operations that you may encounter with inexperienced contractors with faulty machinery. Using cutting edge technology added to our team's expertise, our demolition company is guaranteed to deliver more than promised. Our demo company offers packages that are reasonably priced as well due to the fact that we have mastered an efficient way of demolition that cuts unnecessary expenses.
Our Approved Methods for Demolition and Deconstruction in Miami Gardens, FL
Explosive Demolition: If you want to demolish a big structure, you have to bring out the big guns. Our demolition experts in Miami Gardens, FL use explosive demolition for larger buildings. It is as effective as it is safe.
Non-Explosive Demolition: Our local demolition contractors use a wrecking ball attached to a crane to knock down buildings. It is a cheaper and faster method unlike explosive demolition.
Selective Demolition: This is a type of demolition whereby building materials, part of the structure or building are separated and then sorted for the purpose of reusing or recycling. Our demo contractors have mastered the art of selective demolition that other building demolition companies do not have.
We Facilitate High-End Equipment for Demolition in Miami Gardens, FL
Hydraulic Breakers – Our demo company will use this heavy hammer to demolish rocks or concrete structures. Hydraulic breakers are also an important part of recycling operations.
Wrecking balls – A wrecking ball is used together with a crane. This heavy steel ball is suspended from a crane and is used to bring down an entire structure or part of it. Although not widely used, this method is as fast as it is cost effective.
Hydraulic Shears and Rock Breakers – They are used to cut through concrete, rocks, wood and metal.
Bulldozers – They are used to push demolition debris. They are also used to tear down smaller structures, clear the property of rubble or pile the debris.
Dumpers – If you are in the demolition business, you will definitely need a dumper/ tipper truck for transporting demolition waste.
Cranes – Aside from being used to secure a wrecking ball, demolition contractors in our demo company also use cranes to lower and lift materials within the site.
Crawler Loaders – They are effective in bringing down structures. They can also be used to clean up a demolition site. Crawler loaders can help move debris. Its tracks enable the unit to move easily and freely on the property.
Call us Today for Demolition Services in Miami Gardens, Florida
We are your dependable and trusted demolition company in Miami Gardens, Florida. We take any demolition challenge head on. Our demolition company never offers excuses; we simply provide professional and timely services guaranteed to accommodate your budget. Our Miami Gardens deconstruction and demolition company has highly skilled personnel with years of experience in the demolition business. Feel free to get in touch with us today at
(855) 885-3366
!
Zip Code Areas We Service in Miami Gardens
33014, 33169, 33055, 33056, 33054