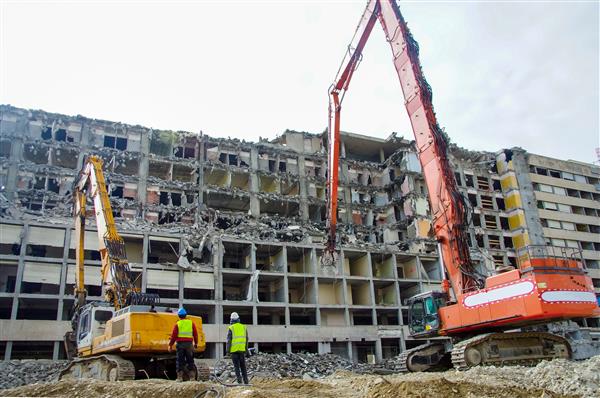 The Best Option For Demolition Contractors Orlando, FL: Our First-Class Demolition Company
For years, Omni Demolition has continuously served and established its reputation as the most trusted demolition contractor in Orlando, FL. If you need to hire a professional demolition contractor in Orlando, FL without spending a ridiculous amount of money, you have come to the right place. You can trust that our demolition experts are all well-versed when it comes to everything that has to do with eco-friendly demolition, as well as health and safety guidelines. Whether it may be a residential, commercial or industrial structure that needs to be taken care of, our crew has got it covered.
The Objectives of Demolition and Deconstruction in Orlando, FL
Demolition is aimed at basically bringing down a structure. A demolition expert may order a deconstruction if parts of the original structure need to be retained or hazardous materials and reusable items need to be extracted before an actual demolition. Deconstruction differs from demolition in that, it involves tearing apart a building or a home in a manner that salvages materials. There are two types of deconstruction: selective and whole-house.
Discover Our Amazing Services for All Your Demolition Projects in Orlando, FL
Our demolition experts will meticulously execute your demolition project in a timely and safe manner. Some demolition contractors offer their services at rock bottom prices but this may cost you more in the long run. We have a proven record of accomplishment in excellence. Do not be tricked by demolition contractors who cannot walk the talk. From the start to the finish of your project, we are focused on your absolute satisfaction. From the start to the finish of your project, we are focused on your absolute satisfaction.
We Offer Demolition Services in Orlando, FL Fit for Your Needs
Industrial Demolition Services: This requires application of specialized techniques by highly trained professionals. We will safely and effectively bring down industrial structures such as factories, mills and manufacturing plants among others.
Commercial Demolition Services: We know all the ins and outs of this delicate procedure. No matter the job, you can be rest assured that our demo company will give you the best results. Our demolition experts have the know-how and experience to bring down buildings and structures even in very tight spaces. Be it tearing down a mall, strip center, warehouse, bridge, hangar or structures in metropolitan areas, we have got you covered.
Concrete demolition and recycling services: We are the only demolition experts who carefully set aside re-usable materials from your site for possible future use such as slabs to be crushed later on into gravel.
Scrap Metal Demolition Services: Our demo company will save you time and money by demolishing your metal structure, putting a recovery plan in place and selling the salvaged scrap metal for you.
We are Unparalleled by Other Demolition Companies in Orlando, FL
Our demolition experts and demolition contractors offer a professional and innovative approach to all your demolition projects. We are on a continuous path to success and we have managed to do this through perfection in our demolition services. An emerging demo company from years back, we are now among the top contractors in the city when it comes to leveling residential, commercial and industrial properties. Our demo company is well equipped in handling any job, however simple or complex.
Methods Used for Demolition and Deconstruction in Orlando, FL
Explosive Demolition: Explosive materials are strategically placed on the building or structure in Orlando, FL by our demolition experts. The explosives are timed to make a structure go down on itself in seconds in order to minimize damage to the surroundings.
Non-Explosive Demolition: Our local demolition contractors will use a wrecking ball to bring down your structure. This method is cheaper than explosive demolition.
Selective Demolition: Our demo contractors use this method when their goal is to recover or salvage demolition materials. Building demolition companies reuse or recycle the salvaged materials thus reducing waste.
Utilizing the Proper Equipment for Demolition in Orlando, FL
Hydraulic breakers-Heavy-duty excavators are used at our demo company to aid in breaking or crushing concrete segments of the building. Be wary of contractors who have poorly maintained equipment such as hydraulic breakers because this will surely cause delays in your timeline.
Wrecking Balls – Although less common in demolition sites, it is an efficient way of demolishing a concrete structure. This solid steel ball is attached to a crane. It is then swung to the targeted building several times to strike down the structure.
Hydraulic Shears and Rock Breakers – They are able to demolish steel structures. Hydraulic shears are also used for recycling or secondary breaking. Rock Breakers are robust pounding hammers that are usually fitted to excavators. They are used to demolish rocks, as the name suggests or concrete.
Bulldozers – It has a ripper and is used to move large quantities of rubble. It is also used to bring walls down.
Dumpers – Copious amount of time is spent clearing demolition sites and this is where dumpers come in very handy. An experienced demolition business deploys dumpers to haul debris and waste away from the site.
Cranes – Aside from being used to secure a wrecking ball, demolition contractors in our demo company also use cranes to lower and lift materials within the site.
Crawler Loaders – They are very effective in removing materials from the demolition site. They are used to move or clear an area of demolition rubble. Crawler loaders can also be used to push down smaller-sized structures.
Call us Today for Demolition Services in Orlando, Florida
We are ranked as the leading demolition company in Orlando, Florida. With us you are guaranteed to have a safe and worry-free operation to be completed by field experts. Our demolition company's spotless track record in handling minor to major demolitions is your guarantee of our high quality service, expertise and commitment to each and every project. Our work integrity and reasonable packages are only some of the reasons why we are a well renowned Orlando deconstruction and demolition company. Call us
(855) 885-3366
today for all your demolition solutions.
Zip Code Areas We Service in Orlando
32829, 32827, 32824, 32822, 32804, 32805, 32806, 32807, 32801, 32803, 32808, 32839, 32835, 32832, 32819, 32812, 32811, 32814, 32802, 32816, 32834, 32853, 32854, 32855, 32856, 32857, 32858, 32859, 32860, 32861, 32862, 32867, 32868, 32869, 32872, 32877, 32878, 32885, 32886, 32887, 32891, 32897