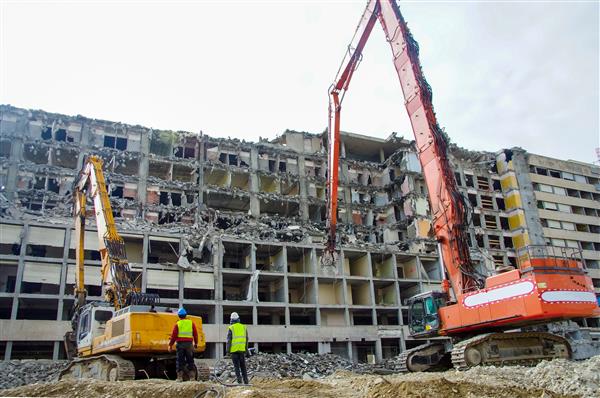 Demolition Contractors Tallahassee, FL: The Number One Demolition Company
When looking to hire demolition contractors in Tallahassee, FL, Omni Demolition is your best choice. We set the standards in world-class demolition services. No job is ever too big, too small or too demanding for us. The commitment and competence of our demolition experts guarantee that you will be working with the most suitable partners. Whether it may be a residential, commercial or industrial structure that needs to be taken care of, our crew has got it covered.
We Do Demolition and Deconstruction in Tallahassee, FL
Demolition is aimed at basically bringing down a structure. Deconstruction is when a demolition expert carefully dismantles or takes down a structure with the aim of reusing or recycling the materials. A deconstruction may be a prerequisite to the actual demolition process where hazardous materials are taken out prior to the tear down of the structure. The structures can be pulled down manually.
Discover Our Amazing Services for All Your Demolition Projects in Tallahassee, FL
Our demolition experts have a solid record of work experience aside from continually receiving refresher trainings every now and then to ensure that they are well updated with any enhancements or changes in technology and procedural protocol. If you wish to have a an effortless and hassle-free experience when leveling a property in Tallahassee, FL, we are the demolition contractor that you can rely on. Hiring inexperienced contractors results in lousy jobs and may even cause delays on your targeted completion date. Our demolition contractors are not only committed to providing first rate work but also ensure that all steps are taken to cause little to zero disturbance to the environment and to the properties adjacent to the site.
Professional Demolition Services in Tallahassee, FL
Industrial Demolition Services: This type of demolition service requires a surgical approach. We have a systemic, controlled and detailed solution in place for demolishing facilities such as chemical plants, manufacturing plants, port facilities, oil refineries, factories, and lumber mills among others.
Commercial Demolition Services: This type of demolition requires tact in working around obstacles. Our demo company is highly skilled in demolishing commercial structures such as hotels, retail spaces, office buildings, warehouses, bridges and airplane hangars among others.
Concrete Demolition and Recycling Services: Our demolition experts will help you realize your green-building initiative. We turn construction debris such as crushed concrete into gravel or a dry aggregate for making new concrete.
Scrap Metal Demolition Services: Our demo company will expertly demolish your scrap metal projects. Our crew will downsize as well as dismantle the steel structures then process, bundle and recycle the materials.
We Lead, Other Demolition Companies Follow in Tallahassee, FL
Our demolition company in Tallahassee, FL offers a broad spectrum of solutions which enables us to deliver prompt and successful results. We are a class above the rest. What sets us apart is our unshaken resolve to achieve 100% in customer satisfaction. We are a top-rated demolition company in Tallahassee, FL. Our demo company offers packages that are reasonably priced as well due to the fact that we have mastered an efficient way of demolition that cuts unnecessary expenses.
Our Methods for Demolition and Deconstruction in Tallahassee, FL
Explosive Demolition: This method should be done only by experienced demolition experts in Tallahassee, FL as it involves safety parameters that should be strictly observed. It involves turning a switch to initiate an explosion, which will then collapse the building into a mound of rubble.
Non-Explosive Demolition: Our local demolition contractors use a wrecking ball attached to a crane to knock down buildings. It is a cheaper and faster method unlike explosive demolition.
Selective Demolition: This is also known as interior demolition. When your building or property is structurally sound but its interior needs to be remodeled or upgraded, our demo contractors apply selective demolition. We use highly advanced demolition techniques giving us a reputation that other building demolition companies cannot match.
Important Equipment Used for Demolition in Tallahassee, FL
Hydraulic Breakers – A demo company uses hydraulic breakers to demolish concrete and pulverize rocks.
Wrecking balls – Used mainly for non-explosive demos, these heavy impacting balls are helpful in progressively weakening a building until all that's left are frameworks that are then easier to tear down.
Hydraulic shears and rock breakers – These specialized accessories allow cutting into a variety of materials such as metal, wood, rocks, and cement.
Bulldozers – A bulldozer is a heavy piece of equipment that has a robust bucket attachment. This attachment enables the bulldozer to clear trash, rubble and debris from a demolition site. Bulldozers are multi-purpose, they can also be used to push down heavy smaller-sized structures.
Dumpers – In the demolition business, dumpers are used to transport debris from the demolition site.
Cranes – Demolition contractors use a crane to attach a wrecking ball. A demo company can also use a crane for moving materials on the different levels of the structure or building.
Crawler Loaders – They are effective in bringing down structures. They can also be used to clean up a demolition site. Crawler loaders can help move debris. Its tracks enable the unit to move easily and freely on the property.
For All Your Demolition Service Needs in Tallahassee, Florida, Contact Us Today
Avoid dealing with deconstruction hassles and overpriced bills when you sign with our demolition company in Tallahassee, Florida. We guarantee safe, timely and effective services. Find out why we have remained the #1 demolition company for years as you experience top of the line customer service. As the top Tallahassee deconstruction and demolition company, no job is ever too big or too small for us. Call us today at
(855) 885-3366
and get your job done quickly, flawlessly and affordably.
Zip Code Areas We Service in Tallahassee
32311, 32312, 32399, 32304, 32303, 32301, 32309, 32308, 32302, 32306, 32307, 32313, 32314, 32315, 32316, 32395