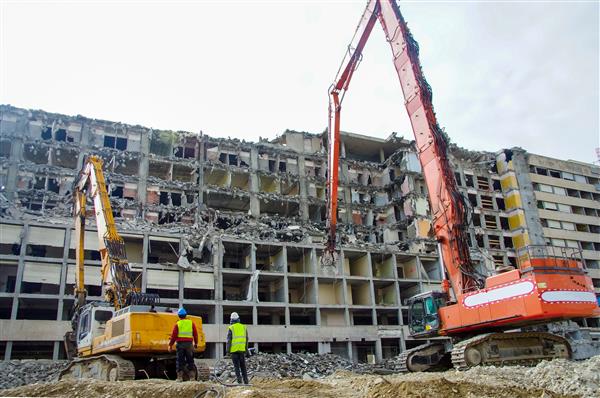 The Demolition Company with Demolition Contractors in Tamarac, FL You Can Count On
When looking to hire demolition contractors in Tamarac, FL, Omni Demolition is your best choice. Our main goal is to provide affordable services without compromising the quality of our work. We do not sugar-coat our services and we often deliver more than promised. Led by deconstruction experts in the industry in Tamarac, FL, our demolition experts offer innovative approaches to all your projects, whether big or small. You can rest assured that our affordable services are top-notch. To achieve this, our demolition experts apply strong verbal, communication, analytical, managerial, decision-making and time-management skills.
Better Understanding of Demolition and Deconstruction in Tamarac, FL
Demolition is taking down or dismantling a building or structure with a strong and overwhelming force whose end result is rubble or waste. Deconstruction is when a demolition expert carefully dismantles or takes down a structure with the aim of reusing or recycling the materials. A deconstruction may be a prerequisite to the actual demolition process where hazardous materials are taken out prior to the tear down of the structure. It entails tearing down the components of a building for the purpose of recycling, re-using as well as waste management.
Complete Accountability from Highly Skilled Specialists for Your Demolition Project in Tamarac, FL
We maintain multi-disciplined and highly seasoned demolition experts and demolition contractors in Tamarac, FL-fully trained in material handling and equipment operation. As professional demolition contractors, we religiously adhere to state policies and regulations. Property owners usually think first rate services always come with a steep price to pay, but not with us. Trust only the most preferred demolition contractor in all of Tamarac, FL.
We Offer Demolition Services in Tamarac, FL Fit for Your Needs
Industrial Demolition services: We have an impeccable history in handling industrial buildings such as warehouses, chemical plants, mills and more. No matter how gigantic the structure is, our team of experts can surely manage.
Commercial Demolition services: Being a world-class demo company, you can rest easy knowing that your property is in safe and capable hands. We have the capability to bring down commercial structures such as warehouses, airplane hangars, shopping malls, garages, office buildings and sports facilities among others.
Concrete demolition and recycling services: Our demolition experts are knowledgeable in pulverizing slabs and concrete to be turned into eco-friendly gravel.
Scrap Metal Demolition Services: Our demo company is also experienced in extracting steel and metal from a building.
We are Unparalleled by Other Demolition Companies in Tamarac, FL
Our demolition experts and highly skilled demolition contractors have worked on the most noteworthy projects in Tamarac, FL. We take pride in employing some of the finest calibre of demolition experts throughout the city. We are a demolition company that takes our work seriously and consistently conduct regularly equipment maintenance, which ensures efficient and quick clearing operations. Our demo company is well equipped in handling any job, however simple or complex.
The Types of Methods Used in Demolition and Deconstruction in Tamarac, FL
Explosive Demolition: Our demolition experts in Tamarac, FL bring down structures or buildings by removing the main structural elements such as the walls and pillars with the help of explosives. This reduces the building's structural stability, causing it to collapse under its own weight. This method is faster, environmentally friendly and safer when compared to other methods.
Non-Explosive Demolition: Our local demolition contractors will use a wrecking ball to demolish a building in situations that do not allow the use of explosives.
Selective Demolition: Recommended for buildings that are being rebuilt, selective demolition involves carefully removing some parts of the building to make way for a modified construction. Unlike new and upcoming building demolition companies, our demo contractors are experienced in extracting parts of the building while still maintaining its structural integrity.
Important Demolition Equipment in Tamarac, FL
Hydraulic breakers – Also known as hydraulic hammers, our demo company uses this to demolish rocks or concrete structures.
Wrecking balls – Heavy and solid balls made of steel, wrecking balls are safely suspended on a crane and used to weaken a building until it gives.
Hydraulic shears and rock breakers – A modification to excavators, these tools help in cutting through solid surfaces such as wood, metal, rocks, and concrete.
Bulldozers – It has a ripper and is used to move large quantities of rubble. It is also used to bring walls down.
Dumpers – In the demolition business, dumpers are used to transport debris from the demolition site.
Cranes – Demolition contractors use cranes to attach a wrecking ball to it. The wrecking ball suspended on a crane is then swung to the targeted structure. A demo company can use cranes to remove debris from high areas of a demolished structure. Cranes can also be used to load debris onto a dumper.
Crawler Loaders – Particularly useful in tight spaces, crawler loaders are versatile vehicles that function as a flexible loading and hauling machine. It can also be used for digging the ground.
Go Ahead and Contact Us for All Your Demolition Needs in Tamarac, Florida
Avoid dealing with deconstruction hassles and overpriced bills when you sign with our demolition company in Tamarac, Florida. Ensure a spotless pre-construction site when you sign with us. Our demolition company is the Tamarac demolition and deconstruction company you have been looking for. Our Tamarac deconstruction and demolition company has highly skilled personnel with years of experience in the demolition business. Give us a call today at
(855) 885-3366
and we will get back to you as soon as we can.
Zip Code Areas We Service in Tamarac
33321, 33319