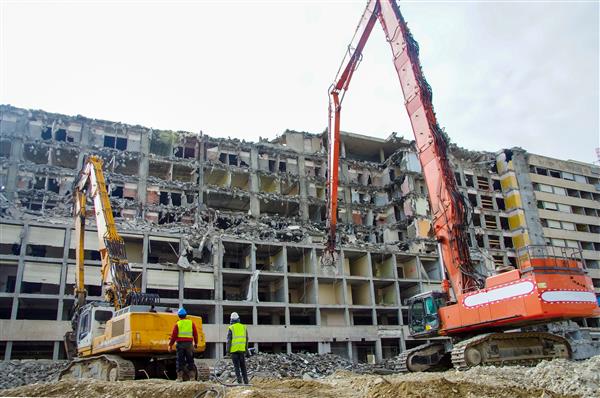 Demolition Contractors in Tampa, FL: The Number 1 Demolition Company
For years, Omni Demolition has continuously served and established its reputation as the most trusted demolition contractor in Tampa, FL. You are guaranteed to get the best value for your money with our expertise partnered with updated equipment and strict adherence to state safety regulations and policies. At any given time, our demolition contractor will be at your service to help you with your demolition, excavation and wrecking projects in Tampa, FL. Here at Omni Demolition, you can expect nothing less than high-quality customer service and spotless workmanship courtesy of our seasoned demolition experts. There are no second guesses when you sign with us.
What are the differences Between Demolition and Deconstruction in Tampa, FL
Demolition is a faster process in comparison to deconstruction. Demolition is the actual tearing down of a structure to be done by a demolition expert. Deconstruction on the other hand is a type of demolition used in Tampa, FL. The rubble from the process is either disposed-off as waste, used as clean fill or re-used as aggregate. In case of metal structures, the scrap metal is recycled.
Why Sign Us for Your Demolition Project in Tampa, FL
We know that before you consider hiring us, you will want to understand how the job gets done by our demolition experts. Compared to other demolition contractors who are highly profit-driven, we are committed to giving back to the community through outstanding workmanship and transparent transactions. Hiring inexperienced contractors results in lousy jobs and may even cause delays on your targeted completion date. Our demolition contractors are not only committed to providing first rate work but also ensure that all steps are taken to cause little to zero disturbance to the environment and to the properties adjacent to the site. Our job is thorough and you can be certain that once we are done, you do not have to worry about hazardous wastes being left behind. Our job is thorough and you can be certain that once we are done, you do not have to worry about hazardous wastes being left behind.
Check Our Broad Range of Demolition Services in Tampa, FL
Industrial Demolition services: We have tried and tested thorough demolition of industrialized buildings. Our record includes taking down plants, manufacturing buildings, mills and the like.
Commercial Demolition Services: This type of demolition requires tact in working around obstacles. Our demo company is highly skilled in demolishing commercial structures such as hotels, retail spaces, office buildings, warehouses, bridges and airplane hangars among others.
Concrete demolition and recycling services: Our demolition experts can break down concrete surfaces and slabs into reusable gravel. Scrap Metal Demolition Services: Our demo company will expertly demolish your scrap metal projects. Our crew will downsize as well as dismantle the steel structures then process, bundle and recycle the materials.
A class Above the Rest in Tampa, FL
We are professional demolition contractors who offer superior quality services. We take pride in employing some of the finest calibre of demolition experts throughout the city. Our commitment to our patrons helped us become the most respectable demolition company in all of Tampa, FL. When it comes to bringing down old, dilapidated or unwanted property, we have vast experience as a demo company and we will ensure that our services do not cause any unintended damage or pollution
Types of Demolition and Deconstruction in Tampa, FL
Explosive Demolition: This method should be done only by experienced demolition experts in Tampa, FL as it involves safety parameters that should be strictly observed. It involves turning a switch to initiate an explosion, which will then collapse the building into a mound of rubble.
Non-Explosive Demolition: When a building structure does not allow the use of bombs, a wrecking ball is often utilized to take it down. Compared to other local demolition contractors, our experts use wrecking balls with careful precision. The heavy steel ball is swung into the targeted building causing it to gradually crumble.
Selective Demolition: Recommended for buildings that are being rebuilt, selective demolition involves carefully removing some parts of the building to make way for a modified construction. Unlike new and upcoming building demolition companies, our demo contractors are experienced in extracting parts of the building while still maintaining its structural integrity.
Well-maintained Equipment for Demolition in Tampa, FL
Hydraulic breakers – Also known as hydraulic hammers, our demo company uses this to demolish rocks or concrete structures.
Wrecking balls – A wrecking ball is used together with a crane. This heavy steel ball is suspended from a crane and is used to bring down an entire structure or part of it. Although not widely used, this method is as fast as it is cost effective.
Hydraulic shears and rock breakers – A modification to excavators, these tools help in cutting through solid surfaces such as wood, metal, rocks, and concrete.
Bulldozers – Common equipment in construction sites used for excavating and hauling materials or waste. This machine can also be used to flatten or level structures hence the term bulldoze.
Dumpers – Essential in clearing a demolition site, our dumpers make it easier and quicker to take out unwanted debris and materials from the site to be properly disposed of. Our demolition business has invested in quality dumpers to ensure a speedy clean-up of the property and that your project timeline is met.
Cranes – Aside from being used to secure a wrecking ball, demolition contractors in our demo company also use cranes to lower and lift materials within the site.
Crawler Loaders – Flexible heavy equipment, crawler loaders can move on top of uneven surfaces and are also used for excavating and lifting.
Contact Us for Cost-effective Demolition Services in Tampa, Florida
We are ranked as the leading demolition company in Tampa, Florida. We have a brilliant track record of achieving 100% success despite hostile or challenging work environments. Signing with our demolition company guarantees a stress-free project, from the accurate estimation, the actual operations, onsite clearance as well as processing required permits. Our Tampa deconstruction and demolition company has highly skilled personnel with years of experience in the demolition business. Call us today at
(855) 885-3366
and allow us to assist you with your demolition requirements.
Zip Code Areas We Service in Tampa
33637, 33629, 33621, 33620, 33647, 33602, 33619, 33616, 33613, 33611, 33617, 33614, 33610, 33612, 33605, 33604, 33609, 33607, 33606, 33603, 33601, 33608, 33622, 33623, 33630, 33631, 33633, 33646, 33650, 33655, 33660, 33661, 33662, 33663, 33664, 33672, 33673, 33674, 33675, 33677, 33679, 33680, 33681, 33682, 33684, 33685, 33686, 33687, 33688, 33689, 33694