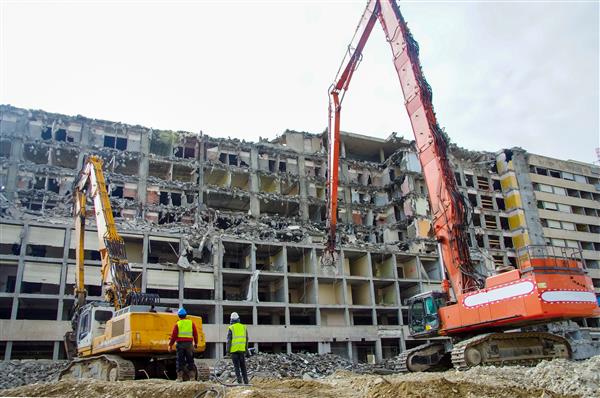 Recognizing an Outstanding Demolition Company from Inexperienced Demolition Contractors West Palm Beach, FL
It can be a huge challenge finding reliable and affordable demolition contractors in West Palm Beach, FL, but that is what Omni Demolition is here for. Just like any other major construction or remodeling plan, having a property demolished requires the skills of professionals, along with the use of appropriate equipment. Our demolition experts employ the safest and most efficient ways of wrecking and demolishing old homes, dilapidated buildings and any other structure you may want demolished. We are an environmentally friendly company.
What are the differences Between Demolition and Deconstruction in West Palm Beach, FL
Demolition is aimed at basically bringing down a structure. Deconstruction is when a demolition expert carefully dismantles or takes down a structure with the aim of reusing or recycling the materials. Some of the items salvaged in deconstruction are: roofing materials, windows, plumbing fixtures, doors, cabinets, flooring among others. The structures can be pulled down manually.
Complete Accountability from Highly Skilled Specialists for Your Demolition Project in West Palm Beach, FL
Our demolition experts have a solid record of work experience aside from continually receiving refresher trainings every now and then to ensure that they are well updated with any enhancements or changes in technology and procedural protocol. An experienced and well-trained demolition contractor will manage your project and ensure that the job gets done. It is our core mission to exceed all your expectations. You will not find another demolition contractor in all of West Palm Beach, FL who will help you save and spend wisely. Whether small or large, we strive to always provide you with the highest possible standards of service in completing your projects within your budget and timeframe without complications. Whether small or large, we strive to always provide you with the highest possible standards of service in completing your projects within your budget and timeframe without complications.
We Offer a Wide Array of Professional Demolition Services in West Palm Beach, FL
Industrial Demolition services: We have the expertise, equipment and manpower to take down, mills, plants, manufacturing buildings among others without compromising the integrity of neighbouring structures.
Commercial Demolition services: Need your commercial demolition project done right the first time? Our demo company will take care of that for you. Our portfolio includes: airplane hangars, restaurants, grocery stores, gas stations, warehouses and libraries among others.
Concrete demolition and recycling services: Our demolition experts can break down concrete surfaces and slabs into reusable gravel.
Scrap Metal Demolition Services: Our demo company is also experienced in extracting steel and metal from a building.
A class Above the Rest in West Palm Beach, FL
Our demolition company in West Palm Beach, FL offers a broad spectrum of solutions which enables us to deliver prompt and successful results. We provide our clients with value for their money. We are a top-rated demolition company in West Palm Beach, FL. We continue to fulfil our commitment as a demo company when it comes to putting our clients as top priority.
The Types of Methods Used in Demolition and Deconstruction in West Palm Beach, FL
Explosive Demolition: Our demolition experts in West Palm Beach, FL implode your building making it collapse safely with minimal damage to the immediate surroundings.
Non-Explosive Demolition: Our local demolition contractors are flexible and in situations where explosive demolition may be unsafe, we may use a wrecking ball which is attached to a crane at a manageable height to bring down a building.
Selective Demolition: This method is used when buildings are being remodeled or rebuilt and the client wishes to retain some parts of the structure. Not all contractors can perform this demolition as it involves meticulous planning and careful effort. Our demo contractors are veterans in conducting selective demolition especially in handling specialized equipment required for the job. You can trust our team of experts in providing calculated and top of the line performance, which other inexperienced building demolition companies cannot guarantee.
Demolition Equipment in West Palm Beach, FL
Hydraulic Breakers – Our demo company uses a percussion hammer attached to an excavator. This powerful equipment is used for bringing down concrete structures.
Wrecking Balls – A wrecking ball is a heavy ball made from steel. It is attached to a crane and is used to strike down structures from a manageable height.
Hydraulic Shears/ Rock breakers – They are fitted to an excavator and have the ability to cut through concrete, metal, rocks and wood.
Bulldozers – A favorite among contractors, a bulldozer can be an intimidating piece of equipment on wheels although it is fairly easy to maneuver. It can be used to transport copious amounts of waste, as well as to wreck walls.
Dumpers – A dumper is a very useful piece of machinery in every demolition business. It is used to carry away demolition waste from demolition sites.
Cranes – A necessity for demolition contractors, cranes serve multiple purposes including being used for wrecking balls and for transferring heavy tools within the site. Every demo company should have a well-maintained and stable crane to avoid any unforeseen accidents.
Crawler Loaders – This heavy machinery is used to move aside debris material. It can also load the material onto a dump truck.
Give Us a Call for Top of the Line Demolition Services in West Palm Beach, Florida
Your number one demolition company in West Palm Beach, Florida is always at your service. Ensure a spotless pre-construction site when you sign with us. As an established demolition company, we maintain high standards of service and workmanship no matter how big or small a contract is. We deliver your West Palm Beach demolition needs in a timely manner without compromising on the quality of our work. Give us a call at
(855) 885-3366
and we guarantee a refreshing customer experience that you can only get from us.
Zip Code Areas We Service in West Palm Beach
33411, 33412, 33417, 33409, 33407, 33405, 33401, 33402, 33416, 33419, 33420, 33421, 33422