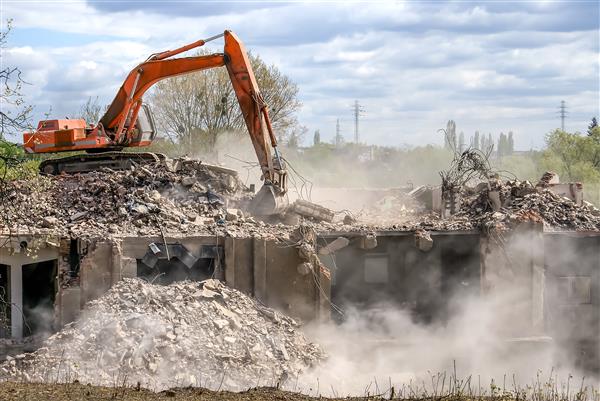 A First-Class Company for all Your Concrete Removal Needs in Albany, GA
When you have a concrete removal project in Albany, GA, it is important to place your confidence in professionals like us. As with all our clients, we at Omni Demolition will get your job done perfectly with no excuses. When it comes to concrete slab removal and concrete hauling, we are your number one choice. Omni Demolition is the most reliable concrete expert in the city. At Omni Demolition, we give you value for your money.
High-power Equipment Best for Concrete Removal in Albany, GA
At Omni Demolition, we use the best and most effective equipment for concrete removal projects, from pallet jacks and bobcats to jackhammers and hoists. One of our major investments include acquiring heavy-duty equipment capable of doing the most challenging concrete slab removal projects in Albany, GA. Service providers who have faulty equipment will surely cause delays in your project or worse, add their own repair expenses on top of your original bill. Demolition hammers are efficient and quick when it comes to demolition work such as removing concrete driveway, concrete slab demolition or concrete wall demolition. Consulting with a trained expert is important, as there are a number of things that need to be considered before embarking on concrete removal, such as your legal obligations and safety requirements. We also provide concrete hauling to clean up the site after we finish cutting and crushing your walls, driveways or ceilings. We are meticulous in our service delivery ensuring that your solution is customized to achieve the best possible results.
Here to Help with Your Concrete Demolition Needs in Albany, GA
When is it necessary for you to get demolition services in Albany, GA? The structure degrades as the years go by. We have an expert team of laborers, managers and engineers who see to it that demolition and concrete hauling standards are met if not exceeded. Concrete demolition is also important in removing unsafe structures from a property. It could be that you want to replace an old structure with a new one or to remodel an existing structure.
Permits Needed for Concrete Removal in Albany, GA
Before you can start a Albany, GA concrete removal, concrete hauling project or any other related service, you need to secure a few documents. Start by applying for a permit from the local authority. Unlike other concrete removal companies, we at Omni Demolition will advise you on everything that is required in your concrete removal project-from how to get the necessary permits and the cost of the permits to the cost of the entire project and the time it will take to complete it. This is usually determined by the type of demolition project and the location of the project. Other contractors hire a third-party permit service provider to file the necessary permit but this could only mean additional expenses for you. In some locations, the percentage of the structure you are demolishing will determine whether you require a permit or not.
How Much Do I Need to Pay for Concrete Demolition Services in Albany, GA?
Processing a demolition permit can cost around $200 on average. Permits can cost an average of $200 to a few thousand dollars. Apart from the cost of the permit, you will also need to pay around $4,000 to $15,000 for the cost of the demolition service. There will be tricky companies who will make a simple patio demolition or patio removal as complicated as possible to deceive you into agreeing to unreasonably expensive estimates. To know how much you need to prepare for your project, we highly recommend getting in touch with your chosen demolition company in Albany, GA. On average, demolishing unreinforced concrete in a two-car driveway will cost you somewhere between $1,500 and $2,500. Bigger projects average between $4,000 and $14,000. Demolition permits on the other hand vary greatly and will cost you an average of $200, but can cost up to $10,000 depending on where you are located.
Estimated Time a Concrete Demolition Project Should Take in Albany, GA?
With the right equipment, tools and skill sets, a concrete demolition team can finish a service within a short time frame. We plot reasonable timetables for the complete operation in Albany, GA, from preparation, to actual concrete slab removal, up to concrete hauling and site clearing. What we can say is that for all contractual projects, we do what we can in terms of equipment and manpower readiness to ensure nonstop operations and an early finish. Count on us to ensure that your project is executed perfectly. That said, depending on the size of your project, your budget and legal requirements, your project in Albany, GA can take days, weeks or even months.
Recycling Concrete in Albany, GA?
Concrete demolition and removal projects make the most amount of wastes and debris which is why, instead of throwing them away, it is best to make an effort to avoid harming the environment when disposing of these materials. Managing reusable resources is an effective way of minimizing the growing amount of wastes that households, commercial establishments and industrial buildings produce. Our concrete demolition contractors highly encourage recycling in accordance with our adherence to providing eco-friendly solutions. The aggregate can then be used to make new concrete. Recycled concrete is cheaper and more environmental-friendly, so we highly recommend using it.
Reasons for Hiring Our Concrete Demolition Company in Albany, Georgia
Our concrete slab removal services are unmatched. Moreover, we are well equipped to handle any other concrete removal service you may be in need of. Whether you require complete or partial concrete slab removal Albany, GA, you can expect prime services at a reasonable price. Our concrete removal service is compliant with all safety policies and requirements of the state. First rate customer service need not make a dent in your savings. With our experts, you won't worry about accidents, hidden costs, and other concerns.
Zip Code Areas We Service in Albany
31721, 31701, 31705, 31707, 31702, 31703, 31704, 31706, 31708