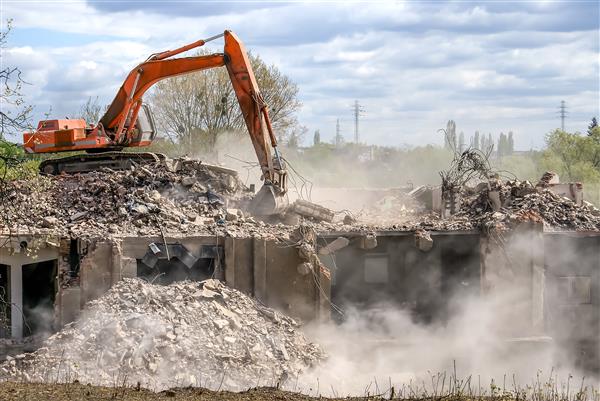 Your Ultimate Concrete Removal Company in Alpharetta, GA
Concrete removal involves tearing down concrete buildings and structures in Alpharetta, GA. For your concrete slab removal and concrete hauling services, you can rest easy knowing that we have got you covered. Ultimately, when you need concrete demolition services to ensure that your building structure is exactly as you envision it to be, you will definitely need Omni Demolition to make it happen. We make sure to charge affordable fees for any of our services when all the work is done.
Special Equipment Used for Concrete Removal in Alpharetta, GA
You no longer need to worry about paying high equipment rental fees when you hire our team in Alpharetta, GA. Concrete slab removal in Alpharetta, GA requires the use of special equipment to get the job done perfectly, efficiently and safely. You can talk to our experts about your demolition or concrete removal needs anytime you want. Whether we are hired for removing concrete driveway, concrete slab demolition, or concrete wall demolition, you can guarantee no equipment failure onsite. Pavement breakers are used when you need to partially repair a section of a pavement; it is able to demolish a few inches of the concrete pavement without breaking it up completely. Other equipment used in demolishing concrete are pallet jacks, hoists and bobcats. We are well equipped in handling all your concrete removal and concrete hauling projects.
When Do You Need Concrete Demolition Services in Alpharetta, GA?
Concrete demolition in Alpharetta, GA is necessary when you need to bring down an old structure in order to erect a new one. Structures and buildings crafted from concrete are made to withstand enormous pressures. Hence, removing them can be quite challenging. Along with concrete demolition we also offer concrete hauling services. When buildings become old, their concrete slabs become unstable posing a threat to anyone living in or around such establishments. With our trusted services, you have our assurance that the job will be done correctly and safely.
When are Concrete Removal Permits Required in Alpharetta, GA?
A concrete removal or concrete hauling project in Alpharetta, GA, requires that you obtain a number of permits and approvals from the local council. Unlike other concrete removal companies, we at Omni Demolition will advise you on everything that is required in your concrete removal project-from how to get the necessary permits and the cost of the permits to the cost of the entire project and the time it will take to complete it. If you have just moved to Alpharetta, GA or if this is your first ever attempt in handling a major renovation or structural change, chances are you do not know which requirements you need and how you can get the necessary permits completed. The council can decline your application for a demolition project if you have not obtained a planning permit. You may be required to get in touch with the gas, electric and water company for clearances or reports.
How Much Does a Alpharetta, GA Concrete Demolition Cost?
The cost of a concrete demolition project depends on the size and location of the project. You need to factor in the cost of permits and hauling as well. Our contracts fall midrange but our customer service and workmanship rockets sky high. We are not after a one-time money-making scheme. Instead we take care of our clients to maintain a healthy and harmonious professional relationship that will last for years. Our concrete demolition projects in Alpharetta, GA include patio demolition, patio removal, tearing down walkways and walls, demolishing decks, entire buildings, among others. We provide detailed and accurate estimates that are easy to understand. As for the service, you might spend around $4,000 to $15,000+, depending on the urgency of the request, size of the project and overall condition of your property in Alpharetta, GA. Manpower, permits and type of equipment used also determine the cost of the project.
How Long Does It Take to Complete a Concrete Demolition Project in Alpharetta, GA?
Firstly, we begin with a site visit. Then we discuss all the aspects of the concrete demolition project with you. Next, we develop the best possible way to tackle the task at hand. We also explain the permit requirements and application to our clients before we provide services such as concrete hauling and concrete slab removal. In cases where a city inspector has checked whether all sewer, utilities, and water facilities have been taken care of, our own men double checks to ensure the safety of our demolition in Alpharetta, GA. After we check the overall condition of your property in Alpharetta, GA, we can start discussing the available options. That said, depending on the size of your project, your budget and legal requirements, your project in Alpharetta, GA can take days, weeks or even months.
Is it Possible to Recycle Concrete in Alpharetta, GA?
With rising pressure on local landfills, the diversion of rubble from a concrete demolition and removal project is becoming increasingly important. Deconstructed concrete is not the type of waste that will disintegrate and decay at a fast pace when left on its own which is why we encourage recycling, instead of disposing of them in dump sites. Some companies even buy concrete wastes so they can process it to be reused in constructing roads, sidewalks and even airport runways. Our concrete demolition contractors can use recycled concrete as a cheaper alternative of aggregate as opposed to newly mined aggregate. We encourage recycling of concrete debris. It reduces disposal to the city's landfills. Concrete lasts long, and you can use it in various ways.
Hire a Premium Concrete Demolition Company in Alpharetta, Georgia
Our concrete demolition services in Alpharetta, GA include concrete slab removal and any other concrete removal service you may need. There are many reasons why Omni Demolition should be your number one pick for all your concrete slab removal projects. We guarantee to provide superior quality concrete slab removal, site cleanup and other services no matter where you live in the city. We have been in this business for many years. We guarantee to come and fix your concrete-related problems fast. Contact us today for a concrete removal service!
Zip Code Areas We Service in Alpharetta
30022, 30004, 30005, 30009, 30023