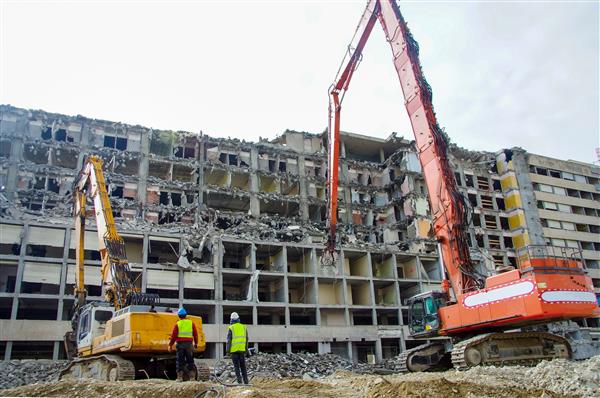 Demolition Contractors Athens, GA: Your Trusted Demolition Company
Omni Demolition has paved the way for many construction services in the city through the exemplary workmanship and warm customer service of our demolition contractors. We are an established service provider when it comes to experience, skills and workmanship. No need to break the bank to avail of first rate service and exceptional outcome. Our team of demolition experts provide outstanding demolition services whether complete or selective. Whether it may be a residential, commercial or industrial structure that needs to be taken care of, our crew has got it covered.
The Difference Between Demolition and Deconstruction in Athens, GA
Demolition is taking down or dismantling a building or structure with a strong and overwhelming force whose end result is rubble or waste. A demolition expert may order a deconstruction if parts of the original structure need to be retained or hazardous materials and reusable items need to be extracted before an actual demolition. A deconstruction may be implemented on its own or as a pre-demolition procedure. There are two types of deconstruction: selective and whole-house.
Our Commitment to Your Demolition Project in Athens, GA
We know that before you consider hiring us, you will want to understand how the job gets done by our demolition experts. If you wish to have a an effortless and hassle-free experience when leveling a property in Athens, GA, we are the demolition contractor that you can rely on. It is our core mission to exceed all your expectations. But this is not just a one-time initiative, it is ingrained in the workmanship of each and every demolition contractor in our company. From cost estimation up to the site clean-up, you can rest assured that we have everything covered. From cost estimation up to the site clean-up, you can rest assured that we have everything covered.
Take Advantage of Our Demolition Services in Athens, GA
Industrial Demolition services: We have taken down massive structures such as warehouses, industrial buildings, bridges, power plants, and mills. Our special equipment and expertise allow for the safe demolition of vast properties.
Commercial Demolition services: You can call our demo company if you need someone to knock down commercial structures such as commercial centres, groceries, airplane hangars and the like.
Concrete demolition and recycling services: Our demolition experts are experienced in salvaging not only metal scraps but concrete structures and slabs as well.
Scrap Metal Demolition Services: Our demo company will expertly demolish your scrap metal projects. Our crew will downsize as well as dismantle the steel structures then process, bundle and recycle the materials.
What Sets Us Apart from Others Athens, GA
We take pride in deploying demolition experts and demolition contractors who are not simply knowledgeable on the job but also skilled and experienced all across the state. We provide our clients with value for their money. Our demolition company is experienced in implementing both small and large projects. Our demo company offers packages that are reasonably priced as well due to the fact that we have mastered an efficient way of demolition that cuts unnecessary expenses.
Methods Conducted by Experts on Demolition and Deconstruction in Athens, GA
Explosive Demolition: Our demolition experts in Athens, GA bring down structures or buildings by removing the main structural elements such as the walls and pillars with the help of explosives. This reduces the building's structural stability, causing it to collapse under its own weight. This method is faster, environmentally friendly and safer when compared to other methods.
Non-Explosive Demolition: Our local demolition contractors will use a wrecking ball attached to a crane to knock down a building. The heavy wrecking ball is swung several times on the targeted structure before it can collapse.
Selective Demolition: Our demo contractors are the most sought-after for their record in successfully extracting or tearing down selected parts of a structure. We are one of the few building demolition companies who can conduct a customized approach depending on the client requirement.
Main Equipment Used in Demolition in Athens, GA
Hydraulic Breakers – Our demo company will use this heavy hammer to demolish rocks or concrete structures. Hydraulic breakers are also an important part of recycling operations.
Wrecking balls – Heavy and solid balls made of steel, wrecking balls are safely suspended on a crane and used to weaken a building until it gives.
Hydraulic Shears and Rock Breakers – They are used to cut through concrete, rocks, wood and metal.
Bulldozers – Commonly used where heavy lifting is required, this flexible machine can also be used to topple down weak structures.
Dumpers – Essential in clearing a demolition site, our dumpers make it easier and quicker to take out unwanted debris and materials from the site to be properly disposed of. Our demolition business has invested in quality dumpers to ensure a speedy clean-up of the property and that your project timeline is met.
Cranes – Demolition contractors will need to use a crane in long-reach or high-reach demolition projects. A wrecking ball is suspended on a crane, from where it is swung to demolish a structure partly or wholly. A crane is a very important piece of equipment in any demo company.
Crawler Loaders – They can be used to bring down heavy smaller-sized structures. They can also be used to move debris.
Dial OurNumber for Top Rated Demolition Services in Athens, Georgia
There is no other demolition company in Athens, Georgia that offers high quality services with reasonable prices as us. Ensure a spotless pre-construction site when you sign with us. Consult with a reliable demolition company and save yourself from all the worries. Our Athens deconstruction and demolition company has highly skilled personnel with years of experience in the demolition business. Give us a call at
(855) 885-3366
and we guarantee a refreshing customer experience that you can only get from us.
Zip Code Areas We Service in Athens
30601, 30622, 30602, 30605, 30606, 30607, 30609, 30683, 30603, 30604, 30608, 30612