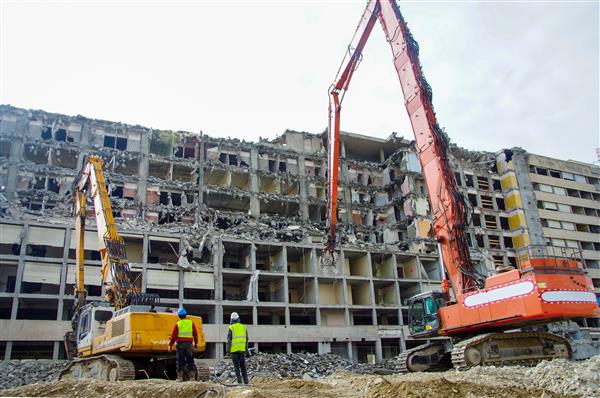 Demolition Contractors Augusta, GA The Demolition Company That You Can Count On
Our mission here at Omni Demolition is to ensure that we offer premium and high-caliber services through our expert demolition contractors. As widely renowned experts in Augusta, GA, we see to it that the high standards we have established are met in every transaction. At any given time, our demolition contractor will be at your service to help you with your demolition, excavation and wrecking projects in Augusta, GA. Here at Omni Demolition, you can expect nothing less than high-quality customer service and spotless workmanship courtesy of our seasoned demolition experts. Whether it may be a residential, commercial or industrial structure that needs to be taken care of, our crew has got it covered.
How is Demolition Different from Deconstruction in Augusta, GA?
Demolition is the process of tearing down or pulling down buildings and structures by a demolition expert. Demolition can either be selective or explosive. Explosive demolition uses mostly dynamite to bring down big buildings. Selective demolition involves bringing down a part of a building or tearing a section of a wall by a demolition expert. There are two categories of deconstruction, namely soft strip or selective deconstruction and whole-house deconstruction. Deconstruction could be a component included in the demolition where our skilled team removes all hazardous and re-usable objects prior to the building being knocked down. Some projects require complete levelling while others simply need specific parts removed to be replaced. For every client call, we have a demolition expert equipped to do the job.
Highly Recommendable Services for Any Demolition Project in Augusta, GA
Our demolition experts and demolition contractors in Augusta, GA are highly skilled in meeting all your demands. Our demolition contractor is at your service to fulfill all your needs. We also take time to really understand your needs and deliver according to your desires with no excuses. Our demolition contractors are not only committed to providing first rate work but also ensure that all steps are taken to cause little to zero disturbance to the environment and to the properties adjacent to the site. Taking down old and unwanted buildings may look like a simple task; however, it requires the experience and competence of professional service providers like us to get your job done properly. Taking down old and unwanted buildings may look like a simple task; however, it requires the experience and competence of professional service providers like us to get your job done properly.
Our Demolition Services in Augusta, GA
Industrial Demolition Services: This type of demolition service requires a surgical approach. We have a systemic, controlled and detailed solution in place for demolishing facilities such as chemical plants, manufacturing plants, port facilities, oil refineries, factories, and lumber mills among others.
Commercial Demolition Services: We know all the ins and outs of this delicate procedure. No matter the job, you can be rest assured that our demo company will give you the best results. Our demolition experts have the know-how and experience to bring down buildings and structures even in very tight spaces. Be it tearing down a mall, strip center, warehouse, bridge, hangar or structures in metropolitan areas, we have got you covered.
Concrete demolition and recycling services: Our demolition experts are knowledgeable in pulverizing slabs and concrete to be turned into eco-friendly gravel.
Scrap Metal Demolition Services: As an all-around demo company, we can also take care of any unwanted steel erections and metal scraps onsite. We follow a certain procedure in salvaging items that are still good for future use so you can be sure nothing goes to waste.
We are the Leading Demolition Company in Augusta, GA
We are professional demolition contractors who offer superior quality services. We take pride in employing some of the finest calibre of demolition experts throughout the city. We are a demolition company that takes our work seriously and consistently conduct regularly equipment maintenance, which ensures efficient and quick clearing operations. Being a demo company in this business for years, we have perfected the process of demolishing structures as cost-effectively and safely as possible.
Our Approved Methods for Demolition and Deconstruction in Augusta, GA
Explosive Demolition: Explosive materials are strategically placed on the building or structure in Augusta, GA by our demolition experts. The explosives are timed to make a structure go down on itself in seconds in order to minimize damage to the surroundings.
Non-Explosive Demolition: Our local demolition contractors will use a wrecking ball to bring down your structure. This method is cheaper than explosive demolition.
Selective Demolition: This is also known as interior demolition. When your building or property is structurally sound but its interior needs to be remodeled or upgraded, our demo contractors apply selective demolition. We use highly advanced demolition techniques giving us a reputation that other building demolition companies cannot match.
Well-maintained Equipment for Demolition in Augusta, GA
Hydraulic breakers – Commonly known as hydraulic hammers, these are often used by our demo company to grind up slabs and concrete structures.
Wrecking Balls – A wrecking ball is a heavy ball made from steel. It is attached to a crane and is used to strike down structures from a manageable height.
Hydraulic Shears and Rock Breakers – They are used to cut through concrete, rocks, wood and metal.
Bulldozers – Serving multiple purposes, bulldozers can be used to haul items and waste as well as help knock down weak structures or level mounds of soil.
Dumpers – Essential in clearing a demolition site, our dumpers make it easier and quicker to take out unwanted debris and materials from the site to be properly disposed of. Our demolition business has invested in quality dumpers to ensure a speedy clean-up of the property and that your project timeline is met.
Cranes – A necessity for demolition contractors, cranes serve multiple purposes including being used for wrecking balls and for transferring heavy tools within the site. Every demo company should have a well-maintained and stable crane to avoid any unforeseen accidents.
Crawler Loaders – A flexible machine, crawlers are perfect for excavating narrow spaces. Although not very good for excavating, it can be used to haul items easily.
Go Ahead and Contact Us for All Your Demolition Needs in Augusta, Georgia
Our demolition company is a leading demolition company in Augusta, Georgia with proven resources, knowledge, professionalism and experience to successfully manage any demolition project you may have. For years now, we have helped all our clients demolish and deconstruct their buildings and structures successfully. We have a brilliant track record of achieving 100% success despite hostile or challenging work environments. Consult with a reliable demolition company and save yourself from all the worries. As the top Augusta deconstruction and demolition company, no job is ever too big or too small for us. For all your demolition needs, call us at
(855) 885-3366
.
Zip Code Areas We Service in Augusta
30912, 30815, 30812, 30907, 30906, 30904, 30901, 30909, 30905, 30805, 30914, 30916, 30917, 30919, 30999