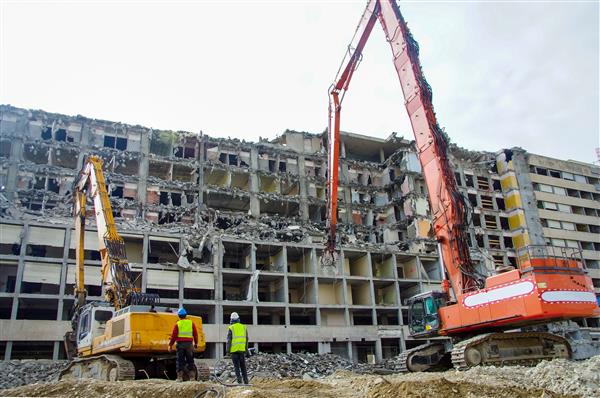 Expert Demolition Contractors Johns Creek, GA: Your Partner Demolition Company
Here at Omni Demolition, we believe that pricing is not the only factor that you must consider when getting the services of demolition contractors in Johns Creek, GA. We are an established service provider when it comes to experience, skills and workmanship. We offer unrivalled expertise and deliver tailor-made solutions to both simple and tough demolition projects. You can trust that our demolition experts are all well-versed when it comes to everything that has to do with eco-friendly demolition, as well as health and safety guidelines. We are an environmentally friendly company.
What is the Difference between Demolition and Deconstruction in Johns Creek, GA
Demolition is the process of tearing down or pulling down buildings and structures by a demolition expert. A demolition expert may order a careful deconstruction prior to a demolition to carefully remove chemically hazardous materials as a safety precaution. A deconstruction entails careful removal of a structure's segments or hazards such as electrical wires, gas pipes and hydro lines prior to a complete knocking down of the building. If you are going to rebuild or remodel an existing building and you wish to maintain some segments, a deconstruction is recommended.
You can Trust Us with Your Demolition Project in Johns Creek, GA
Our demolition experts guarantee to provide you with professional demolition services. Our demolition contractors have years of experience in the business providing exceptional and enviable customer service across Johns Creek, GA. Most sales agents will promise everything just to close a deal but are no longer accountable when their team fails to deliver. Our demolition contractor will handle your needs on a one-on-one level and ensure that your project is given the undivided attention it deserves.
Our Demolition Services in Johns Creek, GA
Industrial Demolition services: We are the authority in collapsing massive structures like bridges, factories, industrial buildings and plants.
Commercial Demolition services: We are a prominent demo company in handling commercial buildings even in the most unimaginable spaces. We have taken down storehouses, grocery stores, airplane hangars, and large public structures among others.
Concrete Demolition and Recycling Services: This type of demolition is environmentally friendly and saves on cost. Rubble from concrete demolition is reused by our demolition experts to make gravel or as one of the materials for making new concrete.
Scrap Metal Demolition Services: Allow our demo company to remove useless steel erections onsite and salvage reusable metal for recycling instead of hiring a separate contractor, which means more expenses for you.
We are the Leading Demolition Company in Johns Creek, GA
Despite being highly preferred over other demolition contractors, we keep our feet grounded. We take pride in employing some of the finest calibre of demolition experts throughout the city. Our demolition company is experienced in implementing both small and large projects. Each project in our demo company is always given the care and attention that our customers deserve and expect.
Main Methods for Demolition and Deconstruction in Johns Creek, GA
Explosive Demolition: Our demolition experts in Johns Creek, GA bring down structures or buildings by removing the main structural elements such as the walls and pillars with the help of explosives. This reduces the building's structural stability, causing it to collapse under its own weight. This method is faster, environmentally friendly and safer when compared to other methods.
Non-Explosive Demolition: Our local demolition contractors are flexible and in situations where explosive demolition may be unsafe, we may use a wrecking ball which is attached to a crane at a manageable height to bring down a building.
Selective Demolition: This is a type of demolition whereby building materials, part of the structure or building are separated and then sorted for the purpose of reusing or recycling. Our demo contractors have mastered the art of selective demolition that other building demolition companies do not have.
Common Equipment Used for Demolition in Johns Creek, GA
Hydraulic breakers – Powerful excavators necessary in every demo company, hydraulic breakers or crushers are used to excavate structures quickly. These are commonly used to grind up concrete or rocks.
Wrecking Balls – A wrecking ball is made from steel. It is suspended from a steel chain attached to a crane and is used to demolish large buildings. It is swung several times towards the intended structure until the structure crumbles. The working of a wrecking ball relies on the skills of an experienced operator.
Hydraulic Shears and Rock Breakers – They are usually attached to excavators and then used to make clean cuts through concrete, metal, wood and rocks of large structures.
Bulldozers – They are used to push demolition debris. They are also used to tear down smaller structures, clear the property of rubble or pile the debris.
Dumpers – Essential in clearing a demolition site, our dumpers make it easier and quicker to take out unwanted debris and materials from the site to be properly disposed of. Our demolition business has invested in quality dumpers to ensure a speedy clean-up of the property and that your project timeline is met.
Cranes – Demolition contractors need a crane for attaching a wrecking ball to it. It can also be used to lift heavy things onto or off the structure. A demo company will almost always have this piece of machinery on a demolition site.
Crawler Loaders – They are very effective in removing materials from the demolition site. They are used to move or clear an area of demolition rubble. Crawler loaders can also be used to push down smaller-sized structures.
For All Your Demolition Service Needs in Johns Creek, Georgia, Contact Us Today
Our demolition company is a leading demolition company in Johns Creek, Georgia with proven resources, knowledge, professionalism and experience to successfully manage any demolition project you may have. For years now, we have helped all our clients demolish and deconstruct their buildings and structures successfully. We will meet all your demands and give the same meticulous attention to your projects no matter the size. You're in great hands with our Johns Creek deconstruction and demolition company. As the top Johns Creek deconstruction and demolition company, no job is ever too big or too small for us. Call us at
(855) 885-3366
for a free consultation today.
Zip Code Areas We Service in Johns Creek
30022, 30097, 30005