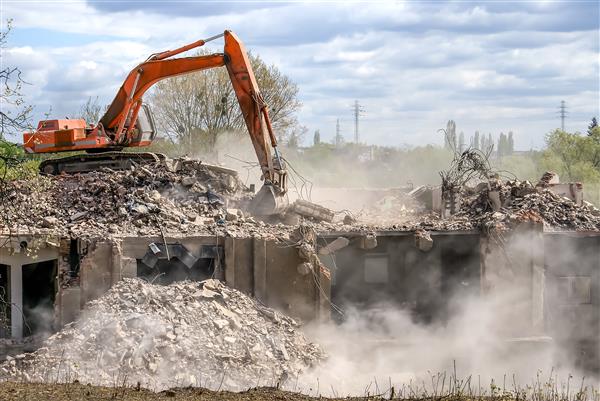 Your Company of Choice for Your Concrete Removal Projects in Des Moines, IA
We are experts in providing concrete removal in Des Moines, IA. Our concrete slab removal and concrete hauling professionals will take the lead during your demolition project, going above and beyond to deliver exceptional and satisfactory services. Whether you wish to remodel a small section of your house or rebuild the entire structure, you can count on us to provide a good service. No amount of training can bring the average amateur provider up to speed with the kind of workmanship and commitment that we can only perfect through years of experience.
Specialized Equipment Used for Concrete Removal in Des Moines, IA
Our contractors at Omni Demolition can perform a wide range of services because they are well-equipped. Within a reasonable timeframe, we can cut, crush and remove any size of concrete structure. Some of the equipment we have includes bobcats, trackers, pallet jacks and track loaders. We can perform services like concrete slab removal that you may need for your Des Moines, IA project as soon as possible. Common equipment used for this type of demolition are picks, robotic hammers and sledgehammers. Mechanical concrete demolition is used on bigger sized structures such as a concrete silo. Types of equipment used for getting this kind of job done are bulldozers, excavators, loaders and cranes. We also use jackhammers, pallet jacks, bobcats and hoists for demolition work such as removing concrete driveway, concrete slab demolition and concrete wall demolition. Our team ensures finishing within the projected time frame and keeping our clients updated on the current status of our operations. Pavement breakers are also used for heavy demolition jobs. In primary demolition, equipment and tools such as the wrecking ball, hammers and crushers demolish concrete into big sized rubble.
Here to Help with Your Concrete Demolition Needs in Des Moines, IA
The only thing permanent in this world is change. The structure degrades as the years go by. Our concrete removal services and concrete hauling will not only help you get rid of old unsightly structures but will also ensure that your property has better aesthetic appeal. The most common reasons why concrete wears out easily include extreme temperature fluctuations, corrosion and overload. It could be that you want to replace an old structure with a new one or to remodel an existing structure.
Permits Needed for Concrete Removal in Des Moines, IA
In almost all cases, you will need permits for carrying out a concrete removal or concrete hauling project in Des Moines, IA. While other concrete removal companies may include additional fees for processing the required permits, we at Omni Demolition have got you covered. If you are unfamiliar with the paperwork required when demolishing or reconstructing properties in Des Moines, IA, you can relax knowing that we are here to make things easier for you. There are several instances where you need to get a permit from your local council such as: when a building is to be entirely demolished, part of the building is to be demolished or more than a half of a given floor area of a building or structure is to be demolished. The good news is that at Omni Demolition, we will take care of everything.
How Much Will a Concrete Demolition Project Cost in Des Moines, IA?
The cost of a concrete demolition project depends on the size and location of the project. You need to factor in the cost of permits and hauling as well. This estimate is for the removal of unreinforced concrete of a two-car driveway with zero disposal fees. We are not after a one-time money-making scheme. Instead we take care of our clients to maintain a healthy and harmonious professional relationship that will last for years. There will be tricky companies who will make a simple patio demolition or patio removal as complicated as possible to deceive you into agreeing to unreasonably expensive estimates. We provide detailed and accurate estimates that are easy to understand. Permits can cost you a few dollars to thousands of dollars depending on your location and project needs. We have the necessary skills and equipment to handle any concrete demolition project you may have.
How Long is a Concrete Demolition Service in Des Moines, IA?
We are confident in our service delivery timelines. One of our primary focuses is on the time taken to complete your concrete demolition project. We also explain the permit requirements and application to our clients before we provide services such as concrete hauling and concrete slab removal. There are unforeseen factors that we take into consideration before settling on a completion date for your project such as extremities in weather conditions. As soon as we assess the situation, we can draft a plan and present it to you for approval. This is because the speed and performance of hand held tools varies greatly with that of automatic or advanced machinery.
How Can I Reuse the Concrete Waste Generated from My Project in Des Moines, IA?
After a concrete demolition and removal project is completed, tons of concrete wastes are collected. We can help you do the responsible thing by recycling wastes such as pulverized concrete and even metal scraps, which can also help recoup some of the demolition project costs. Our concrete demolition contractors can also use the recycled concrete for landscaping. It reduces the need for transportation and disposal fees at the landfill. This not only lessens the environmental impact but it also minimizes the overall cost on your concrete demolition project.
Your Company of Choice for All Your Concrete Demolition Needs in Des Moines, Iowa
Our concrete demolition contractors know the best possible way to provide concrete demolition services in Des Moines, IA in a safe way because they have been comprehensively trained on all safety techniques. While the end result of our services is a torn down building or structure, we use a number of concrete slab removal techniques to achieve our purpose. They know how to execute their assigned tasks with accuracy and they know how to tactfully minimize the risks associated with concrete slab removal projects. At Omni Demolition you are guaranteed not only commitment and proven expertise from our team of veteran specialists but also 100% site safety and transparency when it comes to billing and procedures being done on your property. We professionally handle each client request in Des Moines, IA.
Zip Code Areas We Service in Des Moines
50309, 50314, 50315, 50316, 50317, 50310, 50313, 50319, 50321, 50320, 50311, 50312, 50301, 50302, 50303, 50304, 50305, 50306, 50307, 50308, 50318, 50328, 50329, 50330, 50331, 50332, 50333, 50334, 50335, 50336, 50339, 50340, 50359, 50360, 50361, 50362, 50363, 50364, 50367, 50368, 50369, 50380, 50381, 50391, 50392, 50393, 50394, 50395, 50396, 50936, 50940, 50947, 50950, 50980, 50981, 50982, 50983