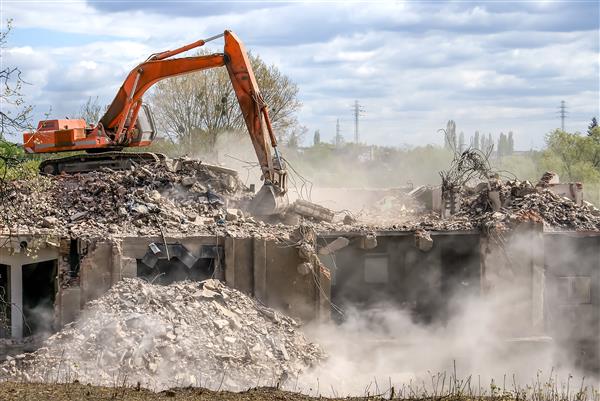 Reliable and Budget-Friendly Iowa City, IA Concrete Removal Service
There are a number of reasons why you might need to hire our concrete removal services in Iowa City, IA. Rest assured we will only assign well-trained contractors to your concrete slab removal, house demolition, and concrete hauling projects. Omni Demolition is the most reliable concrete expert in the city. We have spent years perfecting our services.
Special Equipment Used for Concrete Removal in Iowa City, IA
Most fly-by-night companies do not invest in good equipment or worse, they utilize faulty machinery which can cause delays and substandard outcomes. One of our major investments include acquiring heavy-duty equipment capable of doing the most challenging concrete slab removal projects in Iowa City, IA. A few examples of the equipment we use include chipping hammers, demolition hammers and hydraulic concrete crushers. Our tools and equipment can be used on various projects of various sizes. As such, our services such as concrete slab demolition and concrete wall demolition are perfect for any type of situation. Pavement breakers are used when you need to partially repair a section of a pavement; it is able to demolish a few inches of the concrete pavement without breaking it up completely. Diamond wire saws are able to to cut through thick concrete and is usually used in heavy demolition work.
Why You May Need Concrete Demolition Services in Iowa City, IA
Some property owners in Iowa City, IA may delay hiring a demolition contractor for the sake of avoiding expenses. Our concrete removal services in Iowa City, IA include: removing old foundations, unwanted driveways, walkways and slabs. The concrete demolition and concrete hauling process is necessary in some circumstances such as when your structure has aged significantly, when your building has widespread cracking, when you are planning to improve or upgrade your structure and when frost heave occurs. Great concrete quickly transforms the look of a structure. It also upgrades the quality of a building and comfort of the residents. With just one phone call, you can contact our team in Iowa City, IA and we will handle your requests within the set schedule.
Getting Concrete Removal Permits in Iowa City, IA – We Got That Covered
The state and local authorities in Iowa City, IA require necessary permits whether you will be conducting a concrete removal or concrete hauling project. Some concrete removal companies may charge extra for processing it on your behalf but not us—we are here to make the permit process as simple and effortless as possible. If you are unfamiliar with the paperwork required when demolishing or reconstructing properties in Iowa City, IA, you can relax knowing that we are here to make things easier for you. We will make sure that you have all the permits you need to ensure an uninterrupted execution of your demolition project. In some locations, the percentage of the structure you are demolishing will determine whether you require a permit or not.
How Much Will a Concrete Demolition Project Cost in Iowa City, IA?
The two biggest factors that determine the cost of your concrete demolition project in Iowa City, IA are location and size. The larger the square footage, the more tools and labor required for the job. In addition, the more concrete demolished, the higher the disposal fee and the heavier the waste, the higher the cost of transportation. The more concrete you need removed, the higher the cost. Removal rates also affect costs. Whether you need estimates for small jobs such as a patio demolition or patio removal, or you need a proposal for breaking up concrete at an industrial property, we will provide you with a detailed breakdown of expenses. Our professionals can use concrete saws, pry bars, sledgehammers or electric jackhammers to remove this type of concrete. Its demolition cost will be lower. We guarantee to provide a competitive and reasonable price.
How Long Can I expect a Concrete Demolition Project to Take in Iowa City, IA?
Every concrete demolition project is unique even if identical procedures may be done and the same equipment will be used which is why no specific time frame can be given without the details of the area involved. It can take days, weeks or even months to complete a concrete slab removal and concrete hauling project in Iowa City, IA. We put a lot of thought into every step of the process so the safety of our workers and the satisfaction of our clients are completely assured. Time taken to complete a given project depends on the size of the concrete slab removal and concrete hauling project. Rest assured we will take good care of your demolition needs in Iowa City, IA and provide a clearly defined timeline for the entire project.
What To Do With Crushed or Used Concrete in Iowa City, IA?
The recycled material from a concrete demolition and removal project can be used as aggregate in making new concrete and in construction work. Concrete recycling is an integral part of concrete demolition. Feel free to ask our concrete demolition contractors about recycled concrete. We can help you recover some funds by forwarding not just concrete but also metal scraps to their respective recycling centers. Recycled concrete can also be used in a number of landscaping settings such as paving stones, water features, boulder rock walls, retaining walls, erosion structures, and other uses.
Your Company of Choice for All Your Concrete Demolition Needs in Iowa City, Iowa
Our company, Omni Demolition has established a huge number of loyal patrons who prefer our concrete demolition services over other services providers in Iowa City, IA. At Omni Demolition, your Concrete slab removal project needs the exceptional expertise and experience that we bring to the table in Iowa City, IA. Our history of completed projects speaks for us when it comes to expertise, safety requirement compliance, and outstanding workmanship. First rate customer service need not make a dent in your savings. Using state-of-the-art equipment and cutting-edge technology in execution, you can be certain that your project is in great hands. Call us today at
(855) 885-3366
and tell us about your project.
Zip Code Areas We Service in Iowa City
52245, 52246, 52240, 52242, 52243, 52244