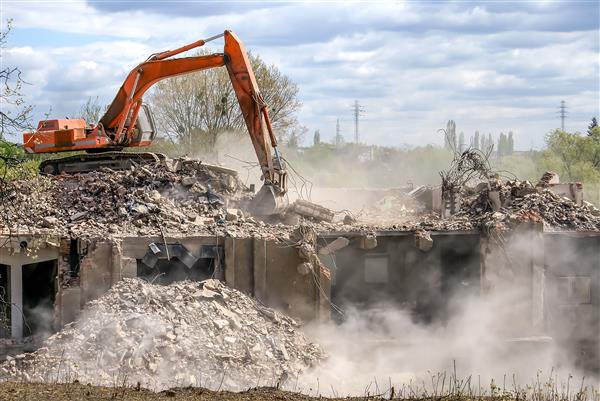 Your Company of Choice for All Your Concrete Removal Needs in Sioux City, IA
Concrete removal is an important aspect in the construction industry in Sioux City, IA. Our concrete slab removal and concrete hauling professionals will take the lead during your demolition project, going above and beyond to deliver exceptional and satisfactory services. Without concrete removal, there wouldn't be space to erect new structures or to rebuild them. No amount of training can bring the average amateur provider up to speed with the kind of workmanship and commitment that we can only perfect through years of experience.
Concrete Removal Tools and Equipment We Use in Sioux City, IA
Our contractors at Omni Demolition can perform a wide range of services because they are well-equipped. Within a reasonable timeframe, we can cut, crush and remove any size of concrete structure. Some of the equipment we have includes bobcats, trackers, pallet jacks and track loaders. At Omni Demolition, specialized heavy machinery and equipment are required for concrete slab removal. We give importance to our client's time which is why we ensure equipment and material readiness to avoid any delays to your projects. We specialize in removing concrete driveway as well as concrete wall demolition. Through controlled and precise actions, chipping hammers are used to chip away specific areas. After we cut and crush the concrete, we can also provide concrete hauling services to get rid of or recycle the waste materials.
When Should You Book a Concrete Demolition Service in Sioux City, IA?
We have handled all kinds of cement deconstruction in Sioux City, IA and we can safely say, our team is experienced in anything and everything under the sun. One of the most important questions is whether your concrete structure or building needs to be demolished in the first place. Our concrete removal services and concrete hauling will not only help you get rid of old unsightly structures but will also ensure that your property has better aesthetic appeal. Great concrete quickly transforms the look of a structure. It also upgrades the quality of a building and comfort of the residents. Apart from wall or ceiling cracks, you will need the help of a professional if you have problems with leaky water pipes or defective house wirings, most especially if they are buried underneath the concrete.
Permit requirements for a Concrete Removal in Sioux City, IA
When it comes to conducting a concrete removal or concrete hauling project, existing policies and permit requirements may vary from state to state. While other concrete removal companies may charge you extra fees to have your permits processed, our experts at Omni Demolition will sort it out for you. Planning to have a concrete demolition job done in your property? Depending on the nature of your project you may or may not need one. Before you begin a demolition job, it is advisable to first understand the laws and requirements of your location. All you have to do is let us know what you need done and relax—we are here to do all the legwork for you.
How Much Does a Sioux City, IA Concrete Demolition Cost?
The cost of a concrete demolition project depends on the size and location of the project. You need to factor in the cost of permits and hauling as well. In addition to permit application fees in Sioux City, IA, there is no accurate range of expenses that we can give outright as every project requirement is unique. Quite a number of concrete removal companies in Sioux City, IA reduce the cost per square foot once the project is a given size. Whether you have a patio demolition or a patio removal project, you can be sure that we are well equipped to handle any demolition project you may have. To know how much you need to prepare for your project, we highly recommend getting in touch with your chosen demolition company in Sioux City, IA. We can help you regardless of the type of project you wish to work on.
How Long Do Concrete Demolition Projects Take Place in Sioux City, IA?
Every concrete demolition project is unique even if identical procedures may be done and the same equipment will be used which is why no specific time frame can be given without the details of the area involved. To eliminate demolition delays, we plan all our concrete slab removal and concrete hauling in Sioux City, IA effectively with hands-on management principles. The removal process requires the use of an arsenal of state-of-the-art equipment, skilled experts and adequate manpower. We have handled countless demo jobs in Sioux City, IA and our loyal clients can testify to our diligence in completing our projects on time. Your budget also determines the time it will take to complete your project.
How Can I Reuse the Concrete Waste Generated from My Project in Sioux City, IA?
It is not only an environmentally friendly process of utilizing concrete rubble but it is also a cost cutting measure for your concrete demolition and removal project. Ever wonder how this type of material can be used again? Our team recycles crushed and cut concrete slabs. Our seasoned concrete demolition contractors can help you reuse discarded concrete from your project. It reduces the need for transportation and disposal fees at the landfill. Recycled concrete is typically available at a much lower price so you get to save money while also helping save the environment.
Why Choose us for All Your Concrete Demolition Needs in Sioux City, Iowa?
We offer various concrete demolition services. Our expert contractors at Omni Demolition have unparalleled skills and experience in the concrete slab removal business. We are self-driven in completing all our tasks with accuracy. You can rest assured that we will deliver nothing less than exceptional results. Call us today at
(855) 885-3366
for a free consultation and ask one of our agents for a free estimate.
Zip Code Areas We Service in Sioux City
51106, 51104, 51105, 51103, 51101, 51108, 51109, 51111, 51102