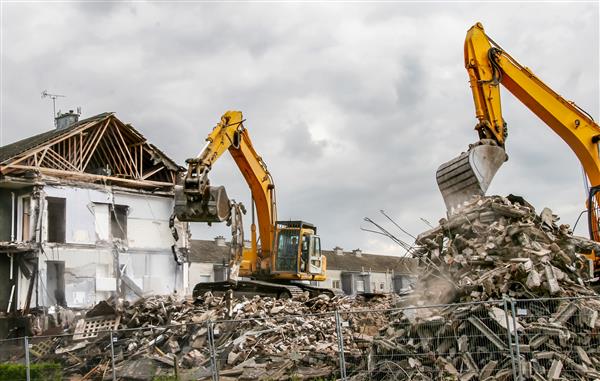 Omni Demolition: A Reliable and Trustworthy Residential House Demolition Company
Dangerous building cave-ins require quick attention from a seasoned house demolition expert in Davenport, IA. We are among the top house demolition companies you can find in the area. Omni Demolition has many full-time employees; we own our trucks and equipment; and our residential demolition contractors are well trained and capable of handling any demolition job. We have been in business for many years providing exceptional customer service. In fact, our experienced professionals can work even on your mobile home demolition project, no matter how small it is. While the idea of having a new house is exciting and fascinating, some individuals are saddened by the act of demolishing the home that kept a lot of their memories.
Home Demolition Methods in Davenport, IA
House demolition in Davenport, IA is not as simple as it seems. There's more to taking down a building than just smashing it with a wrecking ball. It is very difficult to bring down a fairly large structure without harming the surrounding buildings. For this reason, the buildings are imploded and our crew plans implosions so the structure collapses in an inward motion. We also take into consideration the effect of the demolition job on the environment so we can prevent incurring penalties. Our residential demolition contractors make use of various tools and equipment to ensure that we deliver flawless service. As one of the leading residential demolition companies in the city, you can count on us to provide reasonably priced home, condo, townhouse or mobile home demolition services. We will give you a fixed timeline for the project and discuss the entire procedure before we proceed.
Obtaining a Home Demolition Quote in Davenport, IA
House demolition costs in Davenport, IA vary with the location and size of the property and may range anywhere from $8,000 to $15,000 or higher. House demolitions may cost a fortune but if it means ensuring the safety and well-being of the entire family, it is worth it. Some home demolition companies also have high rates because there are instances where they need to do additional tasks other than demolition. At Omni Demolition, our residential demolition contractors offer the most affordable mobile home demolition rates coupled with unrivalled demolition services. There's really no other way to get good results but to have it done by a professional. When you're browsing for a team for your home project, make sure you compare their rates.
Residential Demolition Permits Needed in Davenport, IA
Apart from safety issues, you will also need to secure all required permits from local authority. Documentation and special inspections for your demolition project, even for a humble mobile home demolition, could be necessary depending on the state you are in. To apply for a permit, you will need to secure a list of documents, which may include asbestos inspection clearance and dust control report. Avoid incurring penalties and delaying your project by applying for the necessary permit. Failure to secure all the necessary permits can get you penalized.How to Organize for a Residential Demolition in Davenport, IAWhen planning for a home demolition project in Davenport, IA, you should make sure that everything is removed from the site. Inspect your home for any hazardous materials. The entire area must be vacated, which means that no one will be permitted near it except for allowed personnel. Our trustworthy demolition company is experienced in all phases of the demolition process and we believe that this must be followed even for a simple mobile home demolition.
Why Do I Need a Davenport, IA Residential Demolition Service?
There will surely come a time when a house is no longer safe for dwelling, and a simple renovation job is no longer enough to reinforce its structure. Timeworn buildings on your estate could be shabby and risky, and they need to be demolished for aesthetic or safety reasons. Another case in which you may need a residential demolition crew is when you are tired of the floor plan of your residence and need a change. Renovation is mostly recommended for aesthetic purposes, while Davenport, IA residential demolition is done to create better and more durable structures. We will only need to study the place to know where we should start first.
Guaranteed Quality Residential Demolition in Davenport, IA Property
Our residential demolition contractors provide safe and reliable home demolition services in Davenport, IA. There are several types of equipment used in the industry today-loaders, material handlers, trucks, grapples, excavators, and pulverisers to name a few-and we have access to all of them. We can work on various materials as well. Depending on what you are demolishing, you might need to use different tools like tractors, wheeled tippers, concrete crushers and excavators to finish the job.
Call and Book Your Davenport, Iowa Home Demolition Appointment Today
Have our experts take care of demolishing your home. We take all residential demolition projects very seriously and focus our efforts on a safe and fruitful demolition process. Upon your request, we can hand you a cost estimate, and schedule your appointment as soon as possible. Our residential demolition contractors have been rated #1 in Davenport, Iowa. Our company has proudly served many residential, commercial and industrial property owners in Davenport, IA, and we're proud to assist you as well. Dial
(855) 885-3366
and we will gladly assist you.
Zip Code Areas We Service in Davenport
52802, 52803, 52801, 52806, 52807, 52804, 52805, 52808, 52809