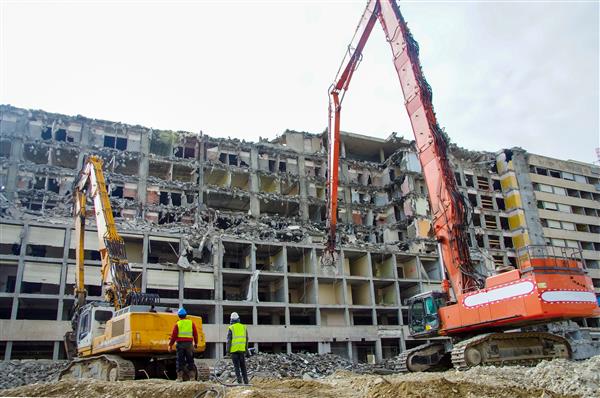 Demolition Contractors Cicero, IL: Your Trusted Demolition Company
Omni Demolition is composed of reliable and dependable demolition contractors in Cicero, IL. Our goal is to establish strong customer ties through honest business and outstanding workmanship. We do not sugar-coat our services and we often deliver more than promised. Our demolition experts provide top-notch work. This minimizes the chances of accidents or injuries at the demolition site.
The Difference Between Demolition and Deconstruction in Cicero, IL
Demolition is the process of tearing down or pulling down buildings and structures by a demolition expert. Our demolition experts are most experienced in going over construction sites to see what items may be salvaged and put aside to be used again, often saving time and resources. Deconstruction on the other hand is a type of demolition used in Cicero, IL. It is usually done when one wants to remodel or improve a part of the building. Selective deconstruction involves going into a property before demolition and removing high value and easily removable materials.
Why Sign Us for Your Demolition Project in Cicero, IL
We know that before you consider hiring us, you will want to understand how the job gets done by our demolition experts. An experienced and well-trained demolition contractor will manage your project and ensure that the job gets done. Property owners usually think first rate services always come with a steep price to pay, but not with us. Our demolition contractors are not only committed to providing first rate work but also ensure that all steps are taken to cause little to zero disturbance to the environment and to the properties adjacent to the site. Our service delivery is focused on safety and efficiency. Our service delivery is focused on safety and efficiency.
We Offer a Wide Array of Professional Demolition Services in Cicero, IL
Industrial Demolition services: We focus on enhancing safety and maximizing productivity. We are responsive and flexible enough to be able to deal with any complications that such a challenging demolition project may bring. With our knowledgeable technicians and superior equipment, we can handle demolishing refineries, highways, powerplants, bridges, mines and airports among others.
Commercial Demolition services: Our demo company uses superior equipment and expertise in tackling various commercial demolition structures such as strip malls, warehouses, office buildings, hotels, bridges, grocery stores and airplane hangars among others.
Concrete demolition and recycling services: Our demolition experts can break down concrete surfaces and slabs into reusable gravel.
Scrap Metal Demolition Services: As an all-around demo company, we can also take care of any unwanted steel erections and metal scraps onsite. We follow a certain procedure in salvaging items that are still good for future use so you can be sure nothing goes to waste.
A class Above the Rest in Cicero, IL
Our demolition experts and highly skilled demolition contractors have worked on the most noteworthy projects in Cicero, IL. Our demolition experts and demolition contractors have an established performance record of completing demolition jobs in the right way, on budget and on time. Our demolition company is experienced in implementing both small and large projects. Our demo company offers packages that are reasonably priced as well due to the fact that we have mastered an efficient way of demolition that cuts unnecessary expenses.
Authorized Methods for Demolition and Deconstruction in Cicero, IL
Explosive Demolition: Explosive materials are strategically placed on the building or structure in Cicero, IL by our demolition experts. The explosives are timed to make a structure go down on itself in seconds in order to minimize damage to the surroundings.
Non-Explosive Demolition: Our local demolition contractors are flexible and in situations where explosive demolition may be unsafe, we may use a wrecking ball which is attached to a crane at a manageable height to bring down a building.
Selective Demolition: A more complex method compared to using explosives or wrecking balls, selective demolition requires demo contractors to remove certain parts of a structure while keeping the rest of it in place. We have mastered this technique and take pride in being skilled in doing what other building demolition companies cannot.
The Main Equipment Used in Demolition in Cicero, IL
Hydraulic Breakers – Our demo company uses a hydraulic breaker to demolish rocks and concrete structures. Its powerful hammer causes destruction on the targeted object in a matter of seconds.
Wrecking Balls – A wrecking ball is made from steel. It is suspended from a steel chain attached to a crane and is used to demolish large buildings. It is swung several times towards the intended structure until the structure crumbles. The working of a wrecking ball relies on the skills of an experienced operator.
Hydraulic shears and rock breakers – These are helpful in cutting all sorts of steel, wood, rocks, concrete and metal. They make a very clean cut within a short period of time.
Bulldozers – Common equipment in construction sites used for excavating and hauling materials or waste. This machine can also be used to flatten or level structures hence the term bulldoze.
Dumpers – In the demolition business, dumpers are used to transport debris from the demolition site.
Cranes – Demolition contractors use a crane to attach a wrecking ball. A demo company can also use a crane for moving materials on the different levels of the structure or building.
Crawler Loaders – They can be used to bring down heavy smaller-sized structures. They can also be used to move debris.
Dial OurNumber for Top Rated Demolition Services in Cicero, Illinois
If you are in dire need of a reliable demolition company in Cicero, Illinois but are quite not sure what kind of method you will require and how much it will cost you, do not hesitate to call us. Signing with us means you deal with our highly diligent specialists who will never present mediocre work to our clients. Contact us today and let our demolition company take the pressure off of you. We deliver your Cicero demolition needs in a timely manner without compromising on the quality of our work. Contact us at
(855) 885-3366
.
Zip Code Areas We Service in Cicero
60804