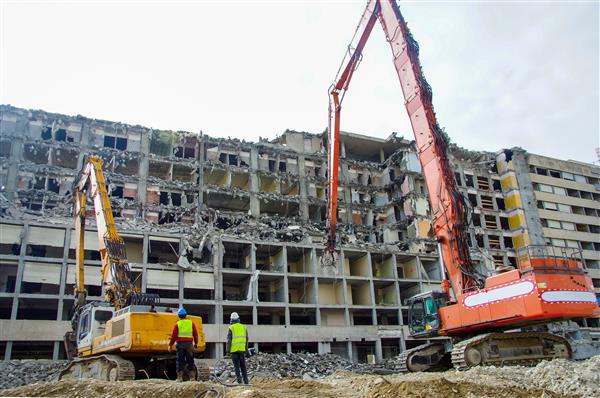 Demolition Contractors Naperville, IL The Demolition Company That You Can Count On
For years, Omni Demolition has continuously served and established its reputation as the most trusted demolition contractor in Naperville, IL. We will make sure that the project is completed within your budget and stipulated timeframe. Our demolition contractor is on standby at all times ready to cater to your needs. You can trust that our demolition experts are all well-versed when it comes to everything that has to do with eco-friendly demolition, as well as health and safety guidelines. This minimizes the chances of accidents or injuries at the demolition site.
The Difference Between Demolition and Deconstruction in Naperville, IL
Demolition is the process of tearing down or pulling down buildings and structures by a demolition expert. Demolition is the actual tearing down of a structure to be done by a demolition expert. Some of the items salvaged in deconstruction are: roofing materials, windows, plumbing fixtures, doors, cabinets, flooring among others. The structures can be pulled down manually. Selective deconstruction involves going into a property before demolition and removing high value and easily removable materials.
Discover Our Amazing Services for All Your Demolition Projects in Naperville, IL
We have demolition experts who plan everything meticulously, from the bringing in of our equipment up to the clearance of the property from wastes and debris. If you wish to have a an effortless and hassle-free experience when leveling a property in Naperville, IL, we are the demolition contractor that you can rely on. We have a proven record of accomplishment in excellence. Taking down a structure sounds chaotic but unlike other demolition contractors, our services are done with utmost care and with as little disturbance to the community as possible.
What Demolition Services Can You Expect to Find in Naperville, IL?
Industrial Demolition Services: This requires application of specialized techniques by highly trained professionals. We will safely and effectively bring down industrial structures such as factories, mills and manufacturing plants among others.
Commercial Demolition services: We are the demo company to call when it comes to commercial spaces that require strategic planning, especially narrow and often crowded areas. Our capability in wrecking restaurants, grocery stores, and office buildings shows our mastery in handling business districts.
Concrete demolition and recycling services: If you want to save time and money, our demolition experts can also extract concrete materials and slabs onsite to be broken down into reusable gravel.
Scrap Metal Demolition Services: Unlike other contractors who concentrate only on concrete, our demo company can assist in handling metal frames and recycling scraps.
We Stay Ahead Other Demolition Companies in Naperville, IL
Our demolition experts and highly skilled demolition contractors have worked on the most noteworthy projects in Naperville, IL. Our resources are as varied as they are effective: dependable and advanced equipment as well as expert personnel. Our demolition company is committed in service delivery. That is why we are recognized as the leading demo company.
Main Methods for Demolition and Deconstruction in Naperville, IL
Explosive Demolition: Our demolition experts carefully consider all factors before flipping the switch that will initialize explosives to go off and promptly annihilate the target building in Naperville, IL.
Non-Explosive Demolition: Our local demolition contractors are flexible and in situations where explosive demolition may be unsafe, we may use a wrecking ball which is attached to a crane at a manageable height to bring down a building.
Selective Demolition: This process entails tearing down a part of the structure. Efficiency is maximized by recycling reusable material thus reducing waste and lessening the impact on the environment. As the leading demo contractors, we have set standards that other building demolition companies have a hard time measuring up to.
The process requires demo contractors to work around normal operating hours on small working spaces and under strict timetables. Our company, unlike other building demolition companies, understands the significance of all these considerations. We ensure that we provide an environment that is safe for everyone involved with as minimal disruption as possible.
Well-maintained Equipment for Demolition in Naperville, IL
Hydraulic breakers – Our demo company uses hydraulic breakers or hammers in crushing otherwise solid surfaces such as concrete, cement and even rocks.
Wrecking balls – Although rarely used nowadays, wrecking balls are heavy steel balls used to gradually destroy a structure's integrity until it collapses.
Hydraulic Shears and Rock Breakers – They are able to demolish steel structures. Hydraulic shears are also used for recycling or secondary breaking. Rock Breakers are robust pounding hammers that are usually fitted to excavators. They are used to demolish rocks, as the name suggests or concrete.
Bulldozers – Commonly seen in construction sites, bulldozers are not only good for flattening surfaces but also for moving and transporting waste materials. It can also be maneuvered to knock down weak walls and structures.
Dumpers – If you are in the demolition business, you will definitely need a dumper/ tipper truck for transporting demolition waste.
Cranes – A necessity for demolition contractors, cranes serve multiple purposes including being used for wrecking balls and for transferring heavy tools within the site. Every demo company should have a well-maintained and stable crane to avoid any unforeseen accidents.
Crawler Loaders – They are very efficient in moving heavy materials and dirt piles. Some models of the crawler loaders are able to push down heavy smaller-sized structures. They are also used to clean the ground.
Contact Us for Cost-effective Demolition Services in Naperville, Illinois
Avoid dealing with deconstruction hassles and overpriced bills when you sign with our demolition company in Naperville, Illinois. We will meet all your demands and give the same meticulous attention to your projects no matter the size. Our demolition company never offers excuses; we simply provide professional and timely services guaranteed to accommodate your budget. Our Naperville deconstruction and demolition company is licensed and highly reputable. Get in touch with us today at
(855) 885-3366
and we will be more than glad to help.
Zip Code Areas We Service in Naperville
60540, 60563, 60564, 60565, 60566, 60567